The Insane Amount Of Money Kylie Jenner Is Paying In Rent For Her Mansion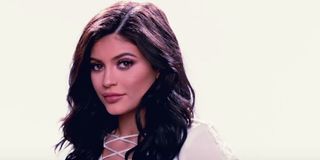 You may recall Kylie Jenner had fun dressing up like a Barbie doll last week. Now it appears she is shacking up in Barbie's dream house, too. Jenner is renting a dazzling home in Beverly Hills while she has a maintenance crew working on the home she owns in Hidden Hills, Los Angeles. Apparently, the 19-year-old businesswoman and reality television personality is spending a mind-blowing amount of money to rent the pad. Reportedly, people close to Jenner say the star of the new E! show Life of Kylie is paying $125,000 per month to stay at the estate.
The place Kylie Jenner is currently calling her temporary home is a sprawling residence on a cliff overlooking views of the rolling hills. It comes with five bedrooms, seven bathrooms, a movie theater, a library, a bar, and a professional chef's kitchen (in which we expect Jenner makes her favorite recipe for ramen noodles). It turns out the $125,000 Kylie Jenner supposedly pays each month to rent the lavish residence is a drop in the bucket compared to the price tag to buy it. TMZ says the estate is on the market for a whopping $35 million. (Gulp.)
The youngest member of the Keeping Up with the Kardashians siblings recently explained there is much people don't know about her. Apparently, no one knew Kylie Jenner is secretly the Great Gatsby. If she can shell out $125,000 per month to rent a house, she must be on the way to astronomical levels of wealth. But it makes sense. After all, she is more than a mere heiress to that Caitlyn Jenner money. She also has been working since she was nine years old. Today she is at the helm of several business ventures with products ranging from hair extensions to lipstick lip kits to smartphone apps. She is a marketing goddess with millions of followers on social media. Plus, she now has a new Kardashians spinoff all of her own, so it seems safe to say she is on her way to the top of the moneymaking heap.
Besides, the home Kylie Jenner owns in Hidden Hills has an estimated worth of $12 million, so that is pretty amazing in and of itself. Come to think of it, what do you think Jenner is renovating in there? Maybe the maintenance crew is installing a pool filled with coins like the one Scrooge McDuck dives into in Duck Tales. Then again, a more reasonable guess might be that Jenner is beefing up security to avoid becoming one of the people in the string of robberies targeting Hollywood stars, or getting robbed like her half-sibling Kim Kardashian was. In fact, her Hidden Hills neighbor, Drake, was the target of a wacky robbery last month, so it would make sense if she were adding alarms and surveillance cameras at her home. But whatever Jenner is doing, it hopefully will not take too long. Otherwise, she will have to keep writing $125,000 checks for additional time at the temporary mansion.
It would be fun to get a peek into this fabulous, first-class residence on one of Kylie Jenner's TV gigs, but there is no word regarding whether or not she is inviting cameras there. Hopefully, she is taking the time to soak up her time in the lap of luxury.
Your Daily Blend of Entertainment News
Thank you for signing up to CinemaBlend. You will receive a verification email shortly.
There was a problem. Please refresh the page and try again.