To All The Boys: Always And Forever Ending Explained: How The Story Wrapped Up For Lara Jean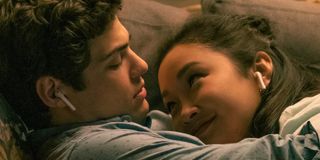 (Image credit: (Netflix))
SPOILERS are ahead for Netflix's final All The Boys movie, Always and Forever**.**
Can you believe it? The final page has now been written for Lara Jean in her high school years after a whirlwind of a romance trilogy originally penned in Jenny Han's famed YA series of books. Lana Condor and Noah Centineo had a sweet sendoff for their breakout roles in All The Boys: Always and Forever ending and it's time for us to talk it through. Three years following the first movie drawing cupid's arrow, how did the high school romance leave things off for Lara Jean and Kavinsky?
The third installment revolved around the couple making college plans as graduation approached. Following P.S. I Still Love You's shakeup in the form of Jordan Fisher's charming John Ambrose, Lara Jean and Peter Kavinsky are back together for the long haul and planning to go to Stanford together until LJ finds out she has been rejected from the Northern California university. The news forces her to explore other options including going to UC Berkeley to be an hour out from Kavinsky or moving to New York to attend NYU, which she unexpectedly falls in love with. Let's get into the ending's specifics:
What Happened At The End Of All The Boys: Always And Forever
After much internal turmoil, Lara Jean makes the right decision for her personal future and decides to go to NYU. It's not an easy decision for Peter to stomach at first, because it means the couple will be doing long distance instead of attending college together as they had intended. LJ and Peter are stepping on eggshells on Prom night, but she still feels obligated to initiate their first time having sex, feeling insecure that the couple had yet to take that step. Peter stops things to have a conversation with Lara Jean, that turns into an argument between them that ends with the two contemplating breaking up.
Due to the couple's turmoil, Peter skips out of being the wedding date on the special day of Lara Jean's father. Later that night, LJ has a heart-to-heart with her sister, who shows her the first letter she ever wrote about Peter. The couple reconcile with a contract that calls back to the situation that started it all in 2018's To All The Boys I've Loved Before when they decided to initiate a fake relationship so Peter can make his ex jealous. It serves as a reminder of the time they initially fell in love. The movie suggests that the couple do have sex together before going in different directions for college, with intentions to write love letters to one another during long distance.
Will Lara Jean And Peter Kavinsky Really Stay Together?
The ending of All The Boys is a hopeful one, but certainly leaves some questions unresolved, such as if the couple will actually stay together once they get settled into attending university and the college scene catches their eyes. During Lara Jean's voiceover at the end of the film, she addresses the elephant in the room about whether they can survive four years of college physically without one another. She basically says she has no idea if it will last, but they are "not like those other couples," and they have love letters on their side.
Considering the Jenny Han books end just about the same way, it's primarily up to the audience to decide for themselves if LJ and Kavinsky can navigate being in a long distance relationship. The All The Boys movies really relies on the audience's capacity to hold onto the hopeless romantic aspect of its storyline. Thematically, the idea of their relationship starting with love letters and it needing to stay together with love letters is the poetic conclusion that is as perfect of a conclusion the story could tell to keep the couple together by the end.
What About All The Other Boys?
Although To All The Boys I've Loved Before begins with five private letters that LJ's sister sends out to the boys she had crushes on at different points in her life, Always and Forever is only about one boy, and that's Noah Centineo's Peter. The only decision Lara Jean has to make has to do with which vicinity she will continue her relationship with him. But, what about all the other boys in All The Boys? Of course the main other boy fans grew attached to in the 2020 sequel P.S. I Love You was Jordan Fisher's John Ambrose, who is completely absent in Always and Forever.
The piano-playing charmer was an option that LJ explored in the sequel, but ended to be a dead end when their kiss in the snow didn't create the sparks they had hoped. What the movie does tell you that the book does shed light on is John Ambrose does get himself a girlfriend in Always and Forever – her name is Dipti and they meet each other in Model UN. With three boys left, we have Josh Sanderson, Lucas James and Kenny Donati. Josh was the boyfriend of her older sister in the first movie and he disappeared after the first movie, probably for the better because: awkward! Lucas James grew up to be LJ's gay best friend and Kenny's letter got lost in the mail.
Is All The Boys A Satisfying Love Story?
So just about every loose end has been tied except for one. Was the ending of the All The Boys movie worthwhile? That'll be up to your own opinion on the series itself, but in order to answer that question, I think it's best to go back to the beginning. At its core, Lara Jean's story arc is about being an introverted, introspective type who writes letters about her crushes instead of telling them how she feels. When the letters get out, it allows Lara Jean to confront her feelings in the real world and get some experience with boys. Lara Jean ends up building a real relationship with someone dearly important to her by the end of the movies and truly branches out.
Always and Forever has LJ imagining getting married, buying a house and having kids with Peter, but looking on the side of probability Peter won't likely be her first and last love. And that's okay. The final movie has the young woman choosing for herself to go to the college of her choice. While Peter is devoted to her now, we don't completely know what their fates will be. From this perspective, I'd say for what All The Boys is, it's a satisfying conclusion to Lara Jean's experience finding love for the first time. As many of us know, life gets a lot more complicated after high school, but that's not the focus here. What do you think? Vote in our poll below.
This poll is no longer available.
YA genre tribute. Horror May Queen. Word webslinger. All her writing should be read in Sarah Connor's Terminator 2 voice over.
Your Daily Blend of Entertainment News
Thank you for signing up to CinemaBlend. You will receive a verification email shortly.
There was a problem. Please refresh the page and try again.