Judas And The Black Messiah Wants To Change How The Black Panther Party Is Perceived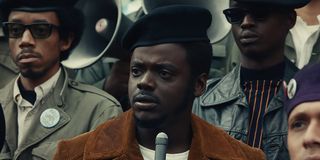 When you think of the Black Panther Party, what comes to mind? No, not Black Panther the film (although it's one of my favorites), I mean the Black Panther organization. If you've heard of this group, you might think them militant, and maybe their uniforms come to mind associated with aggression. The way they have been perceived over the years is far from the party's mission, and Judas and the Black Messiah seeks to change that.
Judas and the Black Messiah gives an inside look at the Chicago, Illinois chapter of the Black Panther Party, when it was led by Chairman Fred Hampton. I got to sit down with Keith and Kenny Lucas, the writers of the story, for an interview with CinemaBlend, and they elaborated on how the film gives an accurate portrayal of Fred Hampton and changes how the group is perceived. Here's what Keith Lucas shared:
The Black Panther party was originally founded in 1966 by Heuy P. Newton and Bobby Seale (you may recognize this name from The Trial of the Chicago 7) to patrol African American neighborhoods and protect residents from police brutality. Fred Hampton fought to keep his community safe, and as Keith Lucas mentioned, to uplift his community. Kenny Lucas touched on Hampton's demeanor with the following:
While Fred Hampton was a man about unity and love, he was forceful with his message though he never intended to harm. Daniel Kaluuya gives a powerful performance as he portrays Fred Hampton in Judas and the Black Messiah. Kaluuya captures that forcefulness, but also the tenderness in ways that will leave audiences speechless.
Judas and the Black Messiah is now available in select theaters and streaming on HBO Max. If you love Daniel Kaluuya like I do, here are more performances of his to check out. Plan your weekends ahead of time with all the new WB movies coming to HBO Max this year.
Your Daily Blend of Entertainment News
Obsessed with Hamilton and most things Disney. Gets too attached to TV show characters. Loves a good thriller, but will only tolerate so much blood.