Upcoming Daniel Kaluuya Movies: What's Ahead For The Get Out Star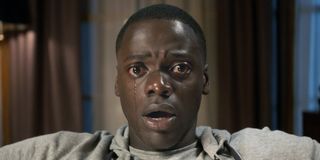 Ever since breaking out in Jordan Peele's 2017 dark comedy horror instant classic Get Out, Daniel Kaluuya has become one of the most recognizable and versatile young faces in Hollywood. The English born actor has gone on to take more villainous roles in films like Widows where he played a ruthless Chicago criminal, Black Panther where he played the tortured former best friend of the Wakandan king, and the modern-day Bonnie & Clyde story that was Queen & Slim.
With so many great performances (and nominations at the Oscars, Golden Globes, and Screen Actors Guild for Get Out), some may be wondering right now what's ahead for Daniel Kaluuya. Well, anyone asking that question to themselves right now is in for some great news because the talented and charismatic actor has quite a few projects down the road. With the eventual release of a biographical drama about the Black Panther Party in Chicago, a new version of a classic children's program, and so much more, there future looks bright for the rising star.
A Christmas Carol - December 4, 2020 (UK)
There is no such thing as too many adaptations of Charles Dickens' A Christmas Carol, especially versions that sound as interesting as Jacqui Morris' soon-to-be-released theatrical release that uses a combination of talented dancers who are voiced by an all-star cast that includes Andy Serkis, Carey Mulligan, Martin Freeman, and Daniel Kaluuya as the voice of the Ghost of Christmas Present. According to Deadline, this unique re-telling of the classic Christmas story starts with a Victorian family preparing a toy theatre performance of Dickens' masterpiece, with the live-action dancers (and voices) coming from the imagination of one of the children.
Production on this new version of A Christmas Carol has already been completed and the project was originally slated to be released in the United Kingdom starting November 20, 2020, but due to theaters still being closed or forced to only allow limited audiences, the release has been pushed back to December 4, 2020, according to RadioTimes. There is no word on when A Christmas Carol will be released in the United States, but with the timeless story, revolutionary presentation, and all-star voice cast, it should only be a matter of time.
Judas And The Black Messiah - February 12, 2021
It wouldn't be a stretch to say that Daniel Kaluuya has a good chance of getting another nomination at the Academy Awards, Golden Globes, and other major awards shows for his role in Shaka King's upcoming biographical drama Judas and the Black Messiah. In the story based on the Black Panther Party in Chicago in the late 1960s, Kaluuya portrays Fred Hampton, the young activist and chairman of the Illinois chapter of the Black Panther Party, as well as the national deputy chairman, who was assassinated in a 1969 raid conducted by the Cook County State's Attorney's Office, the Chicago Police Department, and the FBI.
The movie, which was originally supposed to be released in August 2020, will center around Daniel Kaluuya's Fred Hampton as well as Lakeith Stanfield's William O'Neal, a petty criminal who became a confidential informant for the FBI and was tasked with taking out the revolutionary leader. If the final product ends up being anywhere as tense and poignant as the trailer released over the summer, Judas and the Black Messiah will be a tour de force that no one should miss and one that people will certainly be talking about for quite some time. Also, if Dominique Fishback, who plays Hampton's fiancée Deborah Johnson, said making the movie changed her life, you know it's going to be good.
Production on Judas and the Black Messiah, which also features Jesse Plemons, Ashton Sanders, Martin Sheen, and Lil Rel Howery, got underway in Cleveland in October 2019 before wrapping in December of that year. The volatile drama was going to hit theaters on August 21, 2020, but Warner Bros. decided to postpone the release in April 2020 due to the COVID-19 pandemic. Judas and the Black Messiah is now expected to drop in early 2021, but no date has been confirmed at this point.
The Upper World - TBD
The adaptation of Young Adult novels has been a tried and true model in Hollywood for a number of years now, and it appears Daniel Kaluuya will soon be one of the producers and actors to attempt at reaching new heights with a recently announced Netflix project. In August 2020, Variety reported that Kaluuya would serve as both a producer and star of the adaptation of Femi Fadugba's forthcoming novel The Upper World, which is set to come out in 2021. The film adaptation will see Kaluuya take on the role of Esso, the book's main character who discovers he has the power to catch glimpses of the past and future. Over the course of the novel, Esso meets Rhia, a girl living in the year 2035, who must work with the time-bending lead to avert a disaster that occurred more than decade earlier.
Details on The Upper World's production schedule, as well as who will star alongside Daniel Kaluuya in the upcoming fantasy film, largely remain a mystery at this time, but with Netflix Films vice president Tendo Nagenda expressing to Variety just how excited he is to be able to tell the story makes it seem like the movie will be something we hear about quite a bit in the near future.
Barney (Producer) - TBD
As all of the former '90s kids start to grow up and become adults and parents of their own, it is only a matter of time before every staple of life back then makes its way to the big screen. We have seen it with the Power Rangers movies and most recently and more successfully with Sonic the Hedgehog, but now it looks like another, and less obvious children's program will soon take to the silver screen. Back in October 2019, The Guardian newspaper reported that Daniel Kaluuya and Mattel were teaming up for a live-action Barney & Friends film adaptation. When the project was announced, Kaluuya told the publication he was excited to explore what he called a modern-day hero and to see if his message of love can stand the test of time.
Daniel Kaluuya, who is producing the project alongside the iconic toy manufacturer, gave an incredibly meaningful reason for spearheading the project during a conversation with Entertainment Weekly in 2020, stating:
There is currently no word on what the Barney movie will be about, who will be starring (or if Daniel Kaluuya will be doing more than producing), or when it's set to enter production. That being said, there's a lot of opportunity to bring the iconic purple dinosaur and his friends to modern audiences, no matter which direction it takes.
Black Panther 2? - May 6, 2022
As the world is still reeling over Chadwick Boseman's shocking August 2020 death from complications caused by colon cancer, all eyes are on the upcoming Black Panther 2. It has been reported that the highly anticipated sequel to one of the most successful (financially and culturally) superhero movies of all time will enter production in July 2021, but a lot of questions still remain. There's the question as to how Boseman's death will be handled in the movie, who will be taking on the role of Black Panther, and which members of the original cast will be returning this time around. Daniel Kaluuya, who played King T'Challa's former best friend and second-in-command W'Kabi, has said in the past that he would like to return for a second go, but as to whether or not he'll get that shot remains a mystery at this time.
It would make sense for W'Kabi and Daniel Kaluuya to return for Ryan Coogler's upcoming addition to the Marvel Cinematic Universe, especially with so much about his story being left up in the air following the events of Killmonger's takeover of Wakanda in Black Panther. And considering how Wakanda, the world, and universe were all affected by the events of Avengers: Infinity War and Avengers: Endgame (both of which are set after Black Panther), it would be interesting to see how W'Kabi fits into the world now that it has gone through such a major change. His character is ripe for a redemption story and a continuation of his journey. And with casting reveals starting to get announced, it's only a matter of time before we hear more about this upcoming project due to drop on May 6, 2022.
With projects like all of the ones mentioned above, it's important to understand that a lot can change been now and the time they are released in theaters, so make sure to check back for all the latest information. Also, don't forget to check out CinemaBlend's 2021 Movie Guide.
Philip grew up in Louisiana (not New Orleans) before moving to St. Louis after graduating from Louisiana State University-Shreveport. When he's not writing about movies or television, Philip can be found being chased by his three kids, telling his dogs to stop yelling at the mailman, or yelling about professional wrestling to his wife. If the stars properly align, he will talk about For Love Of The Game being the best baseball movie of all time.
Your Daily Blend of Entertainment News
Thank you for signing up to CinemaBlend. You will receive a verification email shortly.
There was a problem. Please refresh the page and try again.