Daniel Kaluuya: 8 Great Performances Other Than Get Out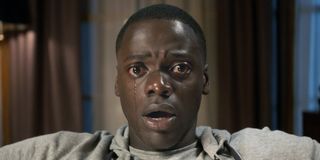 More times than not, when someone hears the name Daniel Kaluuya or sees his face, they probably think back to his career-defining performance in Jordan Peele's 2017 satirical dark comedy Get Out. And while his performance as Chris Washington in the Academy Award-winning horror flick will go down as one of the best in the 2010s, there quite a few Daniel Kaluuya movies (and shows) that shouldn't be missed.
From his days in staples of modern British television like Doctor Who, Skins, and Black Mirror, to his truly despicable performance as a Chicago gang leader in Widows, Daniel Kaluuya often steals every scene he's in, even when he's relegated to the hurt and vengeful friend-turned-enemy in Black Panther. Below are just eight of those performances that display the full range and talent of Daniel Kaluuya.
Black Panther (W'Kabi)
Admittedly, whenever I think about Black Panther, my mind immediately goes to the late Chadwick Boseman and his take on T'Calla, aka Black Panther, or Michael B. Jordan's Erik "Killmonger" Stevens, but buried between those two performances is one that's just as great — Daniel Kaluuya's W'Kabi. Watching T'Challa's best friend and second-in-command take a path to darkness and self-righteousness as he turns on the King of Wakanda in favor of Killmonger provides one of the most emotional beats of the Marvel superhero movie and it's hard to think of someone who could bring as much pain to that role than Kaluuya with those eyes full of pain.
Widows (Jatemme Manning)
In Get Out Daniel Kaluuya has this boyish and innocent charm to him, but his character, Jatemme Manning, in Steve McQueen's Widows is anything but. The cold-blooded and oddly intimidating enforcer in his brother's Chicago gang, Kaluuya's Manning is by far the most ruthless and unsettling character in the 2018 heist film. There's a scene where Manning confronts two gang members after they let a band of thieves steal $2 million. Manning forces the two men to rap in an empty gymnasium and acts like he's enjoying the show until he pulls out his pistol and shoots one point-blank in the head while shooting the other in the back as he tries to escape. At that moment, we realize that Daniel Kaluuya is on a whole other level.
Queen & Slim (Slim)
Daniel Kaluuya often plays characters that are men of few words and tends to allow his facial expressions and body language tell the story for him. This is seen in the 2019 modern-day Bonnie & Clyde story, Queen & Slim, in which Kaluuya plays the titular Slim as he and Jodie Turner-Smith's Queen go on the run after killing a police officer. Under the hardened exterior of Slim lies a conflicted and terrified young man whose life changed in the blink of an eye but knows that there's no going back; a "you can't go home again" type of situation. It's a shame this movie doesn't get talked about enough, especially considering the lights-out performance by Kaluuya as a man on the run from his past.
Sicario (Reggie Wayne)
Sometimes it's easy to forget that Daniel Kaluuya was born and raised in London, England, especially after watching him take on the role of rookie FBI agent Reggie Wayne in Denis Villeneuve's 2015 thriller Sicario. He's not in the movie all that much, but whenever Reggie, Emily Blunt's Kate Macer's best friend and partner at the bureau, is on the screen, he provides a sense of calm that almost makes the viewer forget that some terrible stuff involving United States government agents and Mexican drug cartels are about to go down. And that accent, that Texas, red-blooded American accent, makes Kaluuya's performance worth returning to time and time again.
Black Mirror (Bingham "Bing" Madsen)
Several years before Daniel Kaluuya became a major young star in the United States with 2017's Get Out, he was already an established star in Britain after appearing on a number of great television programs, including Black Mirror. Appearing in the Season 1 episode "Fifteen Million Merits," a young Kaluuya portrays Bingham "Bing" Madsen, a man who lives in a room surrounded by screens that dictate his daily routine. When a friend is essentially taken advantage of in a futuristic pornography television show, Bing is driven to madness after not having enough "merits" to skip the show's ads and goes off on a television rant with quite the results. When appearing on The Tonight Show Starring Jimmy Fallon, Get Out director Jordan Peele said he cast Kaluuya because of this performance.
Skins (Posh Kenneth)
There was a long-running British teen-drama television series by the name of Skins that ran on the E4 network between 2007 and 2013 that helped propel the careers of young stars like Dev Patel, Nicholas Hoult, Hannah Murray, and even Daniel Kaluuya, who appeared on nearly a dozen episodes in the show's first three seasons. Kaluuya portrayed Post Kenneth, one of the outlying characters who was often seen hanging with the main cast between 2007 and 2009. The character, much like the actor playing him, was known for being able to effortlessly bounce between his character's put-on appearance as an inner-city rapper and his natural, more refined manner of speaking, showcasing what the young, talented actor was capable of pulling off.
The Fades (Michael "Mac" Armstrong)
Daniel Kaluuya has always had this look in his eyes that tells the story better than most actors can through verbal communication, and that's seen in the 2011 BBC Three supernatural drama series The Fades. In the show's first and only season, Kaluuya portrayed Michael "Mac" Armstrong, the best friend of the series lead Paul Roberts (Lain De Caestecker). And although Mac doesn't have the ability to see spirits like his best friend, his character does most of the talking throughout the show and covers a wide range of topics, so much so it seems at times that he doesn't know how to shut his mouth.
Doctor Who (Barclay)
There must be a rule that any young British actor wishing to have a successful career first has to appear in a bit role on a random episode of Doctor Who because so many future stars have crossed paths with the Time Lord (no matter which version). You can add Daniel Kaluuya to that list following his appearance in the 2009 Easter Special titled "Planet of the Dead" as Barclay, a passenger on a bus that got sucked into a wormhole. Barclay would play a key role in the survival of the passengers and getting them back to safety by the time the episode wrapped up. And even though this random episode of Doctor Who probably gets lost in the shuffle, it's a fun reminder of where the future star came from.
Are you familiar with each of these performances from Daniel Kaluuya? If so, sound off in the comments and let us know which one is your favorite. Also, don't forget to let everyone know if there were any great roles from the Get Out star that were left off.
Your Daily Blend of Entertainment News
Philip grew up in Louisiana (not New Orleans) before moving to St. Louis after graduating from Louisiana State University-Shreveport. When he's not writing about movies or television, Philip can be found being chased by his three kids, telling his dogs to stop yelling at the mailman, or yelling about professional wrestling to his wife. If the stars properly align, he will talk about For Love Of The Game being the best baseball movie of all time.