Tom Holland Reveals Funny Way Uncharted Affected His Performance In Spider-Man 3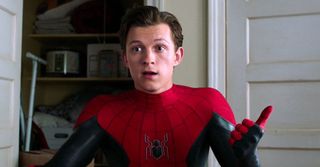 Transitioning from one character to another is one of the many challenges that an actor faces throughout their career. Some of the best in the business completely immerse themselves in their roles and must take long breaks in between projects. Others must slip in and out of various characters due to their busy schedules. Tom Holland recently told a funny story about bringing a bit of his Uncharted character to the set of Spider-Man 3.
The Spider-Man actor revealed that the character transition isn't as easy as it may seem, as he was bringing some signature characteristics of Nathan Drake to his portrayal of Peter Parker. As the actor put it:
Tom Holland shared the hilarious story during his interview with Screen Daily. While filming a scene for the upcoming Spider-Man 3, he brought a little too much swagger to the table, resulting in a more manly walk than a young Peter Parker should have. It just goes to show how much is in play when an actor takes on a role; something as small as the body language of your character's gait is enough to tip off audiences.
Even though that much confidence may not work for the MCU's Spider-Man, director Jon Watts recognized that it was just a bit of carry over from his time as Nathan Drake. Tom Holland has been filming as the lead character for the upcoming Uncharted adaptation.
While video game adaptations are historically difficult to pull off, the upcoming Uncharted film managed to snag Tom Holland as a young Nathan Drake. The film will reportedly cover events prior to the video game series, serving as a prequel to the critically acclaimed franchise. Uncharted is scheduled to release on February 11, 2022.
Tom Holland has kept a busy schedule as of late. He recently teamed up with the Russo Brothers for Cherry, the pair's first directorial feature film outside of the MCU since 2006's You, Me and Dupree. Cherry is part of Tom Holland's recent move to more dramatic roles, as he plays an opioid-addicted bank robber with PTSD. One of his recent foray into more serious territory was with Netflix's 2020 film The Devil all the Time, where he starred alongside an impressive ensemble cast.
The third entry in Marvel and Sony's current Spider-Man trilogy remains untitled, but is expected to release in theaters on December 17, and it will be part of the MCU's highly anticipated Phase 4. While fans may not see a swaggering Spider-Man in the upcoming film, I wouldn't be surprised if we saw Tom Holland carry over a bit of that signature Tony Stark confidence this time around.
Your Daily Blend of Entertainment News
Into tracksuits by Paulie Walnuts, the Criterion Channel and Robert Eggers.