Barb And Star Go To Vista Del Mar: 10 Funniest Moments In The Kristen Wiig Comedy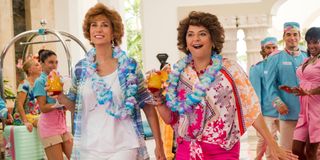 This will probably come as a surprise to absolutely no one, but Kristen Wiig and Annie Mumolo's Barb and Star Go to Vista Del Mar is one of the funniest movies since the pair released Bridesmaids in 2011. From the first scene to the assortment of post-credits scenes and every little moment in between (hot dog soup, anyone), the movie is a ridiculous, and at times absurd romp of a good time. And while the entire movie is a side-splitter we'll all be gushing over for years to come, this instant cult classic has some scenes, especially anything with Jamie Dornan's Edgar Paget, that are honestly some of the greatest comedic moments in years.
Now that you've seen already watched Barb and Star Go to Vista Del Mar (please stop and check out how to stream it if you haven't already because there are nearly as many spoilers as laughs), check out the 10 funniest moments in the 2021 comedy.
Yoyo Delivering Papers And Singing His Heart Out On The Bike
As soon as Barb and Star Go to Vista Del Mar opens with Yoyo (Reyn Doi) delivering papers and singing his heart out to Barbra Streisand's "Guilty" I knew we were going to be in for one hell of a ride. The classic duet from "Babs" and Barry Gibb is perfect for freewheeling vibe of the movie's opener, especially as Yoyo continues to get more and more into the feeling of the song. The juxtaposition of the soothing melody of the song with the destruction caused by the young assassin's rigged newspaper (and the secret entrance to Sharon Gordon's lair) is top notch.
The Introduction Of Barb And Star At Jennifer Convertibles
Everything about the introduction of Barb (Annie Mumolo) and Star (Kristen Wiig) at the Jennifer Convertibles furniture store is amazing, absolutely amazing. From the fake-out where you're led to believe they are at home to them talking a couple out of buying their favorite couch to the pair realizing they are out of a job makes for one of the greatest stretches in a comedy in recent years. The chemistry between the pair sets up the rest of the movie and makes for a hilarious interaction with their boss when they can't remember who's actually working is the icing on the cake.
The Entire Talking Club Scene, Especially That Hot Dog Soup
Everything about the Talking Club scene in Barb and Star Go to Vista Del Mar just works. The simple, yet preposterous concept of a club where a group of middle-aged women get together and talk about random topics, drink wine, and eat hot dog soup all while trying to stay in the good graces of the tyrannical Debbie (Vanessa Bayer) is absurdly hilarious. Like a lot of the interactions throughout the movie, this scene feels like improv or a great Saturday Night Live sketch and ends in spectacular fashion: Barb and Star lying about their jobs and getting the boot.
Barb And Star Describing Trish On The Plane And In The Airport
Just when you thought Barb and Star Go to Vista Del Mar couldn't get any better you're treated to the amazing "Trish" scene as the pair fly to Florida. A conversation like this among any other duo would would surely result in a back-and-forth that would ultimately run its course after a few minutes. But no, Barb and Star formulate this entire backstory and moving plot for their made-up character with a name they both love. But wait, there's more… Even after they land and get off the plane, the Trish talk continues, this time with waterworks from the two stars as they agree on the tragic fate of their beloved Trish. But this isn't the end of Trish…
The Palm Vista Hotel Song And Dance Number
The introduction of the Palm Vista Hotel and its various amenities in the form of a full-scale Broadway song and dance number is as hilarious as it is impressive. Not only is this charming and over-the-top spectacle of a good time the perfect way to show off what Barb and Star can expect (even if they're at the wrong place), it also serves another way to get Edgar Paget (Jamie Dornan) on screen saying "Official Couple" (more on that later).
Every Time Richard Cheese Appears On Screen
Since we're already talking about the musical numbers in Barb and Star Go to Vista Del Mar, now's the perfect time to point out the greatness of Richard Cheese (Mark Jonathan Davis) and his various numbers featured throughout the movie. At first, they sound like little lounge songs, but when you listen to the lyrics, you're welcomed into the mad world of a depraved lounge singer going on about his love of "boobies" or his friends from high school who recently passed away. Much like the rest of the movie, these songs are bonkers, absurd, but oddly fitting considering the tone of the film.
Edgar Randomly Breaking Into Song
The song "Edgar's Prayer" is without a doubt one of the most ridiculous scenes in Barb and Star Go to Vista Del Mar and for multiple reasons. First, it's performed by a character who was set there to unleash killer mosquitos so that his crush can get revenge. Secondly, the music and sound of Jamie Dornan's voice make you think this is a sincere and straight-forward song but the lyrics, man, the lyrics are out of this world. From comparing himself to a ballerina digging a hole in the sand to a palm tree who decided to grow up to be a palm tree, there's just so much going on here, and I'm all for it.
Anytime Edgar Says "Official Couple"
I know it sounds like this is turning into an extended breakdown of Edgar's character, but I promise you, this is the last part about the hitman with a heart of gold. One part of his character that kept killing me throughout the movie was the way he would say "official couple" whenever talking to or about Kristen Wiig's bleached character Sharon Gordon (who was busy stringing him along). There's just something that's hilarious about a hitman having the same motivations and hopeful optimism of a high school freshman. And Jamie Dornan's innate ability to play off absurdity with a straight face doesn't hurt either.
Morgan Freemond, The Crab, Not Morgan Freeman
Just when you thought Barb and Star Go to Vista Del Mar couldn't get any wackier, Star has a conversation with a talking crab named Morgan Freemond, not to be confused with Academy Award-winning actor Morgan Freeman. The little crab even sounds like the Shawshank Redemption star, soothing voice and all. In a movie of bits coming out of left field, this is one of the most random and well-executed.
The Trish Payoff At The End Of The Movie
As soon as Barb and Star start talking about Trish, I knew there was going to be a payoff at some point in the movie, but never in my years did I expect it to pay off like that. Reba McEntire as the embodiment of the two friends' favorite name, character, and spiritual entity was the greatest reveal since the country singer turned up as "the best driver there is" A.J. Ferguson in The Little Rascals. It was like a glamorous, southern-fried version of Moana in those final moments, and I can't get enough.
These are just a few of the insanely funny moments Barb and Star Go to Vista Del Mar. Outside of these, there is Andy Garcia's cameo as Tommy Bahama, Damon Wayans Jr.'s oversharing Darlie Bunkle, and all of those great interactions between Barb and Star. After going over all of these, I think I'll have to rent the movie again…
Philip grew up in Louisiana (not New Orleans) before moving to St. Louis after graduating from Louisiana State University-Shreveport. When he's not writing about movies or television, Philip can be found being chased by his three kids, telling his dogs to stop yelling at the mailman, or yelling about professional wrestling to his wife. If the stars properly align, he will talk about For Love Of The Game being the best baseball movie of all time.
Your Daily Blend of Entertainment News
Thank you for signing up to CinemaBlend. You will receive a verification email shortly.
There was a problem. Please refresh the page and try again.