Why Cameron Diaz Has 'No Idea' If She'll Ever Make A Movie Again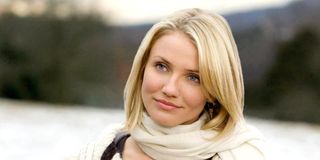 Cameron Diaz made a huge impact during her acting career. Over the course of more than 25 years, she appeared in some of the biggest Hollywood hits of the time -- movies that are still popular to this day. In the past few years, she's made it pretty clear that she's moved on from that phase of her life. But she recently admitted that she's not entirely sure if she's done acting in movies for good.
Cameron Diaz quit acting following the release of her last feature film, 2014's Annie. It may have come as a surprise to her fans, who'd enjoyed watching her in everything from The Mask and There's Something About Mary to Charlie's Angels and The Holiday.
In the years since her retirement, Cameron Diaz has stayed busy, especially when it comes to raising her child, Raddix, with husband Benji Madden. As far as her acting career is concerned, though she's remained true to her word about stepping back. However, during a recent interview with Radio Andy, she revealed that when it comes to working in Hollywood, she's still keeping her options open, and she explained why she's unsure if she'd be eager to step back into acting:
It sounds like Cameron Diaz has a firm set of priorities and she's not willing to budge from them right now. However, if the right opportunity presented itself, she may be open to it. At least it's clear that for now, she feels comfortable with the decision she's made and knows she's lucky to have had the option to step away from her career:
Despite putting her role as parent above any acting roles, Cameron Diaz hasn't completely stayed out of the spotlight. She's made several media appearances on talk shows and podcasts, including an in-depth conversation with Gwenyth Paltrow. She's also made headlines for launching her own brand of wine, which has proven to be a lucrative venture for her.
Do you think Cameron Diaz will ever make a Hollywood comeback? What kind of role would you like to see her in? Let us know in the comments!
Your Daily Blend of Entertainment News
Thank you for signing up to CinemaBlend. You will receive a verification email shortly.
There was a problem. Please refresh the page and try again.