A Batman And Lois Lane Romance? Zack Snyder Details Some Of The Cut Justice League Ideas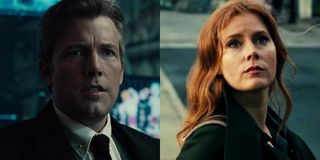 It's only a matter of time before Zack Snyder's Justice League hits HBO Max, and excitement levels are steadily rising. And as the filmmaker's cut draws closer, fans are starting to learn more about what he originally envisioned for the superhero ensemble film. It's no secret that he had a number of ideas that didn't make it into Joss Whedon's theatrical cut, but there were some that were shut down even before her started rolling on the movie. One of these plans now appears to be a bit of romance when it comes to Batman and Lois Lane. Well, at least, one of them one was to have feelings for the other.
As it turns out, Zack Snyder intended for the reclusive Bruce Wayne to fall in love with Lois Lane in Justice League. However, the Dark Knight would have soon been faced with an internal conflict, since one of his biggest goals was to resurrect her deceased lover -- Clark Kent a.k.a. Superman. And it sounds like this all would led to a very compelling scene for Bruce:
Zack Snyder's revelation within Vanity Fair's extensive Justice League story is interesting to say the least. Having Bruce Wayne fall in love with Lois Lane would have added a bit of drama to the film, especially when it came to Superman's return.
All in all, it may be for the best that Batman didn't have feelings for Lois Lane. Though it's hard to deny that his speech to Alfred could have made for a memorable moment.
In the theatrical cut of Justice League, Ben Affleck's Bruce Wayne and Amy Adams' Lois Lane didn't spend too much time together. While the former was heavily focused on uniting the team of superheroes, the latter was mostly shown to be mourning Clark Kent. Her biggest moments would arguably come in the latter part of the film, which saw her assist the League in calming down the newly revived Kent.
A romance may not be in the cards for Bruce Wayne and Lois Lane, but there are plenty of other new elements viewers can expect from Zack Snyder's Justice League. This includes more of Cyborg's backstory, Darkseid's inclusion and even an appearance from Jared Leto's Joker.
Zack Snyder's Justice League hits HBO Max on March 18.
Covering superheroes, sci-fi, comedy, and almost anything else in film and TV. I eat more pizza than the Teenage Mutant Ninja Turtles.
Your Daily Blend of Entertainment News
Thank you for signing up to CinemaBlend. You will receive a verification email shortly.
There was a problem. Please refresh the page and try again.