Coming 2 America's Eddie Murphy Explains Why The First Movie Still Matters 30 Years Later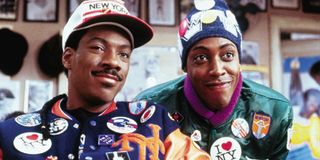 Coming to America came out in the late '80s, but it's still one of those movies that some families watch every year. Needless to say, it's still a very relevant, iconic film. The film has an all-star, predominantly black cast, who played characters that hailed from both the fictional nation of Zamunda and our real-world Queens, New York, and the result was absolute comedic gold. With the long overdue sequel -- featuring most of the original cast -- almost here, Eddie Murphy has spoken out about why the film is so special and why it still matters over 30 years after the original's release.
The fact is there really aren't many other films quite like Coming to America. In reality, Black Americans honestly don't have as many mainstream films they can see themselves represented in, let alone ones that are enduring cult classics. Eddie Murphy, who plays the lead role of Prince Akeem, says the legacy of Coming to America is about the rare escapism it allows Black audiences to enjoy. In the actor's own words:
It's now 2021, and we are starting to see more diversity in filmmaking but, in the 33 years since Coming to America its release, you would be hard pressed to find another film with a mostly black cast that doesn't posses a heavy undertone. Coming to America is a comedy that includes elements of fantasy and romance. It's a story you can get wrapped up in and feel nothing but happiness from - that's the escapism Eddie Murphy speaks of.
In the same interview with Essence, Eddie Murphy says Coming to America is still a beloved film that's watched by so many because it provides a sweetness that Black people rarely get with movies - a romantic fairytale with Black characters. Here it is in the comedian's own words:
We are seeing more all-Black casts and Black leads in Hollywood now and, while we have the strong messaged films like Jordan Peele's Get Out and Us, we're also seeing Black actors in lighter cinematic fare.
Hopefully, we can expect to see Hollywood become more diverse in the future, as it still has plenty of work to do in that area. With the way the world is now between politics and the hardship of the pandemic, there may not be a more perfect time for Coming 2 America, which is set to release to Amazon Prime on March 5th. We could all use a little escapism right now, and the long-awaited sequel is somewhat of a light in a dark time.
Constantly thinking about books, coffee, and the existential dread I feel from Bo Burnham's Inside. While writing I'm also raising a chaotic toddler, who may or may not have picked up personality traits from watching one too many episodes of Trailer Park Boys.
Your Daily Blend of Entertainment News
Thank you for signing up to CinemaBlend. You will receive a verification email shortly.
There was a problem. Please refresh the page and try again.