Andra Day: 6 Things To Know About The United States Vs. Billie Holiday Star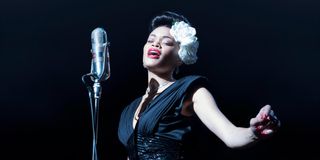 Andra Day is well on her way to becoming show business' next great dual-threat with her performance in Hulu's Golden Globe-nominated The United States Vs. Billie Holiday, in which she portrays the iconic jazz singer who became the subject of a decades-long investigation by various branches of the United States government. And while the singer-turned-actress' portrayal of "Lady Day" is getting a lot of buzz, this isn't the start of Day's career, which has been gaining steam for nearly ten years now.
In fact, Andra Day's life and career in the music business, and now movie industry, is pretty remarkable, to be completely honest. From her days of being inspired by the very singer she would one day bring to life on the screen to getting an early boost from an R&B legend to earning a spot on the Hamilton mixtape, there are some aspect of Day's career that reach beyond impressive.
A Young Andra Day Drew Inspiration From Billie Holiday
Long before she portrayed "Lady Day" in The United States Vs. Billie Holiday, Andra Day drew inspiration from the late jazz singer's career and signature style. Not long after the release of her debut album Cheers to the Fall, Day told her hometown The San Diego Union-Tribune that had always been interested in singing from an early age but had an "epiphany" when she was introduced to the music of iconic jazz singers like Billie Holiday, Ella Fitzgerald, and Dinah Washington, stating:
The decision to draw from her roots, which included singing gospel music as a child in addition to the early jazz singers, helped Andra Day create a signature style of her own, one that would draw the attention of some very important people in the industry.
When Starting Out, Andra Day Got A Massive Boost From Stevie Wonder
Several years after deciding to do things her own way on her own terms, Andra Day received the phone call of a lifetime after catching the attention of Stevie Wonder after his then-wife Kai Millard stumbled across a video of the aspiring singer performing at a California strip mall. In a 2016 interview with LiveNation, Day recalled sitting in a small studio apartment with her mom when she received a phone call that would forever change her career, and life for that matter.
After all those years, the Grammy-nominated singer admitted the whole situated still felt weird to her despite working with Stevie Wonder on multiple occasions, including working with him on her 2015 debut album as well as a Christmas duet with the Rock and Roll Hall of Famer.
Andra Day First Made A Name For Herself Combining The Notorious BIG And Marvin Gaye On YouTube
Between her first meeting with Stevie Wonder and the release of her 2015 album, Andra Day made a name for herself with a series of YouTube videos where she mashed up popular songs from different genres of music. This started in 2012 with a celebrated combination of elements of The Notorious BIG's "Big Poppa" and Marvin Gaye's "Let's Get It On" and quickly grew to more videos that featured songs by Amy Winehouse, Lauryn Hill, Muse, and Eminem.
In 2016, Andra Day told Paste Magazine that the project, which eventually helped her land a record deal with Warner Bros. Records, was born out of the idea of finding ways to add her personal spin to popular songs that were different from her style of music.
Andra Day Performed A Powerful Cover Of 'Burn' On The Hamilton Mixtape
There have been few Broadway productions in recent memory that have reached the levels of hype and popularity surrounding Lin-Manuel Miranda's Hamilton. And just when the first North American tour was gearing up to run wild in 2017, Miranda released The Hamilton Mixtape, a collection of covers of the musical's most popular tracks as well as songs that didn't the original production.
With the biggest names in music as well as up-and-comers taking up spots on the release's 23-song track list, Andra Day was given the opportunity to make her mark on the mixtape when she sang the powerful "Burn" which was originally performed by Phillipa Soo's Eliza Hamilton in the original Broadway production. Often considered one of the best tracks from Hamilton, Day's rendition did nothing but help the song's case.
Andra Day Performed Alongside Common At The 90th Academy Awards
Andra Day had already had a popular album and slew of hit singles by the time she performed alongside Common at the 90th Academy Awards, but the pair's moving rendition of the Oscar-nominated "Stand Up For Something" helped show another audience just what she was working with. Just weeks after the tragic Parkland School Shooting in February 18, 2018, the performance of the signature track from the Marshall soundtrack about standing up for what you believe in had a resounding effect on the audience and country in general at such a consequential time.
The United States Vs. Billie Holiday Is Andra Day's First Major Film Role
After watching the trailer for The United States Vs. Billie Holiday, it is hard to believe that this is the first major film role, acting role in general, for Andra Day. In the past few years, she has had small roles in movies like the Thurgood Marshall biopic Marshall and Pixar animated film Cars 3, but Day's portrayal of the late, great Billie Holiday is the first time (hopefully not the last) the singer has lead a production.
The way Andra Day takes command of the screen during the singing portions and non-musical sections alike goes beyond noteworthy and should come as no surprise that she has been nominated for a Golden Globe with an Oscar nomination possibly on the way?
Who knows exactly what the future will hold for Andra Day and her blossoming film career, but no matter what happens in this award season and those yet to come, we're looking at a talent we'll surely be talking about for years to come. The United States Vs. Billie Holiday premieres Friday, February 26, 2021 on Hulu.
Philip grew up in Louisiana (not New Orleans) before moving to St. Louis after graduating from Louisiana State University-Shreveport. When he's not writing about movies or television, Philip can be found being chased by his three kids, telling his dogs to stop yelling at the mailman, or yelling about professional wrestling to his wife. If the stars properly align, he will talk about For Love Of The Game being the best baseball movie of all time.
Your Daily Blend of Entertainment News
Thank you for signing up to CinemaBlend. You will receive a verification email shortly.
There was a problem. Please refresh the page and try again.