11 Joseph Gordon-Levitt Movies To Watch Streaming Right Now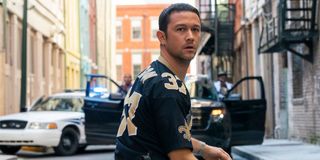 Joseph Gordon-Levitt is one of those actors who has managed to remain in the spotlight as his career has progressed from that of a child actor in movies like Angels in the Outfield, to his teenager years in shows like 3rd Rock from the Sun, and into adulthood with everything from Inception to his most recent offering, the Netflix original Project Power. And over the span of the past 30-plus years, JGL's relevancy and range as a skilled actor has only grown.
With the October 2020 release of Aaron Sorkin's Netflix drama The Trial of the Chicago 7 approaching, now is the perfect time to look back on some of the best movies from the former teen heartthrob that are streaming right now. These are on top of classics like Brick and Looper, among the great titles worth revisiting or watching for the first time.
Project Power
The Netflix original movie Project Power is set in a version of New Orleans that has become the new home of a dangerously powerful street drug called "Power" that grants users temporary superpowers. The movie follows former Delta Force major Art (Jamie Foxx), New Orleans police officer Frank Shaver (Joseph Gordon-Levitt) and street-smart dealer Robin (Dominique Fishback) as they try to take down the powerful corporation manufacturing the dangerous substance.
If you like seeing Joseph Gordon-Levitt run around in a New Orleans Saints jersey, become bulletproof and get shot in the face in one of the most technically impressive visual effects shots of the year, then Project Power is right up your alley.
Stream Project Power on Netflix here.
10 Things I Hate About You
The 1999 romantic comedy 10 Things I Hate About You has become much more than just another adaptation of a William Shakespeare play and is now viewed as one of the classics of the late 1990s. Set in Seattle, the movie follows new student Cameron (Joseph Gordon-Levitt) as he tries to win over Bianca Stratford (Larisa Oleynik), but with one catch.
Joseph Gordon-Levitt was already a star when 10 Things I Hate About You came out in the middle of his run on 3rd Rock from the Sun, but his take on a hapless Cameron trying his damnedest to find true love was a sign of things to come for him in the world of romantic comedies, even if he did everything he could to try and get out of the role.
Stream 10 Things I Hate About You on Disney+ here.
Inception
Christopher Nolan's 2010 dream heist spectacle Inception is still one of the most heavily debated summer blockbusters in recent memory thanks to its divisive ending, but there's something great about watching Dom Cobb (Leonardo DiCaprio), Arthur (Joseph Gordon-Levitt) and the rest of the cast diving into multiple layers of dreams not to extract information, but to implant an idea in the mind of the dreamer.
You could argue that Arthur is only there for expositional purposes, and you might be right, but Joseph Gordon-Levitt has never looked as cool as he does in Inception. It never gets old watching Arthur fight and float his way through the zero-gravity hotel corridor of the second-level dream as he tries to get the rest of the team in the right place at the right time to sync up the "jumps." It's even more impressive when you take into consideration all the training he put into just that one scene.
Stream Inception on Amazon here.
50/50
The 2011 comedy 50/50 follows Adam Lerner (Joseph Gordon-Levitt) after he learns that he has malignant tumors running along his spine, and throughout his cancer treatment. With a supporting cast that includes Seth Rogen as Adam's best friend and caretaker Kyle, Anna Kendrick as his therapist and love interest Katie, and several other heavy hitters, the movie explores the pain and humor that comes with such a shocking diagnosis.
If you were to put a gun to my head, I would say that this is my favorite Joseph Gordon-Levitt movie. His character, Adam, perfectly walks the line between hopelessness and optimism, and still finds joy in a life that so many would see as nothing more than borrowed time. He's stripped down spiritually and emotionally, which exposes his true self to the audience, making Adam a character that is easy to like and that is impossible to not cheer on as he fights cancer in one of the best movies of 2011.
Stream 50/50 on Showtime here.
The Wind Rises
Joseph Gordon-Levitt provides his voice for the English dub of Hayao Miyzazki's 2013 historical drama The Wind Rises, which follows the story of the Jiro Horikoshi, the chief designer of many of the Japanese warplanes used in World War II, including the Mitsubishi A6M Zero. Throughout the movie, Jiro finds himself in a moral dilemma brought on his love of the beauty of airplanes, but wants nothing to do with the destructive nature of their use.
This isn't the only time Joseph Gordon-Levitt has lent his voice to an animated feature, but it is the only time he's done so in one of Hayao Miyazaki's beautifully crafted features from Studio Ghibli. And even though you can't see his face, it's hard not to hear the emotion coming from JGL's tortured performance in this 2013 gem.
Stream The Wind Rises on Showtime here.
500 Days Of Summer
The 2009 comedy 500 Days of Summer follows Tom (Joseph Gordon-Levitt), a hopeless romantic who spends his days writing greeting cards as he falls head over heels for Summer (Zooey Deschanel), and the two embark upon a lovely 500-day relationship. When things suddenly go south and Summer leaves Tom in the dust, he is left with a messy life to piece back together.
Around this time is when Joseph Gordon-Levitt started firing on all cylinders and it really shows here in his desperate portrayal of a man with a broken heart. I go back to it time and time again, but the scene that shows Tom's expectations versus reality during the iconic party scene is one of the most inventive and remarkable few minutes in any romantic comedy.
Stream 500 Days of Summer on Starz here.
Hesher
The 2010 dark comedy Hesher centers around a young boy named T.J. (Devin Brouchu) as he grieves his recently deceased mother along with his depressed father Paul (Rainn Wilson) and elderly grandmother Madeline (Piper Laurie). All of their lives are thrown into chaos when Hesher (Joseph Gordon-Levitt), a squatter with questionable tattoos and a unique outlook on life, takes up residence in their home. The family, along with a grocery store clerk named Nicole (Natalie Portman), are forever changed by the impact of the unique loner.
Unlike most of Joseph Gordon-Levitt's previous roles, he takes on a character that is from the other side of the tracks, so to speak, and offers a unique look on life that surely is unique when compared to the rest of the characters featured in the movie. If you are looking for something a little different from the actor, then Hesher is the probably the way to go.
Stream Hesher on Amazon here.
Premium Rush
The high-adrenaline thrill ride Premium Rush follows New York City bicycle messenger Wilee (Joseph Gordon-Levitt) as he navigates the crowded streets of the Big Apple, trying to get his job done without ending up underneath a car. The tenacious rider's life, however, is about to be changed forever when agrees to make a questionable delivery at the end of a long shift.
The fact that Joseph Gordon-Levitt flew into the back of a taxi and demanded that the footage be kept in the final movie should tell you that this movie doesn't hold back. And while it's not as fun as the other movie in which JGL and Michael Shannon share the screen (I'm looking at you, The Night Before), David Koepp's 2012 action thriller is one hell of a time.
Stream Premium Rush on Starz here.
Don Jon
Joseph Gordon-Levitt wrote, directed and starred in Don Jon, a 2013 romantic comedy about Jon Martello, a young American bachelor who cares about a few things in life: his looks, his girls and his porn addiction. Throughout the movie, Jon finds himself in a tumultuous relationship with Barbara Sugarman (Scarlett Johansson) that consists of more ups and downs than anyone can track, but ultimately leads some pretty great self-discovery on Jon's part.
While it's not the best Joseph Gordon-Levitt movie, Don Jon does show that he's more than just an actor and can competently take on the triple-threat of acting, writing and directing. And with the great performance from Scarlett Johansson that largely went unnoticed, there's a lot to take in here.
Stream Don Jon on Starz here.
7500
The 2020 thriller 7500 follows Joseph Gordon-Levitt's Tobias Ellis, a co-pilot who finds himself as the last line of defense in the hijacking of a commercial jet and must act to avoid disaster and deaths of everyone on board.
One of the most remarkable things about Joseph Gordon-Levitt's role in 7500 is that he is alone for large sections of the movie and still gives one of the better performances in recent memory. Watching him as the conflicted co-pilot trying to rationalize decisions throughout the hijacking is a reminder of his talent. It's especially impressive when you realize that this was his first movie in several years after taking time off following Snowden.
Stream 7500 on Amazon here.
Stop-Loss
There have been a lot of great war movies in recent years, but few carry the same weight of the 2008 drama Stop-Loss, which centers around a group of former soldiers struggling to cope with life after serving several tours of duty in Iraq. Ryan Phillippe leads the pack as Brandon King, a U.S. soldier who is forced to go AWOL after the military forces him to continue fighting through the "stop-loss" policy. Joseph Gordon-Levitt and Channing Tatum round out the cast of distressed soldiers who never really left the war.
Joseph Gordon-Levitt isn't the star of Stop-Loss, but his turn as Tommy Burgess is one that shouldn't go unrecognized for its brutally honest and unsettling depiction of someone struggling with PTSD. It's not easy to watch, but it's more than worth it.
Stream Stop-Loss on Amazon here.
This is just barely scratching the surface of all the great Joseph Gordon-Levitt performances out there, of which there are many. Is there one that you think is missing from this list? Make sure to sound off in the comments below and let the world know.
Philip grew up in Louisiana (not New Orleans) before moving to St. Louis after graduating from Louisiana State University-Shreveport. When he's not writing about movies or television, Philip can be found being chased by his three kids, telling his dogs to stop yelling at the mailman, or yelling about professional wrestling to his wife. If the stars properly align, he will talk about For Love Of The Game being the best baseball movie of all time.