Upcoming Phillipa Soo Movies And TV: What's Ahead For The Hamilton Star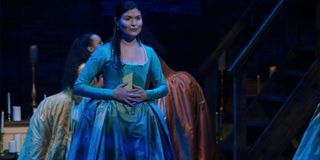 Most people recognize Phillipa Soo for her role in Hamilton. She played Alexander Hamilton's (Lin Manuel-Miranda) helplessly in love wife Eliza. Soo has been a Broadway and off-Broadway performer since 2012, but the hit musical helped propel her career. Phillipa Soo can now be seen wowing viewers with Disney+'s release of the Hamilton movie and through various stage and screen projects.
2020 has especially been a big year for Phillipa Soo and fans of the Hamilton star. She not only appeared in some of your favorite movies, but she signed on for some cool future projects. Let's take a look at what's next for Phillipa Soo.
The Second Wave - TBA, 2020 (Filming)
Spectrum Originals and CBS Studios are producing a six-episode pandemic-centered drama. The team behind The Good Fight and Evil, Robert King and Michelle King, will be developing this series. Audra McDonald, Taylor Schilling, and Steven Pasquale (Soo's real life husband) are set to star. The Second Wave follows an unexpected second wave of the coronavirus in New York City. Its focus is on neighbors played by McDonald and Schilling and how they try to navigate their own issues and the threat of the coronavirus.
Phillipa Soo will play a recurring character in The Second Wave. She will play Cydni Estereo, a White House liaison to the CDC. According to Deadline, The Second Wave began filming in October and is supposed to continue until December 23. No release date is set, but Deadline states that Spectrum wants to release it on-demand later in 2020.
Dopesick - TBA, 2021 (Pre-Production)
Phillipa Soo will appear in 2021 on a Hulu original miniseries called Dopesick. Danny Strong will be developing the series with Michael Keaton as the lead. It's based on the book of the same name by Beth Macy. Dopesick will explain the opioid addiction affecting people across the United States of America.
Along with Keaton, Dopesick's main cast will include Peter Sarsgaard, Kaitlyn Dever, Will Poulter, and Rosario Dawson. Soo is supposed to be a recurring character named Amber. Dopesick will take place in a Virginia mining community, and Soo will be a sales rep at Purdue Pharma. Her company and team will be the first to sell OxyContin. Dopesick is expected to be an eight-episode miniseries.
Dopesick is currently in pre-production without a confirmed release date. It's expected to be on Hulu sometime in 2021.
Recently Released
Phillipa Soo's next two series will be airing at the end of 2020 and in 2021, but she had plenty of content that was recently released and you may have missed. Let's look at those projects.
Over The Moon - October 23, 2020
Over the Moon is an animated film that follows Fei Fei (Cathy Ang), a young girl who travels to the moon to find the moon goddess Chang'e (Phillipa Soo). Chang'e's legend states that she took an immortality potion causing her to become a goddess and ascend to the moon without her lover, Houyi, who she waits for on the moon.
Fei Fei heads to the moon to prove that Chang'e is real. Chang'e and Fei Fei are both still grieving the ones that they have lost. Chang'e hasn't let go of Houyi and Fei Fei still holds on to her mother, but they help each other move on. Over the Moon's voice cast also includes Ken Jeong, John Cho, Sandra Oh, and Margaret Cho. Over the Moon became available to stream on Netflix on October 23, 2020. Stream it here (opens in new tab).
The Broken Hearts Gallery - September 11, 2020
The Broken Hearts Gallery follows Lucy (Geraldine Viswanathan) as she creates a gallery for people to leave trinkets from past relationships. Lucy is an art gallery assistant in New York who keeps souvenirs from past relationships. After a devastating breakup, her roommates demand that she gets rid of her old relationship trinkets.
She hatches a plan with a hot stranger that she keeps running into, Nick (Dacre Montgomery), to start a display of her trinkets. Of course, Nick and Lucy find love while working on this new project. Soo plays one of Lucy's roommates, Nadine, and Molly Gordon plays her other roommate Amanda. Like any good roommate, they want the best for Lucy. The Broken Hearts Gallery was released in theaters on September 11, 2020, but is now available to rent or purchase on your favorite VOD service. Rent it here (opens in new tab).
The One And Only Ivan - August 21, 2020
The One and Only Ivan is a Disney original movie that stars Bryan Cranston and features voice-over work by Sam Rockwell, Angelina Jolie, Danny DeVito, Helen Mirren, and Phillipa Soo. Ivan (voiced by Rockwell) is a silverback gorilla who lives at the Big Top Mall, where he interacts with other animals and humans.
Ivan takes up drawing while dreaming of being reunited with his own kind. Soo has a small role as Thelma, a blue and yellow macaw. She likes to observe things from her perch on Mack (Bryan Cranston)'s shoulder. The One and Only Ivanpremiered on Disney+ on August 21, 2020. Stream it here (opens in new tab).
Hamilton - July 3, 2020
Likely if you've heard of Phillipa Soo, then you've seen her in the Hamilton movie or was one of the lucky few that caught her live when she played Eliza Schuyler (turned Hamilton) from 2015 to 2016 on Broadway. Hamilton is the brain-child of Lin Manuel-Miranda and tells the story of Alexander Hamilton.
His story is told through hip-hop, rap, R&B, and pop music. The cast is full of actors from racially and ethnically diverse backgrounds. Eliza Hamilton is Alexander's wife. Hamilton shows the ups and downs of their marriage but emphasizes the strong love and bond between them. Hamilton allows Phillipa Soo to showcase both her great theatrical talents and singing abilities. Hamilton is available to stream on Disney+. Stream it here (opens in new tab).
Tumacho - February 17, 2020
Phillipa Soo along with Bill Buell, John Ellison Conlee, and Randy Danson appeared in an off-broadway play by Ethan Lipton and directed by Leigh Silverman called Tumacho. Tumacho is a Western comedy. It's described as a play about citizens of a frontier looking for someone to rescue from the terror of the local villain.
Tumacho was supposed to run from February 17 to March 12, 2020, at the Connelly Theater in New York City. Soo plays Catalina Vucovich-Villalobos, who is described by the New York Times as a " pigtailed gunslinger."
Phillipa Soo is just hitting the peak of her career, so we can't wait to see what she does next.
Spent most of my life in various parts of Illinois, including attending college in Evanston. I have been a life long lover of pop culture, especially television, turned that passion into writing about all things entertainment related. When I'm not writing about pop culture, I can be found channeling Gordon Ramsay by kicking people out the kitchen.
Your Daily Blend of Entertainment News
Thank you for signing up to CinemaBlend. You will receive a verification email shortly.
There was a problem. Please refresh the page and try again.