Guy Ritchie's Next Gig Sounds Like The Coolest WWII Movie Since Quentin Tarantino's Inglourious Basterds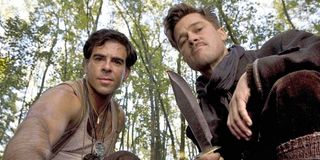 War movies are a special genre, as the nature of human conflict is a sordid and devastating affair. There have been hundreds of films covering the tragedy of World War II, but over the years, a few directors have given their own, sometimes humorous spin on the subject. It's now been announced that Guy Ritchie is attached to direct a WWII movie of his own, and the plot sounds like it will be the coolest cinematic story covering this conflict we've seen since Quentin Tarantino's Inglourious Basterds.
Guy Ritchie will be teaming up with Paramount Pictures for the WWII film, which will follow Great Britain's first black-ops unit and their daring escapades behind enemy lines. As first reported by Deadline, the upcoming film is titled Ministry of Ungentlemanly Warfare, and Ritchie is attached to both write and direct. The director's next project is based on Damien Lewis' 2015 novel Ministry of Ungentlemanly Warfare: How Churchill's Secret Warriors Set Europe Ablaze and Gave Birth to Modern Black Ops.
Ministry of Ungentlemanly Warfare will follow a group of thieves, criminals and other ne'er-do-wells as they assemble to become a covert unit during WWII. The source material for the film details an unlikely brotherhood and the bold missions that often took place behind enemy lines. Ironically dubbed the Maid Honour Force by Winston Churchill, the group was cleared to break all accepted conventions of warfare during their tour, and proved to be an effective tool against the German advance.
Quentin Tarantino fans may recognize the plot as slightly similar to the director's 2009 film Inglourious Basterds, where an uncover group of Jewish Allied soldiers seek retribution against Nazi forces in the first years of WWII. While some consider Inglourious Basterds to be one of the best WWII films of the last two decades, I think at Christopher Nolan's Dunkirk is worth an honorable mention, at least.
Guy Ritchie's upcoming flick comes after last year's The Gentleman, which had an all-star ensemble cast featuring Colin Farrell, Matthew McConaughey and Hugh Grant. While some may know the director for his foul-mouthed British mob flicks, like Snatch and Lock, Stock and Two Smoking Barrels, he's ventured into lighter territory in recent years, teaming up with Disney for the live-action Aladdin remake.
From the plot, it sounds like Ministry of Ungentlemanly Warfare will have Guy Ritchie getting back to his crime roots. I wouldn't be surprised if it featured some colorful language and violence. Ritchie has been able to attach some seriously high-caliber talent for his previous projects, so there's a good chance we will see a few big names featured in this movie too.
While Ministry of Ungentlemanly Warfare doesn't currently have a release date, Guy Ritchie fans can revisit The Gentleman on Showtime, or check out his foray into family friendly film with Aladdin on Disney Plus. (opens in new tab) As for this year's movie slate, be sure to check out CinemaBlend's 2021 Release Schedule for the latest on everything heading to the big (and small) screens near you.
Into tracksuits by Paulie Walnuts, the Criterion Channel and Robert Eggers.
Your Daily Blend of Entertainment News
Thank you for signing up to CinemaBlend. You will receive a verification email shortly.
There was a problem. Please refresh the page and try again.