Why Judas And The Black Messiah Star LaKeith Stanfield Had Anxiety Attacks After Filming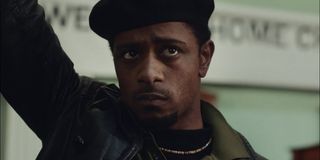 Acting can be an extremely stressful profession. Some of the best in the business commit to their characters so much that it can be difficult to leave them behind. Judas and The Black Messiah star LaKeith Stanfield recently revealed the filming of his latest movie, Judas and the Black Messiah, was so intense that it caused the actor to have anxiety attacks.
There will be major spoilers for Judas and the Black Messiah below, so if you haven't caught the film yet, read on at your own risk!
In a recent interview with LEVEL, Get Out star LaKeith Stanfield discloses that the process of filming one particularly intense scene in Judas And The Black Messiah wound up taking a serious toll on his mental health, ultimately resulting in a physical reaction. As he put it,
Stanfield notes that the whole version of the scene in question didn't make it into the final cut of the film, but it still caused him some pretty serious mental trauma. He goes on to say that he suspects the filming of Judas and the Black Messiah has something to do with his recent stress and panic attacks.
It makes sense, considering just how intense and tragic the ending of Shaka King's Judas and the Black Messiah is. LaKeith Stanfield plays William O'Neil, an FBI informant who is embedded with the Black Panther party during the late '60s. Despite being considered a close confidant of Black Panther leader Frank Hampton (played by Daniel Kaluuya), O'Neil provided information that led to a police raid and Hampton's subsequent assassination.
Judas and the Black Messiah has seen some seriously high praise for its talented cast and direction from Shaka King. LaKeith Standfield's co-star Daniel Kaluuya was recently nominated for a Golden Globe and SAG award for his supporting performance as Fred Hampton to boot.
While it was no walk in the park for LaKeith Stanfield to film such an intense movie, hopefully his commitment to character will pay off, as Oscar nominations are on the horizon and it wouldn't be surprised in the slightest if we saw Judas and the Black Messiah get a lot of love.
Into tracksuits by Paulie Walnuts, the Criterion Channel and Robert Eggers.
Your Daily Blend of Entertainment News
Thank you for signing up to CinemaBlend. You will receive a verification email shortly.
There was a problem. Please refresh the page and try again.