LaKeith Stanfield's Judas And The Black Messiah Has Screened, Here's What Critics Are Saying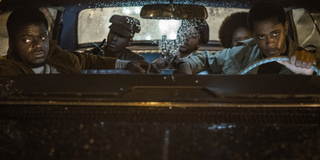 Daniel Kaluuya and LaKeith Stanfield, who previously appeared together in the 2017 film Get Out, have teamed up once again for Judas and the Black Messiah. Judas and the Black Messiah, directed by Shaka King, tells the story of William O'Neal (LaKeith Stanfield), a petty criminal, who agrees to work undercover for the FBI to infiltrate the Black Panther party and take down revolutionary leader Fred Hampton (Daniel Kaluuya).
Judas and the Black Messiah debuts in theaters and on HBO Max on February 12th, and now the critiques have started rolling in.
CinemaBlend's own Eric Eisenberg saw the film, and he is mostly singing the movie's praises. He gave Judas and the Black Messiah four out of five stars and praised many aspects of the film, including the lead performances and the HBO Max film's powerful story. He said:
Peter Debruge from Variety calls the film "powerful" and predicts it will be an Oscar contender, while also praising the performances, specifically that of LaKeith Stanfield. Peter continues:
Jimi Famurewa from Empire also praised Stanfield's performance, as well as many other aspects of Judas and the Black Messiah, including the writing, the cinematography, the score, and, again, the other actors' performances. (I'm sensing a theme.) He goes on to say:
The performances continue to be commended across the board. David Rooney from The Hollywood Reporter noted the "sensational" performances from Kaluuya and Stanfield, while commenting on the currency of the story's themes. He continues, saying:
Not all critics were overwhelmingly enthusiastic about the film. Robert Daniels of The Playlist touches on Kaluuya's "electric" performance, but says that O'Neal, played by Stanfield, "just isn't a compelling character." He continues, saying:
Though certainly met with some criticism, the response to Judas and the Black Messiah seems to be mostly positive so far, but we'll have to wait until moviegoers see the film to find out if that momentum continues.
Judas and the Black Messiah debuts in theaters and on HBO Max on February 12th, and in the meantime check out CinemaBlends guide to every movie coming out in 2021.
Your Daily Blend of Entertainment News
Thank you for signing up to CinemaBlend. You will receive a verification email shortly.
There was a problem. Please refresh the page and try again.