Nomadland And 5 Other Movies That Cast Non-Celebrities To Play Themselves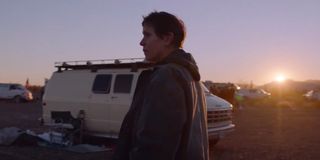 I would agree that critics and audiences have been right to praise Frances McDormand for her work in Nomadland, which recently earned her a Golden Globe nomination. However, the performances in director Chloé Zhao's acclaimed drama that I am even more fascinated by come from her co-stars. Not only is much of the cast made up of people who are not professional actors, but the characters they play are, essentially, themselves.
Believe it or not, this is a slightly more common practice in cinema (especially recently, as it turns out) than it may sound. To be clear, I am not counting the occasional cameo by a famous person as a fictionalized version of themselves, which is typically done for laughs. I am talking about an ordinary, average citizen who has never acted before, but is cast in a movie role with the same name, occupation, and other general characteristics of their being.
To some it may sound like a gamble to not hire a professional, but to the artists behind the films below, it is the perfect way to add that much-desired extra layer of authenticity that even the most talented actors may not have been able to crack. The following are six notable examples of people who were given the chance to star as a character whom no one else could have played like they could, starting with the real stars of Chloe Zhao's award-winning masterpiece.
Nomadland (2020) - Most Of The Cast
The story of Frances McDormand's Nomadland character, Fern, who travels the country in search of work after falling on hard times, is inspired by Jessica Bruder's book, Nomadland: Surviving America in the Twenty-First Century. The non-fiction book chronicles the journalist's own experience among a group of middle-aged, unemployed "nomads" who emerged after the 2008 recession and still exists to this day. When Chloé Zhao stepped in to adapt the book into a film, she realized that including the people who define this culture were necessary to making it real.
Outside of McDormand, who also produced Nomadland, and David Strathairn, the majority of actors featured in the film are self-described "nomads" portraying slightly fictionalized versions of themselves. Among these many unlikely movie stars are the 64-year-old Charlene Swankie, who revealed in an LA Times interview that she had never heard of her Oscar-winning co-star before she was cast, and Bob Wells, who runs a non-profit organization which helps newcomers to the nomadic lifestyle survive on the road.
Good Time (2017) - Eric Paykert
You could say Robert Pattinson gave the "breakout" performance of Good Time, Josh and Benny Safdie's hit anxiety trip before Uncut Gems, since his role as a criminal going to extreme lengths to get his mentally challenged brother (Benny Safdie) out of jail helped audiences see him as more than Edward Cullen. However, I would argue that the true breakout star is real-life bail bondsman Eric Paykert, who plays a bail bondsman named Eric in the A24 crime drama.
Originally, the character was played by another Eric, The Dark Knight star Eric Roberts, until unsatisfactory results led to the role being recast with Paykert, whose bail-bond agency was already being used for scenes where Pattinson's Connie Nikas tries to buy his brother's freedom. Josh Safdie told the Chicago Tribune that Paykert, who also appears in Good Time with his actual wife and office assistant Astrid Corrales, made the scenes feel "so much more alive."
Sound Of Metal (2020) - Shaheem Sanchez
Nomadland is not the only Awards Season favorite released in 2020 featuring a non-actor as themselves. In the Amazon Prime original Sound of Metal, Riz Ahmed plays a rock drummer losing his hearing who begins to gain a better understanding of it by spending time with people with the same disability, including Shaheem Sanchez.
Technically, we are breaking a rule here since this talented dancer has already gained a large following, especially on social media, as an inspiration to other deaf people with similar aspirations. Yet, he makes his film debut in director Darius Marder's heart-wrenching drama as a deaf dancer named Shaheem, which will surely earn him a whole new audience of fans.
The Rider (2018) - Brady Jandreau
Nomadland also isn't the only film written and directed by Chloé Zhao to use this technique. The award-winning Neo-western The Rider follows a young cowboy and rodeo performer named Brady Blackburn whose life changes when he suffers a critical skull fracture after falling off a horse. The movie is based on the life story of Brady Jandreau, who is played in the film by Brady Jandreau.
Chloé Zhao was filming her 2015 debut feature Songs My Brother Taught Me on Jandreau's uncle's South Dakota ranch when she first met him and already had ideas of making something together. When he suffered his injury in April 2016, that sparked the idea to collaborate on a project about his recovery process and, after a little convincing, Jandreau agreed to be the star.
The 15:17 To Paris (2018) - Alek Skarlatos, Anthony Sadler, And Spencer Stone
The Rider is not only biopic released in 2018 starring a non-actor in their own life story. The thriller The 15:17 to Paris is based on a real-life terrorist attack on a train in France prevented by three National Guard veterans and close friends. The Americans in question (Spencer Stone, Alex Skarlatos, and Anthony Sadler) appear as themselves in the film.
Just two years after their act of bravery made headlines around the world, director Clint Eastwood turned the trio's own book about the event into a film that would also explain how they became acquainted with one another. The news came with the surprising announcement that Stone, Skarlatos, and Sadler were also cast in the film as themselves. The heroes would claim to not necessarily be the "full on" leads, but being chosen to recreate one of the most important moments of their lives for the big screen was still an exciting prospect for them and audiences alike.
The Life Of General Villa (1914) - Pancho Villa
The 15:17 to Paris is not the first biopic starring an actual war veteran in their own life story. In fact, one of the first accounts of someone playing themselves in a film occurred more than century earlier when Pancho Villa appeared in The Life of General Villa in 1914.
This historical casting choice, in what would become the first feature-length movie, apparently came about when the Mexican revolutionary made a deal with a few American producers to film his war efforts against the military-run government, in the hope of getting funding if he starred in the cinematic recreation of his life. The interesting story served as the basis of the 2003 HBO Film And Starring Pancho Villa as Himself, which earned Antonio Banderas a Golden Globe nomination for his title role.
With how frequently movies seem to enlist people to play themselves these days, I wonder if this will become a more common trend in Hollywood. In fact, I even wonder if Chloé Zhao has figured out a way to use that tactic in Eternals, her upcoming foray into the Marvel Cinematic Universe. Until we see the next autobiographical cameo or amusingly meta fact-based drama, what is your favorite example of this fascinating casting choice so far?
This poll is no longer available.
Your Daily Blend of Entertainment News
Jason has been writing since he was able to pick up a washable marker, with which he wrote his debut illustrated children's story, later transitioning to a short-lived comic book series and (very) amateur filmmaking before finally settling on pursuing a career in writing about movies in lieu of making them. Look for his name in just about any article related to Batman.