Clint Eastwood Just Cast Three Real-Life Heroes To Play Themselves In Paris Terrorism Movie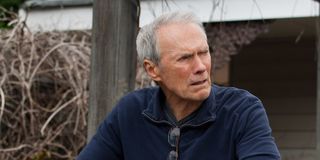 Even when movies are based off true events, usually you can count on experienced actors being hired to play the figures who were part of those events. That won't be the case with Clint Eastwood's upcoming movie, The 15:17 to Paris, which will depict the prevention of the Thalys train attack back in 2015. Instead of bringing actors aboard as the leads, as is the norm, Eastwood has tapped the trio who helped foil the terrorist incident to play themselves.
Anthony Sadler, Alek Skarlatos, and Spencer Stone, the U.S. Armed Forces members who subdued a terrorist who plan to open fire on a train headed to France, will portray themselves in Clint Eastwood's The 15:17 to Paris. The director decided to hire the actual men following an extensive search for leads, and while he and the studio found actors right for the job, it was decided "at the eleventh hour" to go with Sadler, Skarlatos and Stone instead. The 15:17 to Paris' will also include Jenna Fischer, Judy Greer, and Ray Corasani in supporting roles, as well as Paul-Mikel Williams, Max Ivutin, Bryce Gheisa, Cole Eichenberger, and William Jennings playing younger versions of the men. Although Sadler, Skarlatos and Stone have "good sized roles," The 15:17 to Paris will also show these three in their childhood and how they became friends, so the three men will not be "full on" leads.
Based on the book The 15:17 to Paris: The True Story of a Terrorist, a Train, and Three American Heroes (which Anthony Sadler, Alek Skarlatos, and Spencer Stone co-wrote with Jeffrey E. Stern), The 15:17 to Paris movie will shed a cinematic light on the events of August 21, 2015 that took place on the Thalys train traveling from Amsterdam to Paris. When the assailant, Ayoub El Khazzani, tried to fire his bullets in one of the cars, Anthony Sadler, Alek Skarlatos, and Spencer Stone worked together to subdue him, and four others aided in the neutralization. Three were injured during the struggle, but there were no fatalities, and Sadler, Skarlatos and Stone were awarded for their bravery.
Clint Eastwood most recently directed Sully, another based-on-a-true-story movie, but as the Variety report noted, The 15:17 to Paris casting decision is similar to 2008's Gran Torino, where the director largely relied on an unknown cast. Dorothy Blyskal will write the script, and the Warner Bros feature's producers include Eastwood, Tim Moore, Kristina Rivera and Jessica Meier. Eastwood is also producing the upcoming A Star is Born remake.
The 15:17 to Paris hasn't been assigned a release date yet, but keep checking back with CinemaBlend for more updates on its progress. In the meantime, check out our 2017 movie guide to find something of your liking coming into theaters during the latter half of the year.
Connoisseur of Marvel, DC, Star Wars, John Wick, MonsterVerse and Doctor Who lore. He's aware he looks like Harry Potter and Clark Kent.
Your Daily Blend of Entertainment News
Thank you for signing up to CinemaBlend. You will receive a verification email shortly.
There was a problem. Please refresh the page and try again.