Nomadland: 11 Movies And Documentaries To Stream Or Rent After Watching The Frances McDormand Drama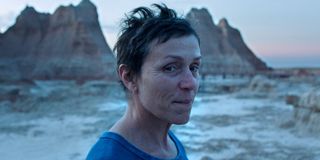 CinemaBlend participates in affiliate programs with various companies. We may earn a commission when you click on or make purchases via links.
Chloé Zhao's Golden Globe-nominated Nomadland, the Frances McDormand-led exploration of the human spirit in the vastness of the American West is one of the most visually and emotionally striking films of the year and perhaps in recent years. If you haven't already watched the film depicting an out-of-work widow trying to find her place in a world that has seemingly forgotten her then I recommend stop what you're doing and watch it on Hulu right now. If you have seen it, however, and want to watch more movies and documentaries like it, then I have some good news for you.
There is a lot to Nomadland that makes it not only a great movie, but a jarring and eye-opening experience that leaves you in wonder and with wanderlust for a grand adventure or change to your everyday life. The story, cinematography, and emotionally-riveting performances (largely performed by non-trained actors) from the central cast come together and create this fully realized and lived-in world. And a lot of these qualities can be seen elsewhere. Take the following movies and documentaries for example…
Into The Wild (2007)
Sean Penn's 2007 biographical drama Into the Wild, details the final years in the life of Christopher McCandless (Emile Hirsch, aka Alexander Supertramp as he goes from his graduation at Emory college in May 1990 to his death in Alaska nearly two years later. Much like Nomadland, this intimate portrait of someone seeking an itinerant lifestyle is full of tragedy and triumph (both personal and the bigger picture) and also offers a philosophical answer to the question: why do we run from home.
And while Alexander Supertramp's reasons for running are much different than those of Fern (Frances McDormand) in the film that would follow more than a dozen years later, the desire to be free from chains of society and failure to find one's place within said society remains true in both features.
Stream it on Netflix here (opens in new tab).
Rent it here (opens in new tab).
Independent Lens: American Nomads (2020)
The PBS documentary series Independent Lens often gives viewers (like you) an opportunity to experience stories and meet people they never would have met otherwise, and such is the case for the 2020 docuseries American Nomads. This six-part series of short films focusing on nomads who live and travel in vans, converted school buses, and refurbished RVs, is as eye-opening as it is entertaining and serves as a great piece of supplemental material for those who want to know more about the lifestyle after watching Nomadland.
The first of the six episodes of American Nomads even features Bob Wells, who played a version of himself in Nomadland. Wells' episode focuses on how he found a new lease on life after buying and refurbishing a work van and inspired thousands of other like-minded lost souls to do the same.
Stream it on PBS here.
Wild (2014)
Prior to teaming up for the HBO drama series Big Little Lies in 2017, director Jean-Marc Vallée and star/producer Reese Witherspoon first worked together on the film adaptation of Cheryl Strayed's 2012 memoir Wild. The biographical adventure drama about a recent divorcée (Witherspoon) who embarks upon a 1,100-mile journey along the Pacific Crest Trail, despite a lack in hiking experience, in an attempt to prove to herself she could, while also exorcising her personal demons is a brilliant and emotional examination of just how far humans will go to escape their past and free themselves from the burdens of their worries.
The personal odyssey documented in Wild, which received Academy Award and Golden Globe nominations for Reese Witherspoon's performance, is at times hard to watch and experience, but in other moments is filled with so much determination, freedom, and pure joy, much like in Nomadland more than a half-decade later.
Rent it here (opens in new tab).
Happy People: A Year In The Taiga (2013)
Happy People: A Year in the Taiga, the 2013 documentary from Werner Herzog and Dmitri Vasyukov, doesn't deal with the life of vandwelling nomads in the American West, but it does paint a loving portrait of the men and women who spend their lives (much of which are in isolation) in the small village of Bakhta in Siberia. Over the course of this 94-minute documentary, the two directors follow fur trappers as they set off into the woods to set traps, build shelters, craft boats, and lead a difficult yet free lifestyle in the unrelenting northern region of Russia.
And much like Nomadland, Happy People's directors often take a step back and allow the subjects of the documentary to carry on with their lives without much intervention. Long stretches of time go by with little to no dialogue or narration, just the sounds of nature and emotions of humans trying to survive in the wild.
Stream it on Amazon here (opens in new tab).
The Florida Project (2017)
Sean Baker's 2017 slice of life drama The Florida Project paints an intimate portrait of the residents of a Kissimmee, Florida, hotel who live in the shadow and off the business generated by nearby Walt Disney World. There are only a few trained actors in the movie (most notably Willem Dafoe as Bobby Hicks and his son Jack played by Caleb Landry Jones), but the rest of the cast, specifically the young children at the heart of the story, do a tremendous job of telling a story of a growing population of modern nomads discarded and forgotten by mainstream society.
At times heartbreaking and at times heartwarming, The Florida Project with its low-budget and guerrilla filming style comes off as more of a documentary than anything else, one filled with real people trying to make a better life for themselves just feet from the happiest place on earth.
Stream it on Netflix here (opens in new tab).
Rent it here (opens in new tab).
Jasper Mall (2020)
The 2020 documentary Jasper Mall spends the better part of a year following the dying Alabama mall and the local residents who work, shop, and congregate within its diminishing structure, showing just how small town America has begun to wash away in the years following the 2008 financial crisis. There's no narration or build up to a grand finale, instead directors Bradford Thomason and Brett Whitcomb let the mall's inhabitants do the heavy lifting and serve as nothing more than flies on the wall.
Much like in Nomadland, the subjects of Jasper Mall are fully aware of their situation and how it may be viewed, but in the simplicity of their lives they find freedom and happiness. Another comparison can be drawn from the way both films show how much can change over the course of a year, whether it be stores closing, people dying, or new, fresher beginnings.
Stream it on Amazon here (opens in new tab).
City Of God (2002)
Fernando Meirelles and Kátia Lund's 2002 crime epic City of God is one of the most beautiful yet harrowing movies you'll ever see, one that remains with me nearly 20 years after I first saw it in high school. Based on Paulo Lins' 1997 novel of the same name, the movie offers a shockingly violent portrait of the young residents of the various favelas in Rio de Janeiro, Brazil, caught in the crosshairs of street gangs looking to take advantage and the disenfranchised youths for their own gains.
And while City of God may not seem like the typical movie to watch by those who enjoyed Nomadland, the Brazilian crime drama does have some similarities. The abundance of non-trained actors, having subjects trying to do everything in their ability to survive, and the resilience of the human spirit in an inhospitable climate all come to mind.
Stream it on HBO Max here (opens in new tab).
Rent it here (opens in new tab).
The Wrestler (2008)
Darren Aronofsky's 2008 drama The Wrestler follows washed-up wrestler Robin Ramzinski (Mickey Rourke), aka Randy "The Ram" Robinson, as he navigates the twilight of his career and the damage years of being slammed in the squared circle has done to his body, mind, soul, and his estranged family.
The actor's depiction of a man at the end of his rope is as beautiful as it is tragic, so much so you can't help but root for a character that by all means we should detest. Combine that with Aronofsky's almost documentary filming style and you have yourself the recipe for a moving, realistic story. Not to mention the film's cliffhanger and debatable ending.
Rent it on Amazon here (opens in new tab).
Nomad: In The Footsteps Of Bruce Chatwin (2019)
Werner Herzog's 2019 documentary Nomad: In the Footsteps of Bruce Chatwin is one-part exploration of Patagonia, the Black Mountains in Wales, and the Outback of Australia and one-part portrait of the director's late friend, British travel writer Bruce Chatwin. Over the course of this 89-minute film, Herzog travels to the places dearest to his longtime friend and also interviews the family and friends of the world-renowned writer who died after contracting AIDS in 1989.
Through these conversations and travels to some of the most beautiful landscapes on the planet, the German filmmaker attempts to better understand and explain what drew Bruce Chatwin to the beauty, wonder, and freedom of the wild.
Stream it on Mubi here.
Rent it here (opens in new tab).
Songs My Brothers Taught Me (2015)
Prior to making Nomadland, director Chloé Zhao released two well-received and beautifully-crafted stories set in and around Native American reservations in South Dakota. The first, Songs My Brothers Taught Me, follows to young members of the Lakota Sioux tribe and the obstacles they must overcome in their daily lives on the Pine Ridge Indian Reservation. But when tragedy comes to their family, Johnny Winters (John Reddy) makes a plan to leave his familial home but fears what will become of his sister, Jashaun (Jashaun St. John).
This film is perfect for anyone who wants to see where it all started for the director of the upcoming Eternals as well as for those who were captivated by her directing style and the cinematography of Joshua James Richards, both of which shine here.
Stream it on Mubi here.
Rent it here (opens in new tab).
The Rider (2017)
In 2017, Chloé Zhao released The Rider, which follows Brady Blackburn (Brady Jandreau), a young cowboy as he seeks out a new purpose in life after sustaining a head injury that brings his career in the rodeo to screeching halt. There are parallels to the story told in Nomadland found throughout Zhao's sophomore effort, including the presence of characters whose lives were completely upended in an instant, leaving them with a new, unfamiliar direction with touch decisions to make.
Stream it on Pluto TV here.
Rent it here (opens in new tab).
Each and every one of the preceding movies and documentaries have at least one thing in common with Nomadland, whether it be in tone, filming styles, or even the types of actors used to tell the stories. More than anything, each of these titles force the viewer to look at our world (and its people) with a better sense of understanding and more compassion.