Nomadland Ending: Where Does Each Character Go From Here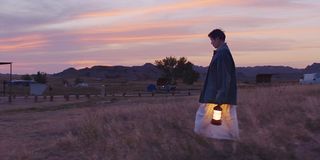 WARNING: The following article contains specific details about the ending to Nomadland. Unless you have you seen the film or simply prefer to remain free from fear of SPOILERS, we recommend seeking the film in theaters or streaming on Hulu before continuing.
Throughout Nomadland, director Chloé Zhao takes the audience on a journey through the heart of the American West through the eyes of Fern, a recently widowed and out-of-work middle-aged woman struggling to find her place in a country that has seemed to have forgotten her and the various nomads she meets along the way. Played masterfully by Frances McDormand, the film's central character embarks upon a transformative odyssey where she crosses paths with some of the most likable, empathetic, and unchained characters on the road. All of this leads to the fitting, gripping, and awe-inspiring Nomadland ending.
But after those final moments spent with Fern and the unique nomadic characters she meets on the road to her new life, we are left wondering where does each go from there. And even though the fates of some characters are wrapped up by the time Nomadland ends, some, specifically Fern, find themselves facing a journey that while difficult and without guarantees, is free nonetheless. Below we will break down where each of those characters go after the credits roll in Nomadland.
What Happens To Fern At The End Of Nomadland
When we first meet Fern in the opening moments of Nomadland, the recently widowed and out of work US Gypsum plant worker is sent packing from the town in which she and her late husband called home and made a life for themselves. With nothing more than a few belongings, her van, and the open road, Ferm embarks upon a personal odyssey to find herself, and meaning in life. Along the way, Fern (and her properly named van, Vanguard) searches through the American West and even Pacific Northwest to find herself and feel whole, even if that means depriving herself of a second chance at love with fellow nomad, David (David Strathairn).
As the months pass and she bounces from one seasonal job to the next, Fern accepts her new place in the world, a place with no ties to material possessions or roots planted firmly in the ground. On her transformative journey, Fern comes to realize that she requires no home, no zip code, or physical reminders of her husband to hold on to her love and memories of her past.
In those final moments, after Fern returns to her former home to get rid of what's left of her old self, she looks fondly and warmly to the horizon with its unknowns and prospect of a freer and more fulfilling life.
What Happens To David, Linda, Swankie, And Bob At The End Of Nomadland
Throughout Nomadland, Fern comes across and gets to know several nomadic characters, each of whom have a profound impact on her personal journey whether it be helping her better understand the physical demands of the lifestyle or the ways it can affect one's mind and soul. And while each and every person Fern strikes up a conversation with helps her grow in one way or another, there are four that stick out the most.
We meet David at multiple points during Nomadland as he becomes the closest thing Fern has had as companion since the death of her husband. And while it appears at times that Fern will abandon her nomadic lifestyle to share David's love (and family with his new grandson), we last see him playing piano with his son the night before Fern continues her journey.
Linda (played by real-life nomad Linda May) could be considered Fern's best friend as the two work together and share stories all across the West. All roads lead somewhere, and Linda's leads to a plot of land in Arizona where she hopes to build a self-sustainable "earth ship" in hopes of having roots to pass down to future generations.
Swankie (played by real-life nomad Swankie) is introduced early and quickly becomes central to Fern's growth and acceptance of all life has to offer. When a cancer diagnosis leaves her with months to live, Swankie decides to get the most out of her final days and makes new memories before resting her eyes one final time.
Bob (played by American vandweller Bob Wells), the ever-optimist appears on occasion to help guide Fern, providing meaningful and impactful words when needed the most. We last see Bob at the rendezvous where he and Fern talk about his dead son, saying he knows he will see him again and that Fern will see her husband later on down the road.
Where The Supporting Nomadic Characters Go From Here
As Nomadland pushes towards its final moments and Fern's decision to let go of her past to make way for a new future, we're left wondering what will become of those people who welcomed her into their hearts and helped her find her place in this new and unknown world. And while Swankie's story ends near the final moments of the movie, the other characters' respective journeys are far from over.
David, who's trying out his hand at a more stable lifestyle, seems to have found something worth holding onto, something worth planting roots for as he surrounds himself with family. No matter how hard we try to run from our families and escape into our own, solitary ways of living, some of us need those familial ties to ground us and make us feel whole. The same thing can be said in regards to Linda, who wants something to hold onto and pass on as she approaches the end of her road.
And Bob, the prophet-like character in all of this will surely continue his lifestyle of passing on information and wisdom to those who in need. Whether it be a middle-aged widow coming to terms with her husband's death and being forgotten by the world or possibly even a young traveler like the one Fern meets along the way, Bob will see them down the road.
Where Fern Goes Now That She's Without The Burden Of Her Past
The act of Fern giving away what was left of her possessions and closing the chapter of her life in Empire, Nevada, in the final moments of Nomadland has freed her of the burden and restraints of her past. Having said goodbye to the home she held dear in her heart, she's accepted that her current chapter is not a temporary situation, but a new, freer life that can play out on her own terms. These interactions, personal connections, and experiences on the road in the months following the death of her husband and the upheaval of her life has helped Fern grow and become a happier more focused person who finds the joy in the unknown.
And while we don't know exactly where the road will take Fern, we do know that she now has something that no imbalanced and unfair economy, government, or societal standards can rip from her. After being tied to the past and its structures, the road and nomadic lifestyle have allowed Fern to transform herself from a grieving widow concerned about where she fits in society to someone who has found a way to break the chains that once held her down and find a more fulfilling and simpler life of survival.
Above all, Nomadland is a movie that shows its audience the strength, resilience, and determination of the human spirit. There are times in the movie in which each of the characters can call it quits and let the events of their past dictate their futures, but unlike the rest of society who has cast them aside and forgotten them, Fern and the rest of the nomads aren't ones to throw in the towel. And in that strength, Chloé Zhao has come along and given us another great American story.
Philip grew up in Louisiana (not New Orleans) before moving to St. Louis after graduating from Louisiana State University-Shreveport. When he's not writing about movies or television, Philip can be found being chased by his three kids, telling his dogs to stop yelling at the mailman, or yelling about professional wrestling to his wife. If the stars properly align, he will talk about For Love Of The Game being the best baseball movie of all time.
Your Daily Blend of Entertainment News
Thank you for signing up to CinemaBlend. You will receive a verification email shortly.
There was a problem. Please refresh the page and try again.