Upcoming Snoop Dogg Movies And Shows: Addams Family 2 And More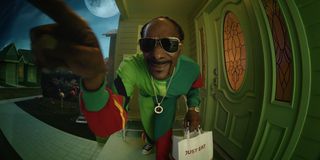 Snoop Dogg is a very busy man. In addition to all his various projects as a rap artist and producer, he's attached to a number of upcoming movies and shows, as well as the ongoing TBS talent show series, Go-Big Show, which we'll discuss later. Additionally, he was heard in this past weekend's The SpongeBob Movie: Sponge on the Run and he reprises his role as It in Addams Family 2, which is scheduled to come in October. Of course, these are only a few of the movies and shows that are set to come with Snoop Dogg, especially with hundreds of acting credits to his name. So, here are the upcoming movies and shows that we can expect to see (or hear) Snoop Dogg in soon.
Go-Big Show - Currently Airing (Completed)
In addition to keeping busy as an actor, producer, and musician, Snoop Dogg has picked up a cushy new weekly gig over at TBS. Specifically, he's a celebrity judge on the new talent/game series, Go-Big Show, where contestants with an odd set of talents and skills must show their stuff to a panel of famous faces, including Rosario Dawson, Cody Rhodes, Jennifer Nettles, and Snoop Dogg, for the opportunity to advance into the final round. The winner receives the grand prize of $100,000.
Hosted by comedian Bert Kreischer, Go-Big Show blends the thrills of a traditional talent show format with the exoticism of various extreme skills, providing a fusion of America's Got Talent and The Gong Show. Following its premiere on January 21st, Go-Big Show is deep into its first season, with the finale set to air on March 11th. There's no word yet on whether or not it'll get a second season, but it's seemingly a fun job that gives the rapper a front row set to some of the strangest talents out there.
Blood Pageant - June 4, 2021 (Post-Production)
Speaking of life-changing reality shows, Snoop Dogg's next film role follows a woman who relies on new age religion, vision boards, and a life coach to win a million-dollar prize on a reality-TV show in Blood Pageant, a horror-thriller indie movie that sees Snoop Dogg and Stephen Baldwin in supporting roles. Little does our main character know, though, that her life coach is secretly a member of a coven of witches, which might change our lead's life in more ways than she initially imagined. Not too much else is known about this upcoming title, though we do know when it's expected to come out.
Blood Pageant is currently slated for release on June 4th, which means that Snoop Dogg's fans won't have to wait long to see his latest horror movie. The musician does have a history in the genre, notably starring in Bones and the anthology film, Hood of Horror. It's too early to know how Blood Pageant compares to those other titles, but we won't have to wait long to find out.
Addams Family 2 - October 1, 2021 (Post-Production)
They're creepy and kooky, not to mention mysterious, spooky and all together ooky, but The Addams Family made quite a splash in their cinematic return back in 2019. While the movie itself wasn't warmly received by critics (myself included), the movie earned enough dough at the box office to greenlight a sequel, which is slated to come out on October 1, 2021. Just in time for Halloween.
The still-untitled big-screen follow-up will find Oscar Isaac, Charlize Theron, Chloe Grace Moretz, Nick Kroll, and Snoop Dogg reprising their roles from the last movie, along with Javon "Wanna" Walton (Euphoria) replacing Finn Wolfhard as Pugsley Addams. While the rapper didn't get a ton of time to shine in his supporting turn, Snoop Dogg definitely made the most of his time as "It," and it'll be fun to see him voice the wacky side character again in the soon-arriving sequel.
All-Star Weekend - TBA (Post-Production)
One day, All-Star Weekend, the long-delayed feature directorial debut of Jamie Foxx, will eventually come out. When that day comes is anyone's guess, though. It has sat on the shelf for years now; production started all the way back in 2016. And there's still no word on when it's finally expected to be released. Release dates from 2018 and 2019 have long since passed, and while the plan is to release it later this year, it's unclear if that goal is within reach. Nevertheless, while All-Star Weekend's fate remains unknown, one assumes that a distributor would be interested, based on all the talent involved.
In addition to Jamie Foxx co-writing, directing, and starring in All-Star Weekend, the upcoming comedy will also star Jeremy Piven, Eva Longoria, Ken Jeong, Gerard Butler, DJ Khaled, Jessica Szohr, Robert Downey Jr., and Snoop Dogg, to name only a few stars involved. That's one hell of a cast, but the movie is called All-Star Weekend after all. Surely, it'll come out at some point, right? For now, this weekend remains extended.
Domino: Battle of the Bones - TBA (Post-Production)
Speaking of basketball comedies, Snoop Dogg has another one in the works, though we might get to see it sooner than All-Star Weekend. In 2019, the rap artist wrapped production on Domino: Battle of the Bones, which is considered an uplifting comedy centered around an elderly Black man who teams up with his awkward white step-son in order to defeat his rival in dominos. Starring Snoop Dogg and David Arquette, as well as the late Tommy "Tiny" Lister (in one of his final performances), Domino: Battle of the Bones is the feature directorial debut of Emmy-nominated documentary producer Baron Davis (Crips and Bloods: Made in America) and it was picked up for distribution by TriCoast Entertainment, via Variety, which suggests that the forthcoming movie will come out sometime this year (though its release date isn't determined yet).
Also starring Lou Beatty Jr., Tasie Lawrence, Megan Sousa, Anthony "Scruncho" McKinley, and Haha Davis, Domino: Battle of the Bones' impending release is falling into place and expected to come out sometime soon.
Spoken Mirrors - TBA (Post-Production)
It should be noted that All-Star Weekend isn't the only long-delayed comedy in Snoop Dogg's filmography. A movie that has been left on the shelf even longer is Spoken Mirrors, a Hollywood-based comedy that entered post-production in 2014 but hasn't been finished (presumably) or been made publicly available in the intervening years.
It's unclear what the deal is with this movie or when it's expected to ever come out (if it will ever come out), but the story follows a successful Hollywood filmmaker who calls his oldest and closest friends to his side to workshop Shakespearean themes after a public career meltdown during which he found God with the camera. While that sounds like an intriguing concept for an indie comedy, Spoken Mirrors has ironically been quiet following its lengthy and ongoing post-production process. Nevertheless, Snoop Dogg provided a cameo, which might boost the film's profile — if it ever sees the light of day.
Oaklandia - TBA (Announced)
Snoop Dogg is heading to Amazon. More specifically, the actor-musician is signed on to executive produce and lend his voice to the adult animated series, Oaklandia, which will also feature Vince Vaughn as a voice actor and executive producer. Not much else is known about the upcoming project otherwise, as it was reported by Deadline, but we know that it comes from head writer Daniel Dominguez (Gen: Lock) and Chris "Comedian CP" Powell (Ole Bud's Anu Football Weekly). Certainly, as we noted before, Snoop Dogg has lent his voice to a variety of projects, including the upcoming untitled Addams Family sequel. But he'll have more creative involvement in this otherwise-unknown animated project, which should hopefully allow him to play with the format and have some fun. This project is still in the early stages at the streaming service, especially as it was only announced in November 2020, but we should expect to learn more about this upcoming series in the months and years moving forward, especially with the notable talent involved.
Game - TBA (Announced)
Snoop Dogg has 30-plus years of experience in the entertainment industry. But make no mistake. the actor-musician still has game. More specifically, he's signed on topline the Washington D.C.-based political drama series, Game, alongside Martin Lawrence. Set up at CBS TV Studios from mega-producer Jerry Bruckheimer, Game revolves around two lifelong best friends, Bobby (Lawrence) and Dice (Snoop Dogg), who run a high-stakes game of personal favors, as well as political intrigue, in The Capital of the Free World, as Deadline reported.
In addition to starring, Snoop Dogg and Lawrence wrote the story for the pilot with Patrick Aison, who wrote the teleplay. All three writers are also signed on as executive producers, and the goal is to get this one rolling soon. Not much is known about the show following its announcement, but with the talent involved, we imagine that it'll get rolling pretty soon — if it hasn't moved forward already.
Certainly, Snoop Dogg has a lot going on and a lot of stuff slated to come out in the years ahead. For now, though, you can watch Go-Big Show on Thursday nights on TBS.
Your Daily Blend of Entertainment News
Will is an entertainment writer based in Pittsburgh, PA. His writing can also be found in The Playlist, Cut Print Film, We Got This Covered, The Young Folks, Slate and other outlets. He also co-hosts the weekly film/TV podcast Cinemaholics with Jon Negroni and he likes to think he's a professional Garfield enthusiast.