Upcoming Jamie Foxx Movies And TV Shows: Soul, MCU's Spider-Man 3, And More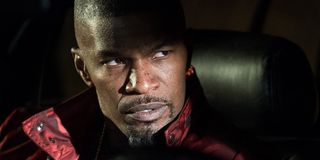 Whether as an actor, musician, comedian, game show host, producer, or burgeoning director, Jamie Foxx is constantly expanding himself and demonstrating his talents in a variety of dynamic and impressive ways. Certainly, the Oscar-winning performer's upcoming lineup showcases a number of promising movies, including Pixar's Soul, the return of Electro in MCU's latest Spider-Man sequel, a Mike Tyson biopic, Todd McFarlane's Spawn reboot, and a new Netflix sitcom.
If you love Jamie Foxx, you have several movies and shows to look forward to. Here's what's coming up next.
Soul - December 25th, 2020 (Completed)
It's often said that the reason why Pixar movies stand out compared to so many other, often inferior animated movies is because of the heart and soul they're given by their highly-accomplished team of creatives. Well, when it comes to their latest movie, Soul, that's apparently quite literal. Jamie Foxx lends his voice to the studio's newest celebrated adventure. He plays a middle school music teacher who's finally given his big chance to perform jazz music onstage, only to find his soul separating from his body during an untimely accident. Now, traveling to the Great Before, where souls develop personalities and quirks, he must find a way to return to his body before it's too late.
Alongside Jamie Foxx, Tina Fey, Questlove, Daveed Diggs, Angela Bassett, and Phylicia Rashad are also heard in Pixar's well-acclaimed movie. It'll arrive on Disney+ starting December 25th.
Spider-Man 3 - December 17th, 2021 (Filming)
Admittedly, Jamie Foxx's first attempt at playing Electro didn't turn out so hot. While he certainly put his all into his energetic villainous turn in 2014's ill-fated The Amazing Spider-Man 2, his overwrought performance was just one of the movie's many failings. Many assumed it was lights out for Foxx's time with Spidey, particularly with the MCU starting their own Spider-Man trilogy outside of this shortened Sony franchise. But not unlike Ryan Reynolds reprising Deadpool once more in a separate film, Foxx shocked us all with the announcement that he'll reprise his role as this lightning-based antagonist in MCU's forthcoming, untitled Spider-Man sequel. But it should be noted that this take will seemingly be separate from his past portrayal.
It's currently filming now. We'll have to wait to see if Electro's return is shockingly good or another burnout. Spider-Man 3 is slated for December 17th, 2021.
All-Star Weekend - TBA 2021 (Post-Production)
Having established himself as an Oscar-winning actor, Jamie Foxx is jumping behind the- camera with his feature directorial debut, All-Star Weekend. The upcoming sports dramedy, which Foxx also co-wrote with Donald "Speedy" Caldwell Jr., stars Foxx alongside Jeremy Piven, Eva Longoria, Ken Jeong, Gerard Butler, DJ Khaled, Jessica Szohr, and Robert Downey Jr., who was reportedly only on set for four hours, according to Foxx. When we'll get a chance to see this movie remains a mystery, though, as it's been stalled or delayed since production started all the way back in 2016.
At one point, it was expected to be released by 2018, to coincide with the 2018 NBA All-Star Game, but post-production was reportedly not finished. Its scheduled release dates in 2019, meanwhile, were also delayed for unspecified reasons. The plan, presently, is to release Foxx's film sometime in 2021. Talk about a long weekend.
Groove Tails - TBA (Filming)
In addition to Pixar's much-anticipated Soul, Jamie Foxx has another animated project coming down the pipeline: Groove Tails, a family film from director Bob Logan (The LEGO Ninjago Movie). Also featuring the voice talents of Dave Bautista, this musical movie follows mice competing in a street dancing competition. Details remain vague otherwise, though it should be noted that Foxx is on-board to produce in addition to lend his voice to the role of Biggz. Also, the screenplay comes from Joel Cohen & Alec Sokolow (Toy Story, Garfield: The Movie), Johnny Mack (Real Husbands of Hollywood), and Logan. They're putting the movie together now, though it's been in the works since at least 2017.
When we can expect to see this newest animated production remains unclear, though if it's being animated now, it's not unlikely for it to come out in the next year or two.
Day Shift - TBA (Pre-Production)
Following the commercial success of Project Power, Jamie Foxx is soon expected to reunite with Netflix. In fact, he might be champing at the bit, you could say, to work with them again. That's because Foxx is signed on to star and executive produce Day Shift, an upcoming comedy film that follows a hard-working blue-collar dad who wants to do right by his smart 8-year-old daughter, though his San Fernando Valley pool cleaning company is actually a front for his real job: hunting and killing vampires.
As Deadline reported, the vampire feature will serve as the directorial debut of second unit director and stunt coordinator J.J. Perry. It'll also be produced by Chad Stahelski (John Wick), Jason Spitz, Shaun Redick (BlackKklansman), and Yvette Yates Redick. The screenplay comes from Tyler Tice and Shay Hatten. Not much else is known, though it's believed to be in pre-production.
They Cloned Tyrone - TBA (Pre-Production)
In addition to Day Shift, Jamie Foxx will reunite with Netflix for They Cloned Tyrone, which follows an unlikely trio on the trail of a nefarious government conspiracy. Along with Foxx, this new streaming exclusive will also star John Boyega, fresh off the Star Wars franchise, and Teyonah Parris (Candyman, Chi-Raq). They Cloned Tyrone will be directed by Creed II co-writer Juel Taylor and he'll co-write the screenplay alongside Tony Rettenmaier.
Currently, the movie is in the early stages of pre-production, so we might not see it come together for a little while longer. But it adds yet another intriguing new project to Foxx's ever-busy filmography, and it'll allow the seasoned actor to work with two bright and up-and-coming acting talents.
Untitled Mike Tyson Biopic - TBA (Announced)
Jamie Foxx won his Oscar for his mesmerizing portrayal of the late Ray Charles in 2004's Ray. Can he reprise that magic with his latest foray into the biopic genre? We'll have to wait and see, but one of the most intriguing projects in Foxx's forthcoming schedule is an untitled Mike Tyson biopic, which would see the 52-year-old actor adopting the role of the heavyweight boxing champion. Certainly, the actor isn't a stranger to bringing boxers onto the screen, as he played a key role in 2001's Ali opposite Will Smith. But in order to convincingly play the controversial sports persona, Foxx will need to really push himself, physically and spiritually, to adopt the part.
Certainly, the role of Mike Tyson could prove to be Jamie Foxx's most challenging, but he's clearly excited to pick up the gloves. He's gonna put up a fight.
Dad Stop Embarrassing Me - TBA (Announced)
Before he became an Oscar-winning A-list movie star, Jamie Foxx was primarily known for his television work. Specifically, he was a standout feature player on In Living Color throughout its run, and he later got his own sitcom, The Jamie Foxx Show, which aired for five seasons. While he continues finding success on the big screen, the one-time TV actor is returning to the tube with Netflix's sitcom, Dad Stop Embarrassing Me. Based on Foxx's real-life relationship with his daughter, Corinne, Jamie Foxx is on-board to star and executive produce, while Corinne Foxx is also attached as a producer.
Additionally, Bentley Kyle Evans, who co-created and was the showrunner for The Jamie Foxx Show, is reuniting with the actor as the showrunner for this newest sitcom. The pandemic delayed preparations earlier this year, but it's expected to move forward again soon.
When We Pray - TBA (Announced)
While we're still waiting for Jamie Foxx's first directorial feature, All-Star Weekend, the actor-turned-filmmaker is already moving forward with his follow-up film, When We Pray. As Deadline reported in February, the faith-based film tells the story of two brothers who become pastors at separate churches in the same community. One sibling turns his house of the Lord into a modernized high-tech congregation. The other sibling follows a more humble path, though he finds himself in financial distress with a church in decline. In addition to calling the shots on this drama, Foxx wrote the script with his writing partner, Donald Ray "Speedy" Caldwell Jr. He previously collaborated with Caldwell on his still-upcoming directorial debut.
Details regarding casting, including whether or not Jamie Foxx will assume one of these roles, remains unknown. Additionally, production was previously expected to start later this year, though that seems unlikely with pandemic restrictions.
Spawn - TBA (Announced)
It hasn't been an easy road for Todd McFarlane's long-labored cinematic adaptation of his own comic book series, Spawn. Starting back in early 2015, it was announced that McFarlane would direct and adapt his own comic through a reboot. Later, in 2017, it was announced that the new take on the comic character would be funded by Blumhouse, in one of their biggest projects yet. Only in 2018 was it announced that Jamie Foxx would play the title character, and it was later revealed that Jeremy Renner was considered for a role. But developments since then have generally been vague, though Spawn is reportedly being redeveloped following the commercial billion-dollar success of Joker, which suggests another hard-R take/retooling on the violent character.
It's been promised for a while, but Spawn is apparently still gaining momentum.
Beat Shazam Season 4 - TBA (Announced)
In addition to all his various acting commitments, Jamie Foxx hosts Fox's game show, Beat Shazam. Also, if you're like me, it's very amusing that Foxx has a show on Fox. But no matter. This fast-money competition series finds three teams of two players competing through several rounds to identify songs, earning money for each correct answer. The highest-scoring team then goes head-to-head (or, rather, head-to-machine) against the Shazam app, pushing their luck to see if they can identify the song before Shazam. Any team that beats Shazam through all six rounds wins $1,000,000. Not a bad way to earn a whole lot of money.
Certainly, Beat Shazam has earned a steady stream of viewers throughout its first three seasons, and it's been renewed for a fourth since January. But when the game show, which Foxx also produces, returns isn't clear.
Project Power 2? - TBA (Rumored)
Earlier this year, especially in lieu of any new superhero movies at the movie theater, many viewers turned their attention to Netflix's Project Power. The slightly-more-mature take on the genre didn't fully live up to the power of its potential, but there was definitely room for a sequel — one that could expand on its promising premise in new and hopefully exciting ways. But at the present moment, there are no plans currently in place for this potential sequel. Only rumors and speculation. Still, it's something that's been discussed, and something that could happen later down the road, notably after its favorable critical response and its wide viewership.
Whether or not Jamie Foxx returns remains unknown. Based on how the movie panned out, though, it's hard to imagine another Project Power movie without its leading star power. But we'll see what happens.
Upcoming Jamie Foxx Producing Credits:
Particularly as he continues to venture off into various different avenues as an actor, Jamie Foxx is pushing his creative hand more behind the scenes as well, producing (as well as directing) a number of movies and shows that he frontlines. Alongside with those titles, he's also a producer on Geechee, an upcoming thriller from writer-director DuBois Ashong, starring Andrea Riseborough, Judith Scott, and Ebon Moss-Bachrach (Girls). Additionally, Foxx will produce Mahalia!, based on the life of civil rights activist and gospel singer Mahalia Jackson. Geechee is currently in production, while Mahalia was announced this summer.
Which Jamie Foxx production are you most looking forward to? Let us know in the comments!
Your Daily Blend of Entertainment News
Will is an entertainment writer based in Pittsburgh, PA. His writing can also be found in The Playlist, Cut Print Film, We Got This Covered, The Young Folks, Slate and other outlets. He also co-hosts the weekly film/TV podcast Cinemaholics with Jon Negroni and he likes to think he's a professional Garfield enthusiast.