The SpongeBob Movie: Sponge On The Run Voice Cast: Who's Voicing Each Main Character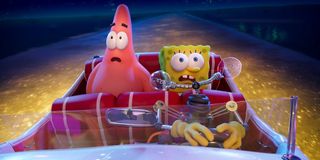 Spongebob Squarepants has been around for more than twenty years, with the lighthearted sponge and his band of sea friends bringing smiles and joy onto the faces of kids and adults alike. There have been many specials, a couple of spinoffs planned, and even a broadway musical dedicated to the sponge. But one thing that seems to have happened a good amount lately is movies, including the latest one.
However, there is more to the cast of The Spongebob Movie: Sponge on the Run. While we are sure to hear some familiar faces, there will be plenty of guest cameos and spots that fans will love to see, from Keanu Reeves to Awkwafina. With so many characters, it might be hard to keep up, so this is who you should know about in the upcoming Spongebob Squarepants movie.
Tom Kenny - Spongebob Squarepants and Gary the Snail
Everyone knows the man, the myth, the legend, Tom Kenny. He will be returning to the character of Spongebob Squarepants in The Spongebob Movie: Sponge on the Run. Tom Kenny, who has played Spongebob from the beginning of the series, has also had some prominent voice-acting work, with main roles in Adventure Time, playing the Ice King, and the Narrator/The Mayor in The Powerpuff Girls.
Bill Fagerbakke - Patrick Star
Patrick is the best friend we all want and has been Spongebob's best friend from the moment the series began – even if he is a bit of a goofball sometimes. Bill Fagerbakke, who has played Patrick since the beginning of the series, will be reprising his role in The Spongebob Movie: Sponge on the Run. Bill Fagerbakke has also lent his voice to many TV shows, such as The Grim Adventures of Billy and Mandy, Dragon Tales, Kim Possible, and several others in guest roles and additional voices.
Rodger Bumpass - Squidward Tentacles
I feel like we've all become a Squidward at some point in our lives, but Rodger Bumpass has been Squidward for a good part of his own. Squidward Tentacles is the longtime neighbor of Spongebob who always seems to somehow get pulled into the yellow sponge's hijinks – even though he doesn't want to be. Rodger Bumpass will be reprising his role in The Spongebob Movie: Sponge on the Run. Rodger Bumpass himself has been busy in the voice world, with voice parts in big-time films such as Spirited Away and Monsters University, plus more.
Clancy Brown - Mr. Krabs
Now for another long-timer, Mr. Krabs is the greedy crab who owns the Krusty Krab, who is always looking to make a quick buck. Clancy Brown, who has voiced Mr. Krabs since the beginning, will be reprising his role in The Spongebob Movie: Sponge on the Run. Clancy Brown has had some prominent roles both in voiceovers and live-action, with parts in Thor: Ragnarok, The Shawshank Redemption, portraying Lex Luthor in the DC Animated Universe, and even stepping into the video game world voicing Hank Anderson in Detroit: Become Human.
Mr. Lawrence – Plankton
There always needs to be an antagonist in every show, and Plankton most certainly fits that bill. Plankton is the foil to Mr. Krabs. Owner of the Chum Bucket, he will do whatever it takes to somehow snatch away that Krabby Patty formula. Mr. Lawrence, who has voiced Plankton since the show's first season, will be reprising his role in The Spongebob Movie: Sponge on the Run. Mr. Lawrence has had several voice roles, including multiple in Camp Lazlo, the voice of Filburt in Rocko's Modern Life, and also a couple of other characters on Spongebob Squarepants, like Potty the Parrot, Larry the Lobster, and several others.
Jill Talley – Karen
Ah, Karen, the sassy wife that any married couple can relate to. Karen is the computer that Plankton is married to, and while their marriage can sometimes be rocky due to Plankton's consistent need to grab the formula, she will always be there to support him. Jill Talley, another voice actor who has voiced the role since the first season, will be reprising her role in The Spongebob Movie: Sponge on the Run. Jill Talley has also had several voice roles, including a role in Adventure Time as Maja and several parts in Camp Lazlo.
Fun fact: Karen was actually named after the wife of the creator of Spongebob Squarepants, Stephen Hillenburg. Also fun fact, Jill Talley is actually the real-life wife of Tom Kenny! Talk about being a part of the family business.
Carolyn Lawrence - Sandy Cheeks
The squirrel from Texas with a brain about the size of her home, Sandy Cheeks is the smartest critter under the sea. With her mind, there's no problem she can't solve. Carolyn Lawrence, who has voiced Sandy since her debut, will be reprising the role in The Spongebob Movie: Sponge on the Run. Besides Spongebob Squarepants, she's had multiple voice roles outside of the show, including playing the main role of Cindy Vortex on The Adventures of Jimmy Neutron, and a guest role on The Fairly OddParents.
Mary Jo Catlett - Mrs. Puff
Let's be honest – all of our parents were Mrs. Puff when we first started to drive, absolutely terrified, but that doesn't change the fact that she's a great character. Mrs. Puff, the best pufferfish around and Spongebob's boating instructor, will be appearing in The Spongebob Movie: Sponge on the Run, along with her long-time voice actress, Mary Jo Catlett. Besides Spongebob Squarepants, Mary Jo Catlett was once very active in the theater scene, starring in musicals and plays like Hello, Dolly! and Diff'rent Strokes. Stephen Hillenburg himself actually sought out Catlett once he saw her perform on stage specifically for the role of Mrs. Puff, so there's more to this pufferfish than you know.
Matt Berry - King Poseidon
While we've seen some versions of King Poseidon before, we've never seen one quite like this. King Poseidon is the ruler of the sea, and half merman to boot. In The Spongebob Movie: Sponge on the Run, he will be portrayed by Matt Berry. Berry was actually in another Spongebob Squarepants movie, Sponge Out of Water, but as a different character, Bubbles the Dolphin. Matt Berry has also had roles in The IT Crowd, Disenchantment, What We Do In The Shadows, and more.
Awkwafina - Otto
As one of the many new characters in this film, Otto is a welcome addition to the Spongebob Squarepants family in The Spongebob Movie: Sponge on the Run. Otto is actually Spongebob's personal boat driver – because, you know, Spongebob can't drive, even more than twenty years later. If only Mrs. Puff could see how far tech has come. Otto is played by Awkwafina, who is most known for her roles as Ocean's 8 and Crazy Rich Asians. She will also have a starring role as Sisu in the upcoming Disney movie, Raya and the Last Dragon.
Keanu Reeves – Sage
You know him, you love him, and now, he's appearing in Spongebob – as a tumbleweed.
Yes, you read that right. The great Keanu Reeves is appearing as Sage in The Spongebob Movie: Sponge on the Run, a sage piece from a sagebrush who is there to provide aid to Spongebob and his crew on their journey to try and find his pet snail, Gary. While this is most certainly one of the stranger roles Keanu Reeves has done, that doesn't mean he still doesn't have plenty of other movies as well. Reeves, who has been in hits like The Matrix, John Wick, and Bill and Ted's Excellent Adventure will only add onto his list of films with this new installment to the Spongebob Squarepants series – albeit a little weird.
Snoop Dogg - The Gambler
The famous rapper and music producer Snoop Dogg will be lending his acting skills in The Spongebob Movie: Sponge on the Run by portraying The Gambler, a performer who is putting on a show at a Bikini Bottom club. While Snoop Dogg is definitely known more for some of his music and hits, he has had multiple film and TV roles, such as Pitch Perfect 2 and Dolemite Is My Name. He also has this great cooking show with Martha Stewart, titled Martha and Snoop's Potluck Dinner Party, so if you want to learn to cook some fire recipes, head on over to the coolest pairing in television cooking history (in my opinion).
Danny Trejo - El Diablo
Moving on with the list of cameos in The Spongebob Movie: Sponge on the Run, Danny Trejo is next up to bat. Danny Trejo is going to be portraying El Diablo, the leader of the Flesh-eating Cowboy Pirate Zombies. While the title of that does seem a bit dark for a children's movie, I'm sure that somehow it will be made fun and lighthearted for the kids seeing this film. Danny Trejo is more known for his multiple roles in the film and TV industry, including Breaking Bad, Sons of Anarchy, Rob Zombie's Halloween, and several more – seriously, the man has been all over Hollywood. You will have seen him at some point or the other, which shows how awesome of an actor he truly is.
Tiffany Haddish - Master Of Ceremonies
Make way for a queen of comedy, because Tiffany Haddish is picking up a role in The Spongebob Movie: Sponge on the Run. Tiffany Haddish portrays the Master of Ceremonies, otherwise known as Tiffany Haddock, a fish who has a knack for talent. Tiffany Haddish is well-known for her roles in the movies Girl's Trip and Night School but has had a couple of voice roles as well in The Lego Movie 2: The Second Part and Phineas and Ferb The Movie: Candace Against the Universe.
Reggie Watts - Chancellor
While a brief role in The Spongebob Movie: Sponge on the Run, the Chancellor, a character who is sure to bring on trouble for everyone's favorite sea creatures when. The talented comedian and musician most certainly has plenty of work under his belt, but is more well-known for his part in the IFC series Comedy Bang! Bang! and also leads the house band for The Late Late Show with James Corden. But seeing him break out onto the big screen, even if the role is a bit smaller, is always great to see.
With all these stars and alumnus of the show coming back, The Spongebob Movie: Sponge on the Run will surely be full of fun for the whole family to enjoy. Be sure to check it out on Paramount+ when it premieres.
Your Daily Blend of Entertainment News
Big nerd and lover of Game of Thrones/A Song of Ice and Fire. Will forever hate season eight. Superhero and horror geek. And please don't debate me on The Last of Us 2, it was amazing!
Your Daily Blend of Entertainment News
Thank you for signing up to CinemaBlend. You will receive a verification email shortly.
There was a problem. Please refresh the page and try again.