One Raya And The Last Dragon Scene Had To Be Rewritten Many Times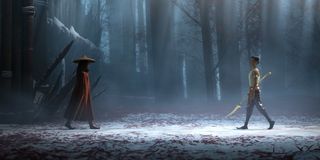 Re-writes are a common part of the filmmaking process. Whether it's in the very early stages of developing the story or during filming when an actor tweaks a line to feel more natural or a director learns what's currently on the page doesn't translate the way they wanted, every scene has the ability to evolve throughout a film's creation. For Raya and the Last Dragon, one scene, in particular, had to be rewritten many times.
At the heart of Raya and the Last Dragon is a story of a broken land with deep old wounds to heal. One of the relationships with a need for reconciliation is that between our hero Raya (voiced by Kelly Marie Tran) and her friend-turned-enemy Namaari (voiced by Gemma Chan). Namaari betrayed Raya when they were children, and as a result, Raya grew up wary of trust. Producer Osnat Shurer told CinemaBlend why the scene where these two characters meet had to be rewritten so many times:
So one of the most rewritten scenes occurs very early in the film when Raya and Namaari meet and form an instant bond. It makes sense that the team at Walt Disney Animation would need to get this scene just right, as the rift between Namaari and Raya is such a large part of the rest of the film. In order to have hope for reconciliation between the two and to understand how difficult it is for Raya to trust any form of help along the way, the audience first has to experience the betrayal along with Raya. We couldn't feel the betrayal if not first the authentic friendship.
I can't rave about Raya and the Last Dragon enough as it's my favorite Disney movie to date. I'm always blown away by the complexity of these films, and this one surpasses what I've come to expect from Disney's storytelling. The example Osnat Shurer gave of teenagers becoming best friends over liking the same band is exactly how the first scene with Raya and Namaari feels. Raya and the Last Dragon is about trust at its core, which is something everyone can relate to, but it also explores the difficulty of earning that back, and how without hope and the right guidance it can be impossible to achieve.
Raya and the Last Dragon is now playing in theaters and available to stream on Disney+ with Premier Access (opens in new tab). If you're looking for more to stream on Disney+, check out the best Disney Channel original movies. I'd love to hear what you thought of Raya and the Last Dragon and what your favorite Disney movie is. Find CinemaBlend on social media and let us know!
Obsessed with Hamilton and most things Disney. Gets too attached to TV show characters. Loves a good thriller, but will only tolerate so much blood.
Your Daily Blend of Entertainment News
Thank you for signing up to CinemaBlend. You will receive a verification email shortly.
There was a problem. Please refresh the page and try again.