8 Best Disney Channel Original Movies To Watch On Disney+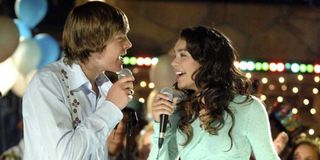 When Disney+ launched in November 2019, it began providing users with a supply of original streaming content. However, lost in the crowd of Disney's more popular animated fare, Marvel films, and Star Wars content were the beloved Disney Channel original movies. The classic TV movies filled many a childhood with thoughtful lessons, exciting worlds, music, and hilarity.
For a long while, I had to rely on reruns or old recordings of my favorite Disney Channel original movies, but now that they're all available on Disney+, it's time to dust off the collection. In no particular order, here are the eight best Disney Channel original movies to watch on Disney+.
(Most of them are from before 2005, so feel free to start singing the Disney Channel original movie theme song.)
Don't Look Under the Bed
The Disney Channel didn't replay this movie as often as some of its other originals, but it's undoubtedly one of the best. Frances is a no-nonsense teenager who doesn't believe in the boogeyman. That is, until she's haunted by one and has to come to terms with how she's partly responsible.
Don't Look Under the Bed challenged the ideas of growing up too fast and the consequences of untethering from the comfort of childhood. In short, Frances had to embrace that which scared her the most and own up to her own mistakes instead of running from them. It's a classic lesson wrapped up in imaginary friends and scary stories about the boogeyman, all told to great effect.
Motocrossed
Andrea loves racing, but she's never been able to compete alongside her twin brother Andrew simply because she's a woman. Classic sexism. So, when Andrew breaks his leg racing, Andrea, who goes by Andi for short, takes his place in the championship motocross competition by impersonating him.
Motocrossed has always had a special place in my heart because it pointedly battles the ideas around women competing in sports stereotypically assigned to men. Andi was just as good as her brother, but people only took her seriously when she pretended to be him and the film does a great job in outlining the double standards in treatment, both on the field and within Andi's own family.
Halloweentown II: Kalabar's Revenge
Halloweentown may have introduced viewers to the zany and magical world of Debbie Reynolds' Aggie Cromwell, but Halloweentown II: Kalabar's Revenge expands it. On a visit to Halloweentown, Marnie is trapped there by Kalabar's son, who plans on turning all humans into the creatures they seemingly despise. Naturally, Marnie and her family work to stop him.
Halloweentown II is a bit more mature and allows Marnie to develop her magic without relying so heavily on her grandmother. Marnie's powers also work to bridge the divide between the human world and Halloweentown by making the doorway accessible all year round. That way, she doesn't have to choose between being human and being a witch. It's the best of both worlds.
The Even Stevens Movie
Before Shia LaBeouf launched his big movie career and implored fans to "just do it" in a passionate motivational speech, he played Louis Stevens on Disney's Even Stevens. To wrap the series, the cast starred in The Even Stevens Movie, which followed them on a trip to a remote island that was actually a staged reality show in disguise.
This movie is hilarious and parodies reality competition shows while centering the Stevens family and the often strenuous relationship between Louis and his sister, Christy Carlson Romano's Ren. Saturday Night Live's Tim Meadows plays the bitter reality show host who is ultimately beaten at his own game and even Full House vet Dave Coulier makes an appearance. There's no major lesson here, but the film is arguably the funniest of all the Disney Channel originals.
The Luck of the Irish
The film follows Ryan Merriman's Kyle who, after trying to avoid Heritage Day, caves and asks his parents about his background. They avoid giving him a straight answer in the hope that he'll just continue blending in. However, when his lucky coin is stolen, his Irish family's heirloom, he starts turning into a leprechaun. He must find Galavant vet Timothy Omundson's Seamus McTiernan and win back his lucky coin.
The Luck of the Irish is a great reminder that many Disney Channel original films had some good messages. It's exaggerated to make a point, but in trying to blend in, Kyle ignores his heritage instead of embracing it. He ultimately concedes that his Irish heritage doesn't make him any less American than anyone else and it's a good reminder that no one should hide who they are or feel ashamed just to fit in or make others feel comfortable.
Brink!
Two decades later and this Disney Channel original movie holds up so incredibly well. Brink! starred Erik von Detten — also known for having appeared alongside Anne Hathaway in The Princess Diaries — as Andy "Brink" Brinker, a skater who takes up with his team's rivals to make money to help his family.
The Disney Channel original thoughtfully established what it really meant to sell out and that it wasn't just about making money doing what you love. It was about the principle. What's more, Brink! also included a Mr. Feeny-like lesson about not defining yourself based on what you do in a lovely conversation between Brink and his dad. A classic.
High School Musical
"We're soaring… flying!" Its premiere took viewers by storm, launched a franchise, and a Disney+ TV spinoff. It's a simple enough premise: Zac Efron's Troy and Vanessa Hudgens' Gabriella meet in a Grease-style intro and before long, they're auditioning for the school play.
The problem? Troy and Gabriella's friends want them to stick to what they know and not shake up the status quo. High School Musical's songs are still classic ("We're All in This Together" is forever stuck in my head), the dance moves were on point, and the movie teaches an important lesson about the hindrance of labels and the relief of breaking free from the pressures of being anyone other than yourself.
The Cheetah Girls
Before High School Musical, there was The Cheetah Girls. Produced by Whitney Houston, this Disney Channel original follows Raven-Simone's Galleria, Adrienne Bailon's Chanel, Kiely Williams' Aqua, and Dancing with the Stars alum Sabrina Bryan's Dorinda. They're collectively known as the Cheetah Girls, a singing group who hopes to make it big. However, almost immediately after they're signed to a record label, the teens start growing apart, in conflict with how to proceed under new rules and pressures.
The Cheetah Girls contains a host of original music and, after some ups and downs, the girl group decides to stick it out and work on their friendship instead of taking the deal. At the end of the day, the ladies remember that they're more important to each other than a career that would have them in conflict with each other.
There are so many incredible and nostalgic Disney Channel original movies to choose from and there were a few that came close to making the list. That said, Up, Up and Away, Smart House, Cadet Kelly, and Zenon: Girl from the 21st Century deserve honorable mentions.
All of these old school Disney Channel original movies are currently available to stream on Disney+ (opens in new tab). For more on what to watch on the streaming service, be sure to check out our guide to see what's coming in June.
What are some of your favorite Disney Channel original movies? Let us know in the comments section!
Your Daily Blend of Entertainment News
Thank you for signing up to CinemaBlend. You will receive a verification email shortly.
There was a problem. Please refresh the page and try again.