Wait, Kelly Marie Tran Found Out She Would Be A Disney Princess In A Grocery Store Parking Lot?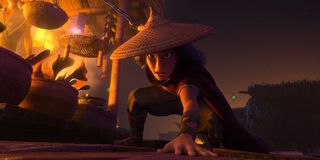 Fans of the Star Wars franchise are already familiar with Kelly Marie Tran. If you've seen The Croods: A New Age you'll recognize her as the voice of Dawn Betterman. Tran is once again gracing our screens and ears with her talents as Disney's first Southeast Asian princess (Can I type that five more times?!). The star of Raya and the Last Dragon shared the very sweet story of booking the lead role of Raya.
Over the years, Disney has redefined what it means to be a princess. What started out as wearing a fancy dress and marrying a prince has evolved into so much more that is unique to each character (in Raya's case, we get pants and martial arts!). Still, there is something glamorous about the word "princess" and not-so-glamorous about "parking lot" and it turns out that's exactly where Kelly Marie Tran was when she got the call about being the next Disney princess. Here's what she told CinemaBlend:
Stars, they're just like us; they get their own groceries! But on a serious note, I am so excited for Kelly Marie Tran. To think that there was a time where she didn't think she was going to get the part, and now it's complete and she executed it flawlessly. When I tell you that Raya is my favorite Disney princess, I am not exaggerating, and all credit goes to Kelly Marie Tran's performance. Raya is fierce yet playful, strong yet cautious, broken-hearted yet able to love, and Tran delivers it all.
Raya and the Last Dragon is a masterpiece that takes viewers on an exciting journey through the fantasy world of Kumandra, a place where humans and dragons once lived in harmony. The dragons sacrificed themselves to save the humans from an evil threat, but this resulted in division among the humans. Raya, along with her friends and adorable sidekick, must find a way to unite everyone before Kumandra is destroyed. Inspired by Southeast Asia, Kumandra is a breathtaking sight and the animation is on a whole new level.
You can experience the world of Kumandra and the magic of Raya and the Last Dragon in theaters and on Disney+ with Premier Access (opens in new tab) on Friday, March 5. Whether you're able to head back to the theater or not, CinemaBlend has you covered. Here are all the March 2021 movie releases and how you can watch them.
Obsessed with Hamilton and most things Disney. Gets too attached to TV show characters. Loves a good thriller, but will only tolerate so much blood.
Your Daily Blend of Entertainment News
Thank you for signing up to CinemaBlend. You will receive a verification email shortly.
There was a problem. Please refresh the page and try again.