Wonder Woman's Robin Wright Reveals How Director Patty Jenkins Pitched The Film To Her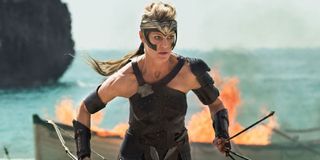 Robin Wright's Hollywood career is, in a word, impressive. She's taken on so many iconic roles over the years at this point that her legacy is already solidified. That also means she can choose her roles carefully these days. It seems like Patty Jenkins must have been aware of that fact when she pitched Wonder Woman to Wright, since she had a pretty bold approach to trying to get the actress on board.
In Wonder Woman, Robin Wright brought undeniable gravitas to her portrayal of Antiope. The actress' performance was a big selling point for Patty Jenkins' 2017 film, and fans were thrilled to learn she'd be reprising the role in Wonder Woman 1984. The role of Antiope was essential to making the Wonder Woman story work -- despite limited screen time, the character's death needed to carry a lot of weight, in order for Diana's character arc to be convincing.
Patty Jenkins clearly knew Robin Wright was the right woman for the job -- and apparently she knew exactly what to say to convince the actress that was the case. Robin Wright told Collider that despite her busy schedule at the time, she was compelled by the director's pitch:
Given Robin Wright's previous roles, in movies like The Princess Bride and Forrest Gump, it's not a surprise that she was drawn to Wonder Woman's themes. She clearly has a sense of adventure and isn't afraid to back down from a challenge, which made her an even more perfect fit for the role. It's also cool to know that Patty Jenkins knew how to appeal to the actress and get her to see the value in joining the franchise.
It sounds like Robin Wright's tenure with Wonder Woman has proven to be well worth her time. She's made it clear she'd be on board for future chapters too, including that rumored Amazons spinoff, if the opportunity presented itself. In the meantime, she's kept herself busy with a new challenge since House of Cards and Wonder Woman 1984 wrapped. This year, she also starred in her directorial debut, Land.
Anyone looking to revisit Robin Wright's role as Antiope can stream Wonder Woman on HBO Max now.
Your Daily Blend of Entertainment News
Thank you for signing up to CinemaBlend. You will receive a verification email shortly.
There was a problem. Please refresh the page and try again.