What Netflix's House Of Cards Cast Is Doing Now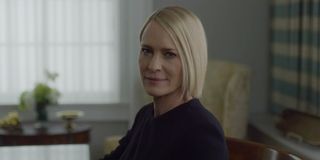 It seems like forever ago when Frank and Claire Underwood and the rest of the impressive House of Cards cast were making news for being a part of one of the most controversial and well-made original shows on Netflix. Over the course of the David Fincher-produced show's six-season run, the political drama was home to some of the biggest and brightest stars of the time as well as those who became famous for their portrayals of the Washington, D.C. elite.
But, nearly two years after the final episode of an abbreviated sixth season debuted on the streaming platform, some of you may be wondering what the show's stars are up to now, and where you can catch up with their careers since leaving the seven-time Emmy Award-winning series. Luckily, you're in the right place, because I have put together an extensive list of the most memorable actors and actresses from House of Cards and what they're doing right now.
Robin Wright (Claire Underwood)
Robin Wright's portrayal of Claire Underwood in House of Cards will probably go down as one of the most significant and decorated performances on a television program. From lobbyist to the President of the United States, Claire was a driving force which was brought to life by Wright's mastery of the medium. Since the show's shocking finale in 2018, the Golden Globe winner has continued to stay busy with her work in the DC Extended Universe, including the upcoming Wonder Woman 1984 and the 2021 release of Zack Snyder's Justice League. Wright is also slated to make her directorial debut with Land, a drama in which she also stars, about a grieving attorney who goes off the grid to escape society.
Michael Kelly (Doug Stamper)
Michael Kelly appeared as Frank Underwood's Chief of Staff and trusted confidant Doug Stamper throughout the entire duration of House of Cards, and was a player in one of the most traumatic and somber moments in the show's run. Since leaving the show with Season 6 finale, Kelly has remained busy with a supporting role on the Amazon original series Jack Ryan, where he plays CIA station chief in Venezuela, Mike November (hopefully he returns for Season 3), as well as being the spokesperson for the most recent Supercuts marketing campaign starting in 2019. The veteran television actor will return to the format for the upcoming political miniseries A Higher Loyalty, which will see Kelly portraying former FBI deputy director Andrew McCabe.
Mahershala Ali (Remy Danton)
For parts of the show's first four seasons, Mahershala Ali portrayed Remy Denton, Frank Underwood's former Press Secretary who later bounced around between being a lobbyist and Underwood's temporary Chief of Staff in the absence of Doug Stamper. Since leaving House of Cards, Ali has won two Academy Awards for Best Supporting Actor, for his performances in Moonlight and Green Book, the latter of which also earned him a Golden Globe. Ali will take a step into the big screen Marvel Cinematic Universe in the near future, in the announced reboot of Blade, in which he will play the titular vampire hunter.
Rachel Brosnahan (Rachel Posner)
Rachel Brosnahan is one of the biggest and most talented names in television right now thanks to her portrayal of Miriam "Midge" Maisel on the Amazon original series The Marvelous Mrs. Maisel, but the actress got her first bit of fame after her run as Rachel Posner during the first three seasons of House of Cards. Since leaving the Netflix series, Brosnahan has earned two Golden Globes, an Emmy, and a number of other awards for Mrs. Maisel. We're still waiting to hear more about the Season 4 of the hit comedy series, but in the meantime, expect to see Brosnahan in the historical feature The Courier and the upcoming drama I'm Your Woman.
Kate Mara (Zoe Barnes)
Kate Mara's Zoe Barnes was a major player in the first season of House of Cards when the Washington Herald reporter became the lover/mouthpiece of Frank Underwood. Well, that is until her shocking death at the hands of her former lover in the Season 2 premiere. Since leaving the series, Mara has gone on to star in the panned Fantastic Four, the FX series Pose, and a number of other smaller projects. Mara is set to return to FX for the upcoming drama miniseries A Teacher, in which she will portray a young teacher who gets caught up in an affair with one of her students.
Corey Stoll (Peter Russo)
Corey Stoll's Peter Russo, a Democratic congressman recovering from severe addiction issues, was one of Frank Underwood's first victims in Season 1 of House of Cards, but he wouldn't be his last. Since his departure from the Netflix series, Stoll has gone on to have a rather successful career in film and television, with appearances in Ant-Man, First Man, and The Strain to name a few. The talented actor will next appear in Steven Spielberg's adaption of West Side Story as well The Many Saints of Newark, the highly-anticipated prequel to the HBO series The Sopranos, which is scheduled to hit theaters in March 2021.
Boris McGiver (Tom Hammerschmidt)
For all but the third season of House of Cards, Boris McGiver played Tom Hammerschmidt, the no nonsense editor-in-chief of the Washington Herald newspaper who proved to be a constant thorn in the side of Frank Underwood. After the show wrapped up in 2018, McGiver joined the cast of the CBS supernatural drama series Evil, as well as the ABC legal drama For Life, where he plays the prosecutor who was responsible for putting the show's main character, Aaron Wallace, in prison in the first place.
Jayne Atkinson (Catherine Durant)
Jayne Atkinson's portrayal of former Louisiana Senator and Secretary of State Catherine Durant was one the most memorable performances on House of Cards, especially in the show's final seasons for the vicious games she and President Claire Underwood played against one another. Since her departure from the series, Atkinson has continued to pop up in various television programs like The Walking Dead, Castle Rock, and Bluff City Law, which was cancelled by NBC after the original 10 episodes that were ordered were filmed.
Nathan Darrow (Edward Meechum)
For the first four seasons of House of Cards Nathan Darrow played United States Capitol Police officer and Frank Underwood's personal security guard Edward Meechum until his character's tragic ending. Besides his tragic death and strange threeway scene with the Underwoods, Meechum was a bright spot of the show in its early days, and provided some great moments. Near the end of his run on the Netflix series, Darrow joined the cast of Gotham where he portrayed Victor Fries, aka Mr. Freeze. Darrow is currently featured on the CBS crime show FBI.
Sakina Jaffrey (Linda Vasquez)
Sakina Jaffrey was mostly on House of Cards in the show's first two seasons, where she portrayed former United States President Garrett Walker's Chief of Staff, Linda Vasquez, one of the many enemies of Frank Underwood in his rise to power. Since leaving the show, Jaffrey has continued to have a successful career in film and television, with roles in major projects like American Gods, Homeland, Lost in Space, and the Apple TV+ series Defending Jacob, where she stars alongside Chris Evans, Michelle Dockery, J.K. Simmons, and other members of a large ensemble cast.
Sebastian Arcelus (Lucas Goodwin)
Sebastian Arcelus' portrayal of reporter Lucas Goodwin will probably go down as one of the most traumatizing and unforgettable descents into madness featured on the show. In trying to find dirt and take down Frank Underwood, Goodwin's life (professional and personal) continues to get worse and worse until its tragic ending. Following his departure from House of Cards, Arcelus found moderate success on television shows like Madame Secretary, The Leftovers, and most recently, small roles on FBI and Bull. One of the most notable facts about Arcelus is that, due to him being a descendant of Sophia of Hanover, he is in the line of succession to the British throne, though he is pretty far down the list.
Kevin Spacey (Frank Underwood)
And finally, there's the man who started it all — Kevin Spacey. Until being written off after a number of personal controversies all but put a stop to Spacey's career, Frank Underwood was written off the show ahead of the final season in 2017. Since being dropped from the show in which he was the star (and narrator) for five seasons, the former Hollywood legend has only made two appearances in some of the strangest YouTube videos you can find on the internet with "Let Me Be Frank" on December 24, 2018, and then again a year later with "KTWKK."
Well, that's what the cast of House of Cards has been up to lately, or at least most of the cast. Some have gone on to find a great deal of success in film and television, others found themselves on the line of succession, and others are finding strange ways to fill their time. If there is someone you think I left off, make sure to let me know in the comments below.
Your Daily Blend of Entertainment News
Philip grew up in Louisiana (not New Orleans) before moving to St. Louis after graduating from Louisiana State University-Shreveport. When he's not writing about movies or television, Philip can be found being chased by his three kids, telling his dogs to stop yelling at the mailman, or yelling about professional wrestling to his wife. If the stars properly align, he will talk about For Love Of The Game being the best baseball movie of all time.