How Mortal Kombat Director Simon McQuoid Plans To Entertain Fans Of The Series, As Well As Newcomers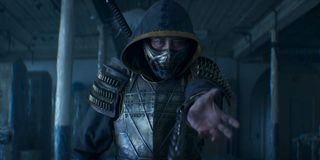 When it comes to adapting a famous franchise, whether it's for comic books or video games, the term 'fan service' can be thrown around quite a bit. On the one hand, it's great for longtime fans of any series to see a cool callback or deep-cut reference. On the other hand, fan service can be a bit alienating to those who aren't as familiar with the material. Mortal Kombat director Simon McQuoid has shared exactly how he's going to walk the fine line between entertaining fans of the video game series, as well as newcomers.
During my visit to the Mortal Kombat set in 2019, Simon McQuoid revealed that he was keeping both sides of the coin in mind while shooting the reboot. When discussing the delicate balance between pleasing fans of the series and entertaining newbies, he said this:
Simon McQuoid also explained his approach to keeping both sides of the aisle entertained. It's no easy task pleasing fans of the immensely complex video game series, which features ninja zombies, inter-dimensional demons and demigods, while at the same time not confusing those who may only be vaguely familiar with the franchise.
However, the director has a plan in place that should please both hardcore Mortal Kombat fans and newcomers to the series. In his words:
By starting from the beginning and introducing fan favorites with their own backstories, the upcoming Mortal Kombat reboot will start fans and new audiences at the same level. While those who have been keeping up with the franchise over the years may have some ideas about secret characters and references to the original films, those new to the series won't be lost.
It would be pretty easy to confuse even major fans if the upcoming reboot contained all 97 characters in Mortal Kombat's ever-expanding universe. While I doubt we will be seeing even a third of that number show up in Simon McQuoid's adaptation, there are a number of fan favorites confirmed by the most recent trailer.
We won't know the exact roster of characters in Mortal Kombat until it releases on April 16, but fans will be happy to hear that the upcoming reboot will remain faithful to its source material as the series' signature fatalities will reportedly play a huge role. Let's just hope those new to the franchise are ready for the brutality, because Simon McQuoid also revealed that the whole affair is going to be really, really bloody.
Your Daily Blend of Entertainment News
Into tracksuits by Paulie Walnuts, the Criterion Channel and Robert Eggers.
Your Daily Blend of Entertainment News
Thank you for signing up to CinemaBlend. You will receive a verification email shortly.
There was a problem. Please refresh the page and try again.