Surprise! The Mortal Kombat Movie Is Going To Be Extremely Bloody, According To The Cast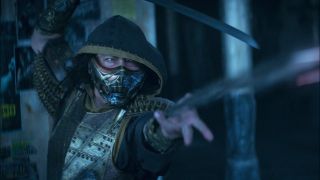 The upcoming reboot of famed video game franchise Mortal Kombat has garnered quite a bit of attention since debuting its first trailer last month. From what we've seen so far, it looks like the movie will follow pretty closely to the video games, including a tease at the franchise's signature fatalities. Fans are no-doubt expecting the upcoming film to be a violent affair, and according to the cast and crew, it sounds like Mortal Kombat will be extremely bloody, to boot.
After being asked about exactly how bloody the film will be, Mortal Kombat director Simon McQuoid shed some light on the more sanguine aspects of the film during an exclusive interview with CinemaBlend, noting the exorbitant amount of fake blood that was being used on set. In his own words:
Drums of blood, huh? That sounds wicked. The director shared the gory details during a set visit back in November of 2019, where he also talked about the game's influential music and how pivotal it was in getting the impressive cast on board.
According to my math, the average liquid drum contains a little over 52 gallons. The human body holds roughly 1.5 gallons of blood, according to the Red Cross. Per Simon McQuoid, there were multiple drums of blood sitting around so he was at least working with over a hundred gallons, which comes out to about 69 human bodies' worth of fake blood. Nice.
It sounds like we will be getting some fantastically R-rated fatalities that will surely excite fans of Mortal Kombat. Lewis Tan, who plays lead Cole Young and was interviewed during the same set visit, also had some thoughts on just how bloody the film will be:
As a fan of both the films (yes, I mean it) and the video game franchise, my hype is getting a little out of hand. Last year Lewis Tan teased fans about just how violent the upcoming Mortal Kombat film will be, saying that some of the onset violence literally made him sick. While the original 1995 rendition certainly had its fair share of brutality, it seems a little tamed compared to the extremely graphic fatalities found in the video game iterations.
I for one am all in for a no-holds-barred-rip-roaring-bloody-good time, and it's looking more and more like that's exactly what we will be getting. I mean, Sub Zero literally stabbed Scorpion with his own blood in the most recent trailer and I can only imagine that's just the tip of the bloody iceberg, or bloodberg as I like to call it.
Mortal Kombat is scheduled to release in theaters and on HBO Max April 16. I wouldn't be surprised if we saw another bloody trailer in the months leading up to the release, so keep your eyes peeled for more news. As for the rest of this year's film slate, be sure to check out CinemaBlend's 2021 Release Schedule for the latest coming to big (and small) screens near you.
Your Daily Blend of Entertainment News
Into tracksuits by Paulie Walnuts, the Criterion Channel and Robert Eggers.