Isla Fisher: What To Watch On Streaming If You Like The Wedding Crashers Star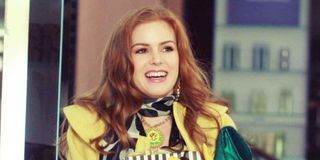 CinemaBlend participates in affiliate programs with various companies. We may earn a commission when you click on or make purchases via links.
In 2005, Wedding Crashers became one of the biggest R-rated comedies of all time, solidifying Vince Vaughn and Owen Wilson as guys who can be funny and financial successful. However, even more memorably so, it made a star out of Isla Fisher in the eyes of audiences who, previously, wouldn't have recognized the actress… unless they mistook her for Amy Adams, that is.
For those who have successfully made that distinction, the 45-year-old redhead (whose first name is pronounced "eye-lah," if you needed help with that, too) is also known for the Australian soap opera Home and Away, which many celebrities from Down Under can claim as one of their first gigs. Isla Fisher would grow more popular in the States for lead roles in subsequent comedies such as Hot Rod and Confessions of a Shopaholic or dramas like Now You See Me and Baz Luhrmann's adaptation of The Great Gatsby, in which she plays Myrtle Wilson, in 2013. Furthermore, some people are still surprised when they learn that Sacha Baron Cohen, the man behind Borat, is the love of her life and father to her three children.
Of course, you likely already knew about her marriage to the controversial comedian if you are truly a fan of the witty, multi-talented bombshell. Not to mention, you have probably already seen the following 11 movies and one TV show from her filmography that are currently available to stream. If not, I suggest you reconsider your fandom and get ready for the ultimate Isla Fisher binge, starting with the role that, arguably, sees her at her funniest.
Wedding Crashers (Hulu, HBO Max)
A pair of divorced lawyers (Owen Wilson and Vince Vaughn) with a penchant for posing as wedding guests to pick up women experience a sudden disconnect in their womanizing dynamic when one of them falls in love.
Why It's A Good Option for Isla Fisher Fans: Owen Wilson as John Beckwith is the one who falls in love, and with Rachel McAdams' character, while Vince Vaughn's Jeremy Grey reluctantly finds himself in a relationship with her uproariously overbearing sister, played brilliantly by Isla Fisher, in Wedding Crashers - a comedy with just the right amounts of raunch and romance.
Stream Wedding Crashers on Hulu (opens in new tab) or on HBO Max. (opens in new tab)
Nocturnal Animals (Netflix)
An art gallery owner (Amy Adams) receives from her ex-husband (Jake Gyllenhaal) an unpublished copy of his scandalous, violent novel, in which she begins to notice parallels to their turbulent relationship.
Why It's A Good Option for Isla Fisher Fans: I jokingly mentioned earlier how Isla Fisher is often mistaken for Amy Adams, which director Tom Ford seemingly decided to use to his advantage by casting the Australian actress as Adams' fictional doppelgänger in the story within a story of Nocturnal Animals, the fashion designer's Academy Award-nominated 2016 adaptation of author Austin Wright's crime thriller.
Stream Nocturnal Animals on Netflix (opens in new tab).
Scooby-Doo (HBO Max)
Years after parting ways, the members of Mystery Inc. are unexpectedly thrown back together to investigate the strange behavior from guests of a remote island resort.
Why It's A Good Option for Isla Fisher Fans: You would have never mistaken Isla Fisher for Amy Adams in 2002's live action Scooby-Doo movie (written by James Gunn), in which she went blonde to play a love interest to Matthew Lillard's Shaggy, who is fittingly named "Mary Jane."
Stream Scooby-Doo on HBO Max. (opens in new tab)
Rango (Netflix)
A chameleon (Johnny Depp) who typically uses his talent of "blending in" for his own selfish purposes, instead becomes a hero to a small desert town dry on water and law enforcement when he accepts the role of sheriff.
Why It's A Good Option for Isla Fisher Fans: Scooby-Doo was only one of the first films (barely) made for children starring Isla Fisher as the main character's love interest, as she also has her role as the voice of an Iguana named Beans in Gore Verbinski's 2011 western-style adventure Rango, which would go on to win the Oscar for Best Animated Feature.
Stream Rango on Netflix (opens in new tab).
The Beach Bum (Hulu)
A Floridian poet with a free-wheeling, hedonistic world view attempts to finally achieve his goal to write "the great American novel" in order to keep his share of his wife's estate, if not for his habits with alcohol, drugs, and other increasingly alarming vices getting in the way.
Why It's A Good Option for Isla Fisher Fans: If you ever found Isla Fisher's marriage to Sacha Baron Cohen to be a fascinating pairing, just wait until you see her as Minnie, the wife of Matthew McConaughey's Moondog (yes, that is the name of the Oscar-winning actor's character), in The Beach Bum - a thoroughly chaotic stoner comedy with a truly amazing, star-studded cast that could only come from the mind of writer and director Harmony Korine.
Stream The Beach Bum on Hulu (opens in new tab).
Definitely, Maybe (Peacock)
A 30-something political consultant going through a divorce (Ryan Reynolds) tries to keep his story vague and child-friendly when his 10-year-old daughter (Abigail Breslin) asks to hear about the most significant relationships of his past, in the events leading up him meeting her mother.
Why It's A Good Option for Isla Fisher Fans: You may find yourself rooting for Isla Fisher's April to be the one who becomes Ryan Reynolds' bride (despite the marriage's bitter fate) in 2008's Definitely, Maybe, a charming romantic comedy that actually challenges you with the question of who the male lead will end up with.
Stream Definitely, Maybe on Peacock (opens in new tab).
London (Amazon Prime, Tubi, PlutoTV)
A heartbroken cocaine addict (Chris Evans) and a drug dealer he recently met (Jason Statham) crash a get-together for his ex-girlfriend (Jessica Biel), where he makes a problematic attempt to win her over.
Why It's A Good Option for Isla Fisher Fans: Three years before playing a love interest to Ryan Reynolds in a rom-com, Isla Fisher played the host of a fateful going away for the unrequited love interest of another Marvel movie actor (Evans) in London, which has short bursts of rom-com action along with its depictions of post break-up depression, reactionary violence, and graphic substance abuse.
Stream London on Amazon Prime (opens in new tab) or Tubi or PlutoTV.
Rise Of The Guardians (HBO Max)
A group of iconic figures from fantasy legend - such as Jack Frost (Chris Pine), the Easter Bunny (Hugh Jackman), and Santa Claus (Alec Baldwin) - must join forces to defeat an evil spirit (Jude Law) who threatens to ruin the innocence of children all over the world.
Why It's A Good Option for Isla Fisher Fans: While its title may sound like a prequel to a Marvel movie, Rise of the Guardians is not even a comic book adaptation, but a fun, animated adventure powered by imagination with an impressive who's who of voice talents, including Isla Fisher as The Tooth Fairy.
Stream Rise of the Guardians on HBO Max (opens in new tab).
The Lookout (Paramount+, PlutoTV)
A former star athlete who now suffers from debilitating memory problems after a car accident attempts to achieve normalcy with a custodial position at a bank, but instead gets roped into a heist.
Why It's A Good Option for Isla Fisher Fans: Say, speaking of that cheeky Guardians of the Galaxy reference I just made, Joseph Gordon-Levitt's amnesia-stricken character is actually named Chris Pratt in The Lookout, which also sees Isla Fisher perfectly cast in the dangerous femme fatale role of this acclaimed 2007 Neo-noir thriller.
Stream The Lookout on Paramount+ (opens in new tab) and Pluto TV.
Horton Hears A Who! (Disney+)
An elephant (Jim Carrey) struggles to keep a speck of dust he finds resting on a plant safe from his fellow jungle creatures when he discovers an entire community of microscopic organisms live on top of it.
Why It's A Good Option for Isla Fisher Fans: Inspired by the classic Dr. Seuss book, Horton Hears a Who! is yet another fun animated film with Isla Fisher playing a hero of sorts as the voice of a seemingly absent-minded university scientist who assists the Mayor Who-ville (Steve Carell) in attempting to avoid catastrophe.
Stream Horton Hears a Who! on Disney+ (opens in new tab).
Godmothered (Disney+)
A woman (Isla Fisher) whose wish for help was ignored when she was a child finally sees it answered by a bumbling aspiring fairy godmother (Jillian Bell), who tracks her down in the hope of proving she has what it takes for the job.
Why It's A Good Option for Isla Fisher Fans: Isla Fisher's most recent foray into family-friendly entertainment is playing the late recipient of some much-needed magic in the 2020 Disney+ exclusive comedy Godmothered, which offers a funny little twist on the wish-granting moral support role found in many classic fairy tales.
Stream Godmothered on Disney+ (opens in new tab).
Arrested Development (Netflix)
When his father (Jeffrey Tambor) is put in jail, California lawyer Michael Bluth (Jason Bateman) attempts to keep his once-wealthy family of eccentric, selfish, and corrupt characters afloat without losing his sanity.
Why It's A Good Option for Isla Fisher Fans: Another famous redhead whom Isla Fisher has also been confused with is Bryce Dallas Howard, whose father is Ron Howard, which is what makes her role on Netflix's revival of Arrested Development in Seasons 4 and 5 as the filmmaker's illegitimate daughter, Rebel Alley, especially hilarious.
Stream Arrested Development on Netflix (opens in new tab).
Something I would really love to see is a movie starring Isla Fisher, Amy Adams, Bryce Dallas Howard, and Jessica Chastain as the same character. It would all be an elaborate experiment to see how often the audience takes notice when each actress replaces the last one. Hell, I'll take just a viral video of it, if that makes it easier, but I believe Fisher and the rest certainly have the sense of humor and, undoubtedly, the talent necessary to pull that off.