Jake Gyllenhaal's New Movie Nocturnal Animals Has An Amazing Cast And A Bizarre Premise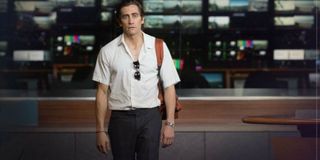 Jake Gyllenhaal is on a mission to stretch himself and his CV as wide as possible. This has been happening thanks to the likes of Zodiac, Source Code, and End Of Watch, but it was with Nightcrawler, which he followed up with Southpaw, Everest, and the forthcoming Demolition, that people stood up and took notice. And it turns out that his next project, Nocturnal Animals, is just as enticingly bizarre and different as you hoped. Plus it has a sterling cast.
According to Variety, the people behind Nocturnal Animals are currently in talks with Isla Fisher (Hot Rod) to join the already stunning ensemble. Alongside Fisher and Gyllenhaal (Brokeback Mountain), the cast also features Michael Shannon (Man Of Steel), Aaron Taylor-Johnson (Nowhere Boy), Armie Hammer (The Lone Ranger), and Amy Adams (The Master).
If that doesn't get you excited for Nocturnal Animals, then the fact that it is being overseen by Tom Ford, who previously directed A Single Man, a meticulous and stylish drama starring Colin Firth, should. Anticipation for the project has been ramping up because of the bidding war to purchase the worldwide distribution rights at the Cannes Film Festival back in May, which was ultimately won by Focus Features.
Why is the project so sought after? Well, not only is it an adaptation of the 1993 novel, Tony And Susan, written by Austin Wright, but it also has a wonderfully unique and bizarre, story-within-a-story concept. Basically, there are two stories to Nocturnal Animals. The first revolves around a woman, Susan (Amy Adams), who receives a book manuscript from her ex-husband of 20 years, Tony, who is played by Jake Gyllenhaal. Along with his manuscript, Tony also adds a note that says she was always his best critic.
Sounds simple enough at the moment, right? However, things soon start to take a turn for the more complicated as the woman becomes more and more entwined in the violent story, which revolves around the lead character driving his family to their summer house in Maine, and will come to life on screen. Because of the book, Susan suddenly starts going back into her past, and is forced to confront the dark issues that have always followed her. Isla Fisher will now take the part of Tony's new wife.
That sounds intriguing enough to me. And when you look at the long-line of supremely talented actors and actresses involved in Nocturnal Animals, you've got to assume that it's doing something right to seduce this talent. Fisher, who has been keeping herself rather busy since giving birth to her third child earlier this year, seems like a sturdy choice to an already delightful ensemble. She just concluded filming Keeping Up With The Joneses with Zach Galifianakis, Jon Hamm, and Gal Gadot, while she'll next pop up opposite her husband Sacha Baron Cohen in Grimsby.
No word yet on when Nocturnal Animals will be released, but Focus Features will probably aim for production to begin early next year, with a release date in 2017.
Your Daily Blend of Entertainment News