Disney+'s Godmothered Reviews Are Up, See What Critics Are Saying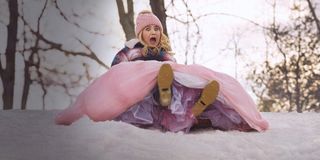 Disney+ is a little over a year old now, and in that time, the streaming service has released a fair amount of exclusive movies, ranging from features that were made specifically for the platform, like the lived-action Lady and the Tramp and Stargirl, to features that were moved over there after theatrical plans were scrapped, like Artemis Fowl, Hamilton and the upcoming Soul. The soon-to-be-seen Godmothered falls into the former category, with the movie following a godmother-in-training, played by Jillian Bell, being tasked to help a disillusioned reporter, played by Isla Fisher, reclaim her sense of wonder and the idea of "happily ever after."
Godmothered drops on Disney+ this Friday, December 4, but reviews for the movie are now flowing in. So what's the critical consensus on the Mouse House's latest streaming offering? Thus far, it looks like Godmothered falls into mixed territory, meaning it will be some people's cup of tea, while others will walk away unimpressed.
Starting off, CinemaBlend's own Eric Eisenberg was among the people who didn't care for Godmothered, giving it 2 out of 5 stars in his review. Eric thought that while Godmothered had a premise that provided "endless possibilities for creativity," the story was "incredibly shallow" and the overall product looked cheaply made. And while Jillian Bell is a talented actress, even her performance as Eleanor couldn't make the movie's bigger issues disappear.
Josh Spiegel from Slashfilm also wasn't enamored with Godmothered, as evidenced by the 4 out of 10 score he gave it. While clearly inspired by family comedies like Enchanted and Elf, Godmothered fails to measure up to either of those movies, and instead is just "fine" at best and "unremarkable" if you want to be brutally honest. Jillian Bell and Isla Fisher are enjoyable enough to watch, but Godmothered doesn't stand out in any notable way.
On the more positive end of the critical spectrum, The AV Club's Caroline Siede stamped Godmothered with a B-, highlighting how Jillian Bell and Isla Fisher's performances boost what feels like a made-for-TV movie you'd find on the Disney Channel or the Hallmark Channel. As mentioned earlier, Godmothered doesn't rise up to Enchanted levels of entertainment, but it makes for a "breezily wholesome story will go down easily enough for family audiences." especially those desperate for content.
Cataline Combs from Black Girl Nerds was even more enamored with Godmothered, saying that the movie boasts "fun" writing and standout performances from multiple generations of actors, including June Squibb and Jane Curtin. Cataline also highlighted Godmothered's music, noting how it gave her "all the feels."
Finally, Digital Spy's Ian Sandwell felt relatively neutral about Godmothered, scoring it a 3 out of 5. Ian states that those who liked Enchanted will also enjoy watching Godmothered, as it serves as a "festive pick-me-up." However, the movie as a whole also tends to go too slapstick and is hit-and-miss with its gags.
You can judge Godmothered for yourself this weekend when it arrives on Disney+. If you're not already subscribed to the Mouse House's streaming service, use the following link to sign up. Those of you who are already looking ahead to the movies slated for next year should browse through our 2021 release schedule.
Connoisseur of Marvel, DC, Star Wars, John Wick, MonsterVerse and Doctor Who lore. He's aware he looks like Harry Potter and Clark Kent.
Your Daily Blend of Entertainment News
Thank you for signing up to CinemaBlend. You will receive a verification email shortly.
There was a problem. Please refresh the page and try again.