Paul Bettany: What To Stream If You Like The WandaVision Star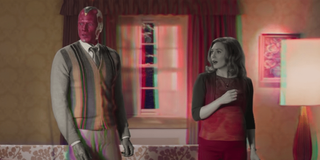 CinemaBlend participates in affiliate programs with various companies. We may earn a commission when you click on or make purchases via links.
One of the biggest shows in the world has taken over our TVs and laptop screens, coming straight from Marvel Studios, and that show, my friends, is the Disney+ series WandaVision. With its compelling storylines, fun mysteries, and aggressive action, it's the perfect pick for any superhero fan.
Even with Elizabeth Olsen leading the way as Wanda Maximoff, we can't have WandaVision without the second half, who is, of course, Vision, played by Paul Bettany. While he has been getting a lot of publicity lately due to WandaVision, Paul Bettany has been around in the business for quite some time. Here are a few of the movies you should check out streaming which has everyone's favorite android in them – well, human who's played an android.
A Beautiful Mind (Peacock)
Starting out strong here, A Beautiful Mind tells the story of a man, played by Russell Crowe, who has an absolutely stunning mind which could help humanity, but also works against him, creating delusions which lead him to panic.
The movie itself was incredibly successful, winning the award for Best Picture at the Academy Awards and three others, as well. In this film, we really see Paul Bettany in one of his first main roles which really tested the boundaries of what he could do. The topic of A Beautiful Mind is so intense, with a heavy focus on mental health, but Bettany's character work fits in well with the story. It's a much different version of the Bettany we all know and love from the Avengers – but that doesn't make it any less entertaining.
Stream it on Peacock here (opens in new tab).
Wimbledon (Peacock)
Moving on to a completely different genre, we enter into the sports world with Wimbledon. This sporting romantic comedy centers around an up-and-coming tennis star, played by Kirsten Dunst, who falls for one of the former best players in the world, portrayed by Paul Bettany.
This one is most certainly for fans of his latest show, WandaVision, because we really get to see Paul Bettany try his hand at the classic romantic-comedy trope, which we see plenty of in that series. Not only that, but the film is actually quite funny, and even if you're not super into sports, this is one that you'll definitely find something to love about, whether it be the relationship that builds up over time between the protagonists, to the star-studded cast, with actors like James McAvoy and Jon Favreau appearing alongside the star.
Stream it on Peacock here (opens in new tab).
The Da Vinci Code (Hulu)
Now, this film is a classic. The Da Vinci Code tells the tale of a "symbologist" and a cryptologist who set out on a quest to find the legendary Holy Grail, but with plenty of twists and turns during the journey.
I know from the premise it sounds like this movie is going to be something that is entirely focused on religion, but I'm here to tell you that is not the case. In fact, The Da Vinci Code is one of the best mystery thrillers out there, with plenty of action and suspense to keep you watching. The cast, including Paul Bettany, is amazing, with actors Tom Hanks, Sir Ian McKellen, and more, shining in this film. Bettany really tries his hand at the thriller genre here and succeeds quite well, so if you're into mysteries, as WandaVision has had plenty, this is the movie for you.
Stream it on Hulu here (opens in new tab).
Creation (Amazon Prime)
When I tell you that Paul Bettany has been all over the map of movie genres, I am not joking. Now, we step over to a biographical drama in Creation, the story of Charles Darwin's relationship with his wife, and the memory he has of his eldest daughter, while he writes On the Origin of Species.
As someone who doesn't know much about history, this movie was actually interesting to watch. I loved hearing about the life of one of the most known scientific men in history, and how he had struggles with his own family, considering his wife was very religious, and the way his theories were seen. Paul Bettany does a great job of portraying the legendary Charles Darwin and really makes you think deeply about the separation of science and religion, and how if you try hard enough, you really can find common ground among the two.
Stream it on Amazon Prime here (opens in new tab).
Legion (Amazon Prime)
Now we move over to something that is the complete opposite of the last film, as Legion is an action horror film about the end of days. When God basically decides he's had enough of humankind and loses faith, he sends down his legion of angels to destroy everything. It is up to the Archangel Michael, and a bunch of strangers trapped in a diner, to stop it.
Let me just say this movie is entertaining, especially with Paul Bettany taking on the role of Michael. I had such a great time watching it, because it's an interesting concept to see one of God's most powerful angels decide to take on God's entire army to save humankind. It's heavy, intense, and full of fights that will have you cheering on the characters from your couch. Plus, the movie even led to a short-lived TV show – which just proves that it's a lot of fun.
Stream it on Amazon with AMC+ here (opens in new tab).
Solo: A Star Wars Story (Disney+)
Alright, I'm going to stand up and say that Solo: A Star Wars Story was not bad, dang it, and Bettany does a great job in it. Solo: A Star Wars Story is exactly as you think it is – the origin story of the famous Han Solo from the Star Wars saga, even with the introduction of Chewie thrown in there as well.
Was Solo: A Star Wars Story as good as some of the other stand-alone Star Wars films? No; at least not in my opinion. But, I do not think it deserves the slander it has gotten from fans. Paul Bettany did an excellent job as a villain, even if he was cast at the last minute near the end of the film's production. And, with co-stars like Donald Glover, Emilia Clarke, Thandie Newton, and more beside him, the movie is filled to the brim with talent. It's worth a shot to watch if you're a fan of Star Wars.
Stream it on Disney+ here (opens in new tab).
Uncle Frank (Amazon Prime)
One of his more recent films, Paul Bettany really shows off his acting chops in this one. Uncle Frank is about the story of Frank, a closeted gay man who goes on a road trip to confront his past.
While, yes, the premise does sound like the most basic road trip movie you could ever imagine, Paul Bettany does a fantastic job of drawing your attention and keeping the pace of the plot moving along. The comedy flows fantastically, even though it can be dark at some points. Not only that, but the pairing of Paul Bettany's Frank and Sophia Lillis' Beth in this movie works so well. You never feel that they're acting because their familial relationship seems so real. Trust me – it may sound average, but Uncle Frank is anything but.
Stream it on Amazon Prime here (opens in new tab).
Age Of Ultron (And Other Marvel Movies) (Disney+)
I can't have a Paul Bettany list without mentioning the man, the myth, the legend: Vision. Avengers: Age of Ultron is the second Avengers movie in the MCU saga, where the Avengers now need to take on a new threat in Ultron, an android with a mind of its own who wants to completely destroy humanity.
While Vision appears for the first time in Avengers: Age of Ultron, you can catch Bettany multiple times in other movies – as the voice of J.A.R.V.I.S., Tony Stark's A.I. You really get to see the scope of Vision's powers and what he's able to do here. We always talk about how Robert Downey Jr. was at the very beginning of the MCU, when, technically, so was Paul Bettany – and now he even has his own show, so take that, Iron Man! (I'm just kidding, I love Iron Man too! Don't hurt me!)
Stream it on Disney+ here (opens in new tab).
WandaVision (Disney+)
While I know this is in the title and you've probably already watched it, I wanted to put it in here again because while the MCU movies might have introduced us to Vision, WandaVision actually made us care for him in a way I don't think anyone ever did before. WandaVision is all about the aftermath of Wanda Maximoff losing the love of her life, Vision, in the war against Thanos, and the destruction she's left in her path while trying to find a semblance of happiness.
But, what really makes WandaVision tick is that it expands on these two characters so well. We don't really get to know Paul Bettany's Vision that much from the movies, or Wanda Maximoff, considering they were more like side-characters as opposed to some other Avengers, but now we really get a look into their life.
As fans of Marvel, we start to see this whole new compassionate, different side of Vision that we had never seen before, and of course, we begin to care for this relationship, as dangerous as it might be for the state of humanity. It really takes these two characters and digs into their psyches, and I can always appreciate a show that makes you learn to love a character you never really liked before.
Stream it on Disney+ here (opens in new tab).
With plenty of Paul Bettany to choose from, I'm sure there's a genre and movie which will suit your fancy.
Big nerd and lover of Game of Thrones/A Song of Ice and Fire. Will forever hate season eight. Superhero and horror geek. And please don't debate me on The Last of Us 2, it was amazing!
Your Daily Blend of Entertainment News
Thank you for signing up to CinemaBlend. You will receive a verification email shortly.
There was a problem. Please refresh the page and try again.