Arrested Development Cast: Season 5 Vs Season 1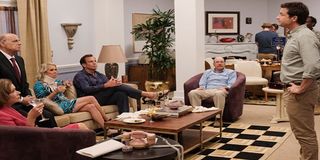 Arrested Development has had a run unlike any other show on TV. During its first three seasons on Fox, it seemed like it was threatened with cancellation after every episode, much less at the end of every season. The show's diehard fans would petition and fight to keep the show going before it was finally canceled permanently.
After it was cancelled, the rumors began almost immediately about Arrested Development being brought back, again. Fans clamored for it, and eventually, to everyone's delight, the entire cast retuned, this time to Netflix to bring the show back for (at least) two more seasons. Through it all, the Arrested Development cast stayed together, despite many of the members' incredible success outside of the show. Let's take a look at their growth between the series' first and latest seasons.
George-Michael Bluth (Michael Cera)
Probably no character in the Arrested Development cast has changed more than the youngest, George-Michael, played by Michael Cera. In Season 1, he is a wimpy, shy kid that is overwhelmed by his father's attention and in love with his cousin Maeby. In Season 5, he's still in love with Maeby and she is still trying to find reasons to make out with him, but he's more confident and more willing to stand up to his father.
Like the character he plays, Michael Cera has changed a lot too. He was an unknown teen actor when the show began and today, he is a bonafide Hollywood star, starring in huge movies like Superbad, Scott Pilgrim vs. the World, and The Lego Batman Movie.
Maeby Funke (Alia Shawkat)
Maeby is the product of a completely dysfunctional (and hilarious) marriage between Lindsay and Tobias. Right from the beginning, she uses this to her advantage to pretty much do whatever she wants. She is smarter than both her parents, which helps a lot. Always a lot more confident than her cousin Michael, eventually she lands herself in jail and then on the run after accidentally getting into a relationship with a high school student.
Alia Shawkat, like most of the Arrested Development cast, has gone to have a great career in between extended Arrested Development hiatuses. She has been in a whole slew of projects in theaters and on TV, in including a guest spot on Transparent with her fellow Arrested Development co-star Jeffrey Tambor. She also took a hilarious turn as Alexander Hamilton on one of the best episodes of Drunk History.
Buster Bluth (Tony Hale)
The youngest of George and Lucille Bluth's four children, Buster is the runt of the litter in every way. He is the worst kind of mama's boy with an insanely weird (and funny) relationship with his domineering mother, Lucille. From the beginning of Season 1 right up until his prison breakout in Season 5, Buster is always the victim. He also had a right hand when Arrested Development began, but he lost that long ago.
Tony Hale jumped from one popular and award-winning sitcom, Arrested Development, to another, Veep on HBO. Hale himself has won a couple of Emmys for his portrayal of Gary Walsh, an aide to Julia-Louis-Dreyfus' character Selina. Lucky for Hale, Gary Walsh still has both hands.
Lindsay Bluth (Portia de Rossi)
In a family full of ridiculous and terrible people, Lindsay Bluth Funke might be the worst, really. She inherited all the narcissism of her mother Lucille and channels it is all the wrong ways. From the beginning, she has thought of herself as righteous do-gooder, but in reality, everything she does, she does for herself. Even in Season 5, as she runs for Congress, she doesn't at all understand the meaning service and sacrifice, despite claiming to perform both in one way or another.
Australian Portia de Rossi's resume over the last 16 years has been impressive. She has appeared as a full cast member or a recurring cast member on a number of shows, including Nip/Tuck and Scandal, as well as a handful of movies. In May of 2018, she announced on her wife Ellen DeGenerous' show that she would be retiring from acting, but added that she would continue to be a part of the Arrested Development cast. Ellen may not be far behind either. It's a testament to how much the show means to fans and the cast alike.
Michael Bluth (Jason Bateman)
The heart of the family and the heart of the ensemble cast, Michael Bluth, played by Jason Bateman, is deep down a family man, and as such he has spent basically the entirety of the show trying to run from his crazy family and have a more normal life. All the way through Season 5, he is trying to run from and save his family in the search for Lucille Austero, or "Lucille 2" as she is often referred, played, of course, by the legendary Liza Minnelli.
Jason Bateman has had one heck of a career. As a child star, he appeared on such classic '80s TV shows as Little House On The Prairie and starred in The Hogan Family. Bateman's star fell a little in the '90s and he seemed destined to end up in the washed-up child star dustbin, but he has completely resurrected his career in the 21st century, due in large part to his performance in the Arrested Development cast, for which he has won numerous awards. He is current starring in another big Netflix show, Ozark.
Tobias Funke (David Cross)
For a doctor, Tobias Funke, played by David Cross, sure is stupid. He married into the insane Bluth family though Lindsay and is Maeby's father, but neither Lindsay nor Maeby are very happy with either of those things. He starts the show in Season 1 as a psychiatrist who wants to be an actor. By the end of Season 5, he is pretty much the same. Tobias is the kind of character who drives you mad with his consistently poor decisions in his professional and private life.
David Cross spends most of his time when not in the Arrested Development cast as a standup comedian and provocateur. He launched his career with legendary Mr. Show on HBO. He sometimes seem to go out of his way to be controversial and subversive, but his career keeps humming along with roles on numerous TV shows, like Modern Family, The Increasingly Poor Decision Of Todd Margaret and The Unbreakable Kimmy Schimdt, which is also on Netflix.
Gob Bluth (Will Arnett)
The oldest of Bluth children and in the running for the most spoiled, which is really saying something, Gob, played by Will Arnett, is a jerk. He's mean to everyone, especially those people that he sees as beneath him, and why wouldn't he be? Like the guy in the $5000 suit is going to worry about the guy that doesn't make that much in 3 months, COME ON! Gob spends 5 seasons on the show being absolutely, positively terrible, and even in the end of Season 5, he is still only looking about for himself.
Arrested Development cast member Will Arnett seems to pop up every where. From voicing The Lego Batman Movie's Caped Crusader to seemingly guest starring on every sitcom under the sun, Arnett brings the funny where ever he shows up. His starring role as the voice of BoJack on BoJack Horseman continues his streak of great shows on Netflix.
Lucille Bluth (Jessica Walter)
Lucille Bluth is the most unredeemed character in a show full of terrible people that never come around. She, like her daughter, is an unrepentant narcissist. From the beginning, she has no problem selling out her children for her own good. Even at the end of Season 5, she is still willing to give up on Lindsay's congressional run when it won't help her plans to build the wall.
Jessica Walter's performance on Arrested Development is pitch perfect. Her timing is impeccable and she consistently stands out among the powerhouse cast. Her huge success came a long time in the making. Walter's career started in film and television way back in 1964 when she appeared on Flipper! While she had steady TV work through five decades, it wasn't until Arrested Development that she really hit the big time, and it's been well-deserved.
George Bluth (Jeffery Tambor)
The patriarch of the dysfunctional Bluths, George Bluth, played by comedic legend Jeffery Tambor, is the most cunning of the family, and the most reckless. Like his TV wife, Lucille, he is an unrepentant sociopath who has no problem selling out his family to make a few bucks. He starts Season 1 in jail and never really redeems himself. He ends Season 5 by sabotaging his daughter's political career.
Like George, actor Jeffery Tambor seems to be in the middle of controversy a lot. Despite winning an Emmy for his performance on Transparent, he left the show after a slew of sexual misconduct charges were leveled against him. He has since been accused of verbally abusing his Arrested Development co-star Jessica Walters. For all his comedic genius, Jeffrey Tambor is also a very controversial figure.
It's incredible to think that Arrested Development has lasted this long and is as legendary as it is. From being a struggling show constantly threatened with cancelation to becoming a cult-classic with diehard fans everywhere, this incredible years-long run has seen its ups and downs, but deserves to rank among the pantheon of groundbreaking sitcoms. Who knows what the future holds, but don't bet against it coming back for more in the future.
Your Daily Blend of Entertainment News
Hugh Scott doesn't believe aliens are hidden at Area 51 or that Elvis is alive, but he does believe birds are real and Meghan Markle isn't treated fairly by the tabloids. He's been writing about music, movies, and celebrities for most of his adult life after realizing stocking shelves in a paper warehouse in college wasn't all it was cracked up to be.