Big Hero 6 And 11 Other Underrated Movies To Watch On Disney+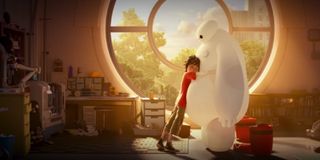 Disney+ has made it a lot easier for you to revisit some great movies, which is one of the main allures of having so many streaming services available. We know how tempting it is to watch Tangled for the 400th time, but it's time to watch something new. It is time for you to broaden your Disney+ horizon. The streaming platform contains plenty of underrated movies, like Big Hero 6. These underrated movies have been neglected for too long. It is time for them to go on your what to watch on Disney+ playlist.
My definition of underrated are movies that are enjoyable but maybe received harsh reviews or poor box office results, or only have a cult following or just are not discussed among the great films of their genre. One reason or another these movies haven't been anointed in the great movies hall of fame.
Big Hero 6
In Big Hero 6, Hiro (Ryan Potter) is a boy genius who builds microbots to gain entry into the San Fransokyo Institute of Technology. After tragedy strikes, Hiro teams up with his brother's robot health companion Baymax (Scott Adsit) and they hunt for a dangerous masked man who now has Hiro's microbots. Hiro upgrades Baymax's software and teams up with his friends to form a new super group.
Why It's underrated: Big Hero 6 is a really good animated film, both in terms of plot and animation, and it's a very entertaining Marvel Comics adaptation. Hiro and his friend's quest feels very similar to many of the Marvel Cinematic Universe origin stories. Despite Big Hero 6 being an easy film to place in the world of Marvel and Disney, it just doesn't receive as much attention from either fandom.
Stream it on Disney+ here (opens in new tab).
Hercules
Disney's Hercules follows young Hercules (Tate Donovan) as he discovers that he's half-man and half-god. He then needs to take a hero's journey to prove himself worthy of living among the gods. Hercules voice cast includes James Woods, Susan Egan, Danny DeVito, Rip Torn, and Bobcat Goldthwait.
Why It's underrated: When people mention the best Disney animated films, they'll mention Beauty and the Beast, The Lion King, Little Mermaid, and many more, but Hercules is rarely mentioned. It's almost like Disney fans forgot this brilliant movie. Hands down Hercules has one of the best Disney soundtracks and it's nearly criminal that more people aren't still singing "Go the Distance," "The Gospel Truth," and "I Won't Say (I'm in Love)."
Stream it on Disney+ here (opens in new tab).
Thumbelina
Thumbelina, based on Hans Christian Andersen's book of the same name, follows a tiny girl named Thumbelina (Jodi Benson) and the Prince of the fairies Cornelius (Gary Imhoff) as they try to find their way back to each other. Thumbelina's voice cast includes Gilbert Gottfried, Carol Channing, John Hurt, and Charo.
Why It's underrated: Many of you reading this probably went "what the heck is Thumbelina?" And there lies the issue, Thumbelina doesn't receive nearly as much attention as other animated films created in the 90s. This is probably due to the bad reviews, box office failure, and not the best soundtrack. Also Thumbelina is very bizarre in comparison to Cinderella, but if you can accept the strangeness, then Thumbelina is one enjoyable ride from start to finish. Personally, it's one of those movies I've seen far too many times and still enjoy its ridiculous plot.
Stream it on Disney+ here (opens in new tab).
A Goofy Movie
Worried about his son Max (Jason Marsden)'s future, Goofy (Bill Farmer) plans an impromptu road trip and fishing trip for them. This ruins Max's plans to get close to his crush Roxanne (Kellie Martin), so he lies about being friends with singer Powerline (Tevin Campbell) and taking this trip to perform with him.
Why it's underrated: Besides a cult following, A Goofy Movie is basically ignored by the world of Disney animation fans. Maybe fans seem to forget about this movie because Goofy is seen as more of Mickey's silly sidekick than a charismatic character. It is unfortunate that The Goofy Movie is not more popular because the plot is relatable, heartwarming, and the music is top notch. It is pop music at its finest.
Stream it on Disney+ here (opens in new tab).
Frankenweenie
Tim Burton adds his own signature style to this remake of a 1984 short film. Frankenweenie, a homage to Mary Shelley's classic Frankenstein, follows young Victor Frankenstein (Charlie Tahan) as he reanimates his dog Sparky (Frank Welker). The Frankenweenie voice cast includes Martin Short, Catherine O'Hara, and Winona Ryder.
Why it's underrated: Tim Burton clearly uses influence from his other films, like Edward Scissorhands and The Nightmare Before Christmas, when developing Frankenweenie. This is definitely not Burton's best film, but it should be more in the conversation when discussing his great movies. His style and themes aren't necessarily family friendly, but the fact that he was able to turn the story of Frankenstein into a family friendly film is a great accomplishment. It's probably still a little too complex and dark for young kids, but it works for older children and families.
Stream it on Disney+ here (opens in new tab).
Togo
Togo follows Leonhard Seppala (Willem Dafoe) and his sled team led by Togo as they try to complete the 1925 serum run to Nome. They face dangerous winter conditions to try to save lives. They need to get this serum to Nome in order to help stop an epidemic
Why it's underrated: Possibly because Disney+ is still so new, people haven't discovered the truly great original content on the service. This movie is one of them and very worth watching. Togo pulls you in as both an action adventure film and as a story of a spirited dog who forms an unbreakable bond with his human and animal family.
Stream it on Disney+ here (opens in new tab).
A Bug's Life
Flick (Dave Foley) doesn't quite fit in with his ant colony, but when dangerous grasshoppers threaten its survival, Flick is the only hope to save it. In A Bug's Life, he must gather a motley crue of bugs to try to save his people. The voice over cast includes Kevin Spacey, Julia Louis-Dreyfus, and Hayden Panettiere.
Why it's underrated: A Bug's Life may have suffered from not being Pixar's first film because it completely got overshadowed by Toy Story and then movies after it like Monster's Inc. and more recent films like Coco.The film had the winning Pixar formula (great animation, interesting characters, a compelling storyline, etc.) to become another hit franchise, but somehow, it just didn't.
Stream it on Disney+ here (opens in new tab).
Life With Mikey
In Life with Mikey, Michael J. Fox plays a former child star who becomes a talent agent. Mikey (Michael J. Fox) hasn't quite grown up and relies heavily on his former glory to get by, but one day, he meets a young pick-pocket named Angie (Christina Vidal). He sees acting potential in her and becomes her mentor. They both end up helping each other and forming a family that they both need. Nathan Lane and Cyndi Lauper also appear in Life with Mikey.
Why it's underrated: During Life with Mikey's 1993 release, critics didn't love it. It also wasn't much of a hit with the general public. However, I don't quite get why, because Life with Mikey is a fun, endearing movie that's a coming of age story for both Angie and Mikey. This movie isn't going to change the world, but it's a cute story, and sometimes that's all you want out of a film.
Stream it on Disney+ here (opens in new tab).
Meet The Robinsons
Meet the Robinsons follows 12-year old orphan Lewis (Jordan Fry) who sets out to invent a memory-grabbing machine to learn more about his birth mother. While presenting at the school's science fair, a mysterious man with a bowler hat (Steven Anderson) sabotages his project. Then Wilbur Robinson (Wesley Singerman), a kid claiming to be from the future, brings Lewis along for the adventure of his life.
Why it's underrated: I would bet that a lot of people have never even heard of Meet the Robinsons. It's a rare Disney animated film that happened to slip under the radar, which is a shame because this is actually a really good animated movie. Meet the Robinsons has an unexpected but very intriguing plot and a whole bunch of wacky characters. If you haven't seen this movie yet, it's time for you to meet this unique futuristic family.
Stream it on Disney+ here (opens in new tab).
Sister Act 2: Back In The Habit
Whoopi Goldberg returns to fake nun life in Sister Act 2, the sequel to the hit original. Deloris (Whoopi Goldberg) rejoins her former nun sisters to help a school from being closed. She must help a group of misfits' students find their voice. Sister Act 2's cast includes Kathy Najimy, Maggie Smith, and Lauryn Hill.
Why it's underrated: Sister Act 2 was nowhere near as popular as the first film It grossed less money and received harsh reviews. Sister Act 2 may not be as good as the first one, but this one has just as many memorable musical moments, mainly due to the cast of talented young singers led by Lauryn Hill.
Stream it on Disney+ here (opens in new tab).
Tuck Everlasting
Tuck Everlasting is a romantic drama between 15-year-old Winnie (Alexis Bledel) and Jesse Tuck (Jonathan Jackson), a boy who can't age. It's the story of the burden of immortality and first love. Tuck Everlasting's cast includes Ben Kingsley, Sissy Spacek, Victor Garber, and William Hurt.
Why it's underrated: Tuck Everlasting is a sweet romance story that seems to have gotten overshadowed by a lot more flashier and beloved tales of young love, like A Walk to Remember and Bend it Like Beckham. Tuck Everlasting fairy-tale-esque quality and chemistry between Alexis Bledel and Jonathan Jackson should fulfill your need for yearning and doomed first love.
Stream it on Disney+ here (opens in new tab).
Oliver & Company
Oliver & Company is Disney's twist on the Charles Dickens classic Oliver Twist. An orphaned kitten named Oliver (Joey Lawrence) meets a group of dogs, led by Dodger (Billy Joel) who teaches him his streetwise ways. One day Oliver meets Jenny (Natalie Gregory) who wants to adopt him, forcing Oliver to choose between the new family he's made and a potential one. Oliver & Company's cast includes Bette Midler, Richard Mulligan, and Sheryl Lee Ralph.
Why it's underrated: Oliver & Company did very well at the box office, but it is another filmed with mixed reviews. Despite the strong box office numbers, the film isn't mentioned as much as other films released by Disney in the 80s and 90s, which is a shame because it has a great voice cast and it's another animated movie with a very catchy, fun, and memorable soundtrack.
Stream it on Disney+ here (opens in new tab).
Try these movies, you might like them or passionately hate them, but it never hurts to try something new, especially if it's already part of a streaming service that you pay for.
Your Daily Blend of Entertainment News
Spent most of my life in various parts of Illinois, including attending college in Evanston. I have been a life long lover of pop culture, especially television, turned that passion into writing about all things entertainment related. When I'm not writing about pop culture, I can be found channeling Gordon Ramsay by kicking people out the kitchen.