Midsommar's Florence Pugh Shares The Intense Experience Of Filming That Iconic Crying Scene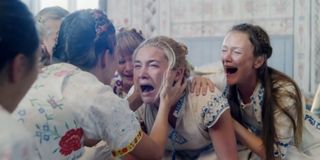 Acting is by no means easy and it's no secret that Hollywood can be particularly demanding at times, even for the best in the business. While some actors are willing to go to extreme measures for their roles, it's rare for fans to get a behind-the-scenes look at the filming process. Black Widow star Florence Pugh recently shared just how intense filming can be with an emotional post detailing that iconic Midsommar crying scene.
The Midsommar actress recently posted to Instagram, where she shed light on how difficult it was to film the emotionally demanding scene, and why it was all worth it in the end:
In the post, Florence Pugh discussed exactly how difficult it was to film the scene, which featured the Little Women actress crying, heaving and screaming alongside seven members of the murderous Swedish commune. Apparently, those involved were so into the moment that they continued to sob, even after director Ari Aster stopped rolling the camera. She went on to note that while it was emotionally draining to film, the scene is one of the most human in Midsommar, and she's incredibly proud of it.
Despite the intensity of the filming, Florence Pugh previously revealed that she actually enjoys rolling up her sleeves and getting dirty for more intense scenes. Midsommar director Ari Aster is already known for stomach-churning long takes in his films, so it's no surprise that his Hereditary follow up was one long, foreboding nightmare.
Midsommar made headlines ahead of its digital release by offering free couples therapy, referencing the troubled relationship between Pugh's character Dani and her boyfriend Christian, played by Jack Reynor. Since hitting theaters back in 2019, Midsommar has inspired a number of celebrities including pop-star Taylor Swift, who posted a celebratory New Year's photo in a bear costume.
After working on the folk-horror hit, Florence Pugh's career has skyrocketed. Shortly after Midsommar released, she starred alongside Saoirse Ronan in the Academy Award-winning Little Women. Now, she's attached to work with Scarlett Johansson as Yelena Belova in the MCU's upcoming Black Widow.
Her Marvel involvement doesn't stop there, either. She's also set to appear in Disney+'s Hawkeye series, which is slated for later this year. Some fans think that she will be taking up the mantle of Black Widow after Natasha Romanova's heroic sacrifice during Avengers: Endgame. Although she will have some big shoes to fill if that's the cases, I think Pugh is a perfect fit for the MCU's upcoming Phase 4.
I wouldn't expect to see anything quite as emotionally intense as Midsommar's iconic crying scene incorporated into the MCU. That being said, fans will still be able to see Florence Pugh kicking ass and taking names alongside some of Marvel's biggest heroes in Black Widow, which is scheduled to release in theaters on May 7.
Into tracksuits by Paulie Walnuts, the Criterion Channel and Robert Eggers.
Your Daily Blend of Entertainment News
Thank you for signing up to CinemaBlend. You will receive a verification email shortly.
There was a problem. Please refresh the page and try again.