Why Is PizzeRizzo's Such A Big Deal At Disney's Hollywood Studios? We Investigate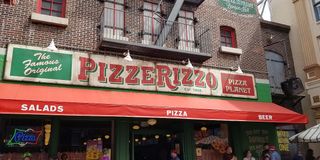 I don't know if you know this, but theme park fans can get sort of obsessive. The mere fact that something like annual passes exist shows that some people take theme parks very seriously. They'll get to know their favorite parks, attractions and even food on an intimate basis. To be sure, there's a lot to be passionate about at a place like Walt Disney World, whether it's whichever roller coaster is your favorite, which nighttime spectacular is the best or why whatever the most recent ride to be replaced was actually the best ride, and how dare they! And yet, for some reason, there are a lot of people who absolutely love a pizza parlor run by a rat found in the corner of Disney's Hollywood Studios. Just what is so great about PizzeRizzo?
There are some wonderful places one can get a meal at Walt Disney World. You can actually eat dinner inside Cinderella's Castle at Magic Kingdom if you want. At Epcot, you can sit next to a window and watch fish swim around inside a massive aquarium while you enjoy delicious food. There are numerous places where you can share your breakfast with costumed characters. But of all the options, the Disney World food bracket recently run on Twitter by Josh Spiegel, who has kept many a Disney fan entertained with several such March Madness style brackets, declared the winner to be... PizzeRizzo? I'd never actually eaten there, so on a recent trip, I had to find out what all the fuss was about.
What Is PizzeRizzo?
If you head toward Star Tours from the entrance of Disney's Hollywood Studios, and then make a right and go toward MuppetVision 3-D, you'll find, on the other side of the Miss Piggy Fountain, PizzeRizzo. It is, as the name implies, a pizza parlor run by popular Muppet Rizzo the Rat. That, by itself, should give one pause. It's an odd choice to theme an eatery of any kind after a rat, unless that rat was created by Pixar and knows how to actually cook the food, I guess. The menu is fairly simple. The location serves personal pan pizzas like the ones you may have bought in the cafeteria in junior high. Pizza is available in one four options: cheese, pepperoni, meat lovers or vegetarian. Though there are some non-pizza options, if you're so inclined.
Most quick service locations at Walt Disney World need to provide uncomplicated options in order to be quick. There's nothing flashy or special about the menu here. The four pizza options are all there is, so there isn't a lot of customization or different ingredients you can add. But for so many people to love PizzeRizzo, the pizza must be just amazing, right?. As somebody who avoided starving in college by working in a really quite good pizza parlor for the free food, I had to check this out. Because to be honest, I had my doubts.
Disney Park Pizza Doesn't Have A Great Track Record
I was a little skeptical going into PizzeRizzo because my experience with pizza in the Disney parks has been dubious at best. Pizza Port in Tomorrowland at Disneyland, what is now Alien Pizza Planet, is my main experience with pizza at theme parks and it is... not good, as in I would not recommend anybody eat there. There are dozens of other places one can eat inside Disneyland which will be better.
I was fairly confident that PizzeRizzo would be something better than Pizza Port, because if the food was bad, people would say so. If there's one thing people love more than talking about how much they love different elements of theme parks, it's telling people how much they hate different elements of theme parks. But when a bunch of Disney fans say PizzeRizzo is literally the best place to eat at Walt Disney World, that's not just saying that the food is acceptable, that's saying the food is special.
How Good Is PizzeRizzo, Really?
And so, on my most recent trip to Walt Disney World, I made a point to plan lunch one day at Disney's Hollywood Studios. Currently, the location has limited indoor seating, and food can only be ordered via the Disney World app to prevent lines indoors. However, the location does have outdoor patio seating, something a lot of places don't, so one could still get the full PizzeRizzo experience. I ordered the simple pepperoni pizza, because it's the go-to option for many people, with a side order of a Caesar salad. Beyond the fact that the pepperoni was a little unevenly distributed, the food itself looked pretty good.
So is PizzeRizzo really that good? Umm... yes? I guess? Earlier, I compared the pizzas to the Pizza Hut-style pan pizzas you could buy in school (I'm assuming that's still a thing that happens), but I honestly haven't had one of those in decades, so I don't remember if it was actually any good or not. PizzeRizzo pizza is solid. As a pizza connoisseur (and I am), there was nothing to complain about. The crust (which is secretly the most important part of good pizza) is perfect. It has good consistency and it's not too thin, so there's enough of it you can really taste it. The cheese is well melted and and the pepperoni was cooked, if not crispy.
Is it the best pizza ever? No, it is not. But high quality pizza is frequently really expensive, much more so than the $10 that this pizza cost. It's almost certainly the best pizza one can get inside a Disney theme park in North America. Having never been to Asia or Europe, I can't speak to their respective parks. This was also one of the best quick service meals I had on this trip to Walt Disney World. I find most of the parks' other quick-serve options to be lackluster. But is it the best food one can get in Walt Disney World? It's hard to argue that. Even just inside Hollywood Studios I would probably rather visit Docking Bay 6 or Ronto Roasters at Galaxy's Edge for some quick service food that is, if nothing else, a bit more creative. Although, if what I'm hungry for is pizza, I certainly will have no problem visiting PizzeRizzo again.
Disney parks are full of specialty food items that you won't find in other places. If you've never had a Dole Whip, you should have one, if only to have experienced it. PizzeRizzo is not that sort of place. It has solid, even good pizza, but it's not so good or so unique that you need to try it if you're in Disney's Hollywood Studios. But if you are there and you want pizza, then you could do worse than rat pizza.
Your Daily Blend of Entertainment News
Content Producer/Theme Park Beat
CinemaBlend's resident theme park junkie and amateur Disney historian. Armchair Imagineer. Epcot Stan. Future Club 33 Member.