Is Park Hopping At Walt Disney World Worth It? We Weigh In On The Pros And Cons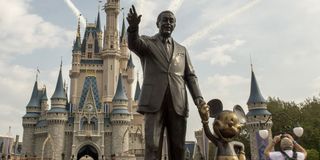 Walt Disney World has been open since the summer but with the new year came a lot of new changes for the park, including the return of park hopping, which gives guests the ability to (for an extra cost) visit more than one theme park in a single day. On the surface, it seems like a great way to keep your vacation flexible, but is park hopping really worth it between Magic Kingdom, Epcot, Hollywood Studios and Animal Kingdom?
Two of us here at CinemaBlend have very different takes on park hopping at Walt Disney World. News Director Jessica Rawden loves to park hop between the various locations, while CinemaBlend's Theme Park Beat Reporter Dirk Libbey doesn't see much point in it at the Orlando location. So it's time for the great debate on Walt Disney World park hopping.
Dirk: The biggest detriment to park hopping at Walt Disney World is one of the resort's biggest selling features: its size. Disney World is just so damn massive. This is a great thing for many reasons. There's so much to do. Not only are there four distinct theme parks but numerous resorts, two water parks, golf courses, and a shopping complex at Disney Springs. It's so big that getting from point A to point B takes time. It can take an hour or more to get from one theme park to another, and that's an hour I could spend doing anything else in the park I'm already in. At least if I spent an hour in an attraction line, there's a ride at the end of it.
Jessica: You know Dirk, while Disney makes it easy to hop from park to park via a variety of transportation, including the monorail, boats, buses and the newest addition, the Skyliner, I do get what you are saying. You have to wait for the transportation. Then, you have to embark, head all the way to another park and disembark, all of which takes time. Unless you just really love the monorail, I do get your point that the transportation can feel like a waste. However, I just think structuring your day around a park hop yields you so many more options. Do you want to wake up, ride Test Track at Epcot and then later in the day hop over to the Magic Kingdom to catch the Happily Ever After fireworks (in normal times of course)? With the Park Hopper, you can do all that in one day and more.
Dirk: I can certainly see that attraction. I would eat dinner in a different nation at Epcot every night if I had the chance. But I'm still not sure it's worth the added cost and effort to do that. In addition, as you make reference, times are not normal right now. The existing park hopper only allows you to move between parks after 2 pm, and considering that Magic Kingdom and Disney's Hollywood Studios frequently close as early as 7 p.m. (and Disney's Animal Kingdom even earlier) these days, and also considering the limited capacity, that's just not a lot of time to spend in another park, especially when you add in that travel time.
Jessica: I actually agree with one of these points. Cost is the single biggest factor when it comes to park hopping. If you and your family want to spend most of the day in a park and then head back to a hotel, park hopping may not make sense fiscally or for the time factor. However, and bear with me, for something like Epcot's Food and Wine festival or for catching a beloved ride you may have missed at a park a day prior, or for seeing an event, the park hopper is just a great use of the dollar. And it's a sunk cost anyway because you already decided which tickets you were going to purchase before you went. There is nothing I love more than waking up early to ride rides at Magic Kingdom and then popping over to Epcot to do some eating and drinking around the world. (Yes, Epcot is a common theme here). With the limited hours and the park hopping after 2 p.m. rule right now, that has stifled creativity a little bit, but hopefully, this is something that will change as the world -- and the parks -- get back to normal.
Dirk: In the end, you can certainly make the most of your park hopper if you plan your day around it, but I feel like you can do the same thing planning a full day in each park, and it saves you the money and the time traveling around. If you're going to wait in a line, ride lines are more interesting than bus lines. While I love to park hop at Disneyland Resort, those two parks are literally steps away from each other. You can jump back and forth with ease. Doing the same thing at Walt Disney World requires more work, and that makes it less fun.
Jessica: Less fun! Says you! Seriously though, I do think taste, personal preference and also just ability to get around does make a difference between choosing between a Park Hopper and a single park ticket. If I had a bunch of littles with me, for example, I'm not sure navigating around to multiple parks would make the most sense given all the gear (and kids) I'd be lugging with me. Having said this, if you are someone who likes to have some flexibility within a normally over-planned Disney trip or like to redo certain activities in Magic Kingdom, Animal Kingdom, Epcot or Hollywood Studios, the Park Hopper really is the better choice.
Right now, a four-day Walt Disney World ticket, visiting one park each day will cost you upwards of $103 per day. Adding the park hopper option adds about $20 per day to that cost. Reservations are still required for the first park you enter each day, but then after 2 p.m., park hopping guests may travel to any other park, or parks, they choose.
In the final analysis, whether or not park hopping is worth it will likely vary by the guest and the way they wish to vacation at Walt Disney World. But now you have the opinions of a couple of experienced people so you can make the best choice for you.
This poll is no longer available.
Amazing Race & Top Chef superfan with a pinch of Disney fairy dust thrown in. Theme park junkie. If you've created a rom-com I've probably watched it.
Your Daily Blend of Entertainment News
Thank you for signing up to CinemaBlend. You will receive a verification email shortly.
There was a problem. Please refresh the page and try again.