Now Josh Gad And Freddie Prinze Jr. Are In On James Gunn's Jokes About Guardians Of The Galaxy Vol. 3 Rumors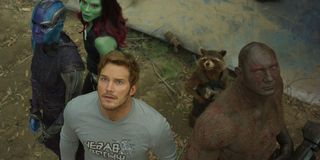 Sometimes reports about an actor joining a major motion picture end up being correct, and other times they're way off the mark, so much so that the filmmakers themselves debunk said rumor. Case in point, earlier this week, James Gunn quickly shot down the claim that he was looking for a "Zac Efron type" to play Adam Warlock in Guardians of the Galaxy Vol. 3. Shortly thereafter, Seth Rogen had a hilarious exchange with Gunn about the Warlock rumor, and now Josh Gad and Freddie Prinze Jr. have joined in on the fun.
While Seth Rogen joked about how he was going to submit himself for the Zac Efron-like Adam Warlock, Josh Gad feigned disappointment that he was immediately disqualified from scoring the supposedly key Guardians of the Galaxy Vol. 3 role. As he put it:
Considering Josh Gad's extensive Disney resume, from voicing Olaf in the Frozen movies to playing Mulch Diggums in Artemis Fowl, I wouldn't be surprised if Marvel Studios decides to hire him for an important role someday. He's already played around in a different corner of the Mouse House's genre offerings by voicing The Controller in an episode of Star Wars Rebels. Alas, if Guardians of the Galaxy Vol. 3 were indeed looking for a Zac Efron-like actor to play Adam Warlock, Gad would be out of the running.
As for Freddie Prinze Jr., whose main contribution to the Disney media empire has been voicing Kanan Jarrus in Star Wars Rebels, he pretended like he'd gone a little too far in attempting to score the Adam Warlock role after hearing the Guardians of the Galaxy Vol. 3 rumor.
Note to self: don't undergo surgery to look like another actor until the physical characteristics for a character are 100% confirmed. All jokes aside, James Gunn explained that not only has casting for Guardians of the Galaxy Vol. 3 not begun (remember, he's currently working on HBO Max's Peacemaker series), but there'd be no reason to look at solely white actors if they're just going to be painted gold anyway. Plus, if Gunn wanted a Zac Efron-type to play Adam Warlock, then he'd simply try and get Efron for the role.
Now, all this isn't to say that Adam Warlock won't appear in Guardians of the Galaxy Vol. 3. After all, one of Guardians of the Galaxy Vol. 2's mid-credits scenes teased the character's eventual debut, with Ayesha, the high priestess of the Sovereign race, began creating him as her tool to destroy the Guardians. Officially speaking though, Adam Warlock hasn't been confirmed for the threequel yet, although fingers crossed that once production begins, it'll be confirmed whether he's participating or not.
Outside of James Gunn providing a few teases here and there over the years, such as saying that big things are in store for Rocket Raccoon, we really have no idea what to expect from Guardians of the Galaxy Vol. 3. That said, production is reportedly expected to begin in late 2021 so it'll be ready for a 2023 release. But if you're looking for a comic book movie fix from Gunn sooner than that, The Suicide Squad will be released in theaters and on HBO Max August 6.
Your Daily Blend of Entertainment News
Connoisseur of Marvel, DC, Star Wars, John Wick, MonsterVerse and Doctor Who lore. He's aware he looks like Harry Potter and Clark Kent.