Borat 2 Producer On Why Movies Shouldn't Be Censored Based On Current Events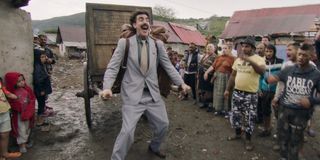 2020 caused a lot of reflection, and in many cases that included petitions for change like with the Splash Mountain ride at Disneyland and Walt Disney World, which Disney decided to re-theme. HBO Max added a new introduction to Gone With the Wind following complaints, and earlier this year discussion began on banning Grease. Should we be censoring films based on current events? Monica Levinson, producer of Borat and Borat 2 has strong thoughts about this.
Filmmaking will always evolve, whether due to new technology, sheer creativity or something else, there will always be creators in the space finding new ways to do things. In the spirit of that, it makes sense that the industry would want to keep older projects intact as markers of progress over time. I chatted with Monica Levinson, who produced both Borat films and also worked on Zoolander, about her thoughts on making changes to a finished product. Here's what she told CinemaBlend:
The honesty is refreshing, and a very important point for filmmakers. It's often out of their hands when a project ultimately gets to be released, and it's impossible to predict the future state of the world. As Monica Levinson stated, it's about a place and time, and when presenting that slice of life to the world filmmakers remain accurate to the setting of the story. That being said, I won't overlook the importance of adding disclaimers or trigger warnings where necessary. Sometimes the controversy around a film is what allows those involved to speak up about their experience and the more things are discussed, the more uncomfortable situations can be avoided in the future.
In addition to Borat Subsequent Moviefilm which is currently streaming on Amazon Prime (opens in new tab), Monica Levinson has recently produced Wander Darkly, The Water Man, and Netflix's The Trial of the Chicago 7. She is passionate about ensuring her projects have diverse cast and crews. Levinson is the executive producer behind the CW's recent television special, Women in Film Presents: Make It Work! The virtual fundraiser highlighted Women in Film's #HireHerBack initiative, calling for the employment of women, people of color, and underrepresented artists in the economic recovery during the pandemic.
This poll is no longer available.
Your Daily Blend of Entertainment News
Obsessed with Hamilton and most things Disney. Gets too attached to TV show characters. Loves a good thriller, but will only tolerate so much blood.
Your Daily Blend of Entertainment News
Thank you for signing up to CinemaBlend. You will receive a verification email shortly.
There was a problem. Please refresh the page and try again.