Jackass' Bam Margera Reveals Irony Over The Tattoo He Got That Landed Him In The Hospital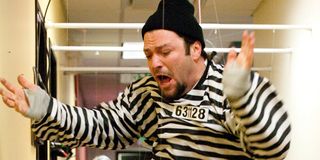 Former professional skateboarder and wild stuntman Bam Margera is just plain not having a good time right now. After the whirlwind of emotions that included getting kicked off the newest Film in the Jackass franchise, the Viva La Bam star landed himself in the hospital over a tattoo that resulted in a staph infection. If that wasn't enough misfortune to fall on a person all at once, it turns out the meaning behind his tattoo makes the whole unfortunate situation pretty dang ironic.
It wasn't long ago that Bam Margera posted about being in the hospital over a staph infection. The former MTV star got a staph infection in his leg when he went for a soak in a hot tub after having recently gone under the needle for a new tattoo. Even more recently, though, Margera took to his Instagram again to reveal the meaning of his tattoo is actually "Great news" in Farsi. Considering that the tat resulted in a hospital visit, it hasn't seemed to bring him much luck. Check out the gnarly tattoo and ironic caption in his Insta post here:
What makes the tattoo even more ironic is that it's nowhere near Bam Margera's first time getting a tattoo. He is pretty well versed in tattoo after care, or he should be judging by the amount of ink the stuntman has. In just the small amount of skin we see in his pic of the new addition, we can catch a glimpse at at least two more healed tattoos. For the one tattoo to have landed the star in the hospital to mean "Great news" is pretty wild.
While the comments on Bam Margera's post are a mixed bag, no one is really surprised. Yes, Margera should have absolutely known the risks and proper aftercare of a tattoo. But it seems like the disregard for his health and safety has been concerning for some fans. Certain individuals are even taking this as a sign the star needs to get some help, one commenter even posting, "Everything in the universe is telling you that you need help".
In fact, Bam Margera has been one to take accountability of his physical and mental health. He has spoken out about his mental health issues and even seeking treatment for them after getting kicked off Jackass 4. Even in his post about the staph infection, Margera takes full responsibility for the misfortune, saying he didn't take care of the tattoo and now he has to deal with the consequences that came with his carelessness.
Bam Margera is famous for being insanely reckless with his mind and body. In fact, he's made a whole career out of it with shows like Viva La Bam and Jackass - not even taking into account that being a professional skateboarder can be pretty dangerous as well.
Even though it seems like his stunt days are mostly over, it looks like Bam Margera isn't quite ready to let go of the recklessness of his former years. It does appear that his recent misfortune may have been a little bit of a wake up call, though. We wish Margera and his family the best, and that he continues down the path of working to improve his mental and physical health.
Your Daily Blend of Entertainment News
Constantly thinking about books, coffee, and the existential dread I feel from Bo Burnham's Inside. While writing I'm also raising a chaotic toddler, who may or may not have picked up personality traits from watching one too many episodes of Trailer Park Boys.