Why Guardians Of The Galaxy's Yondu Still Has The Best MCU Death Of All Time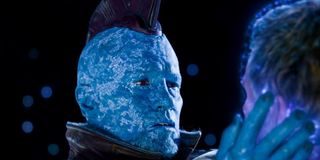 The MCU is a dangerous place, and while its heroes are capable of some incredible things, death comes for us all. During a recent Marvel rewatch, I tasked myself with finding the most notable death this franchise has delivered to date, and while my assumption going in was that nothing was going to top Tony Stark's sacrifice in Avengers: Endgame, there is another far greater: the demise of Michael Rooker's Yondu.
If we're talking pound-for-pound greatness, Yondu Udonta doesn't hold a candle to Tony Stark or many other Marvel heroes in several categories. With that said, I'm absolutely willing to say that his death in James Gunn's Guardians Of The Galaxy Vol. 2 is the best in the MCU so far, and possibly a Top 3 in the list of overall deaths in superhero movies. For those who re-watch the film, this isn't hard to see why, but for those pressed for time, I've laid it out about as plainly as I can below.
Yondu's Arc Is Short, But Impactful
The first Guardians of the Galaxy movie gave us a taste of Yondu and what he was about, but it's fair to say his real story doesn't start until the second movie. Yondu, clearly bothered by his alienation from the greater Ravager community, lost his crew when his refusal to turn over Peter Quill to the Sovereign made him look soft. Kraglin unwittingly started a mutiny, and Taserface eliminated Yondu's remaining support, with the leader defeated and behind bars on the ship.
It's here Yondu has reached his lowest point. His weakness for Peter Quill as a son cost him everything he'd built, but because of that, he and Rocket are only strengthened in their resolve to escape with Groot and ultimately help rescue Peter from Ego. After all, Yondu had a real reason for never delivering Star-Lord in the first place, as he feared that Peter would end up like all the other dead offspring of the Celestial.
There wasn't much Yondu could do to fight Ego, but at the end, that wasn't really his goal. Once he arrived, his main goal was to protect Peter, for reasons maybe even Star-Lord didn't understand until it was too late. Whether it was intended in the initial capture or not, Yondu viewed Peter like a son, and as his "daddy," he owed it to protect him to the best of his abilities. Again, most of this is explained in the sequel, but it's told so well that it's hard not to cry as Yondu's blue body went a bit bluer as he froze in the cold vacuum of space.
Michael Rooker Acted His Ass Off In Guardians Of The Galaxy 2
It really needs to be said that out of all the performances in Guardians of the Galaxy Vol. 2, Michael Rooker delivered the best. A lot of the movie hinged on selling his relationship with Quill and understanding the importance of the Ravagers to his character. That wasn't an easy task given that Yondu was more of a minor character in the first film, but one wouldn't know it thanks to Rooker's efforts.
Obviously the death scene and the scene immediately preceding it was amazing, but what really brought the performance to another level was when Yondu approached Stakar Ogord in the bar. The combination of fear, shame and humility in his face was clear, and for once, we see Yondu cowed. Of course, when Stakar drove in the figurative knife and walked away, we saw the explosive Yondu emerge rather than continue to be hurt by someone whom he considered a friend.
This scene is a bit underrated in the context of Guardians of the Galaxy 2's full story, but it's so important in many ways. In addition to Yondu relating to Rocket after he recognized he also buried his emotions in rage and alleged apathy, we learned that a lot of Yondu's personality is projection. It's a necessary persona that's helped him reach a certain level of success in the galaxy, but at a cost. He's the leader of a disgraced Ravager faction and now on the outs of the one group where he found acceptance.
Then, of course, there are Michael Rooker's final minutes in Guardians of the Galaxy Vol. 2, in which he literally went from making us laugh with the Mary Poppins line to crying with the noble sacrifice. Obviously I give credit to everyone involved who pieced those moments together because it just turned me into a blubbering mess when he finally got the Ravager funeral. Oh yeah, that scene is also tied to the Stakar scene, and if it weren't for Rooker acting his ass off, the whole movie might have fallen apart.
Yondu Will Never Be Resurrected
The MCU has had more death than one would expect, though you may not immediately know it given how many dead characters have returned in one way or another. This won't be the case for Yondu for a couple of reasons, the biggest being that James Gunn has outright confirmed he wouldn't. The director has stated in the past he believed that bringing back Yondu would ruin the sacrifice for Quill and diminish the character's story. Unless the scene was a flashback, Yondu won't return to the MCU.
I love James Gunn's conviction, and naturally I completely agree with his thinking. There's nothing in my mind that the MCU could do with Yondu that would be as impactful or as noble as his sacrifice for Peter in Guardians of the Galaxy Vol. 2, and there's a good chance a return would diminish the character's legacy. As much as it sucks not to see Michael Rooker reprise the role, he got about the best exit a secondary character in this universe could hope for.
And let's be honest, bringing back Yondu to the MCU would not be as exciting for fans of Marvel movies as bringing back someone like Iron Man or Black Widow. The MCU has already found a way to honor the character's legacy with Kraglin donning the mohawk, and I'm sure the Guardians will continue to honor Yondu in Guardians of the Galaxy Vol. 3. Keeping Yondu dead keeps this the best death in the MCU, bar none, and given the stuff we've seen so far, that's saying something.
Guardians of the Galaxy Vol. 3 is expected to arrive in 2023, and if James Gunn is true to his word, Yondu will not be brought back to life. For more on the movie, be sure to check out a recent photo of some truly horrifying Gamora masks that were recently shared.
Mick likes good television, but also reality television. He grew up on Star Wars, DC, Marvel, and pro wrestling and loves to discuss and dissect most of it. He's been writing online for over a decade and never dreamed he'd be in the position he is today.
Your Daily Blend of Entertainment News
Thank you for signing up to CinemaBlend. You will receive a verification email shortly.
There was a problem. Please refresh the page and try again.