Will James Gunn Work With Marvel After Guardians Of The Galaxy 3? Here's What The Director Says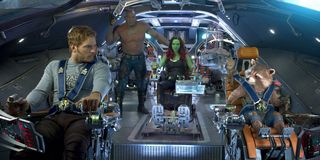 There was a point in time where Guardians of the Galaxy Vol. 3 was lined up to arrive in 2020 as one of Phase Four's first offerings. Various circumstances and complications resulted in the threequel being pushed back years, but as with the first two Guardians of the Galaxy movies, James Gunn is back as both writer and director. But does Gunn have any other Marvel projects lined up for after Vol. 3 is finished?
That's the question a fan recently asked James Gunn on Twitter, prompting the filmmaker to clear up what he plans to do after Guardians of the Galaxy Vol. 3… which, as it turns out, isn't anything at the moment. As Gunn put it:
James Gunn has said before that Guardians of the Galaxy Vol. 3 will serve as the finale to his story centered on the current Guardians lineup. So even if Guardians of the Galaxy Vol. 4 were to happen, it'd likely feature a shakeup in the team's membership, and Gunn certainly wouldn't be the one tackling such a project. But as we've seen with Jon Watts, who's directed all the MCU Spider-Man movies, jumping over to Fantastic Four, it wouldn't be outside the realm of possibility for Gunn to want to work on a different Marvel property. Maybe there are some folks out there interested in his vision for the X-Men?
Still, you can't blame James Gunn for not planning on what to work on after Guardians of the Galaxy Vol. 3, whether it's tied to Marvel Studios or not. With all that the man has been working on in recent years and still has on his plate, he deserves a break when this particular workload is finally finished! Kicking back and taking some time to relax is a better course of action than crashing from burnout.
Remember that over the last several years, James Gunn been hard at work on The Suicide Squad, as he joined the DC Extended Universe during that interim period where he'd been forced off Guardians of the Galaxy Vol. 3. Then, while putting the finishing touches on Task Force X's next cinematic adventure remotely during the COVID-19 pandemic, Gunn started writing a spinoff TV series centered on John Cena's Peacemaker. HBO Max greenlit that project and Gunn is in the middle of shooting it. So that's two ways he's contributing to the DCEU, and Gunn has said he has other spinoff ideas too.
Now let's look at James Gunn's upcoming return to the MCU. In addition to finally tackling Guardians of the Galaxy Vol. 3, Gunn will also write and direct The Guardians of the Galaxy Holiday Special, which is set between Vol. 2 and Vol. 3, and is also working on the I Am Groot series of short films. Oh, and let's not forget that Gunn's assisted on the Guardians of the Galaxy: Cosmic Rewind roller coaster that's opening in Epcot next year. All this isn't to say that Gunn won't eventually find a new project to work on after his time with the Guardians of the Galaxy is completed, but he's not obligated to immediately jump into anything.
For those of you wondering when Guardians of the Galaxy Vol. 3 will arrive, a specific release date hasn't been set yet, but it's expected to arrive sometime in 2023, with principal photography beginning towards the end of this year. Filming on The Guardians of the Galaxy Holiday Special will take place during Vol. 3's production and drop on Disney+ in late 2022.
As for James Gunn's DC offerings, The Suicide Squad premiere both in theaters and on HBO Max on August 6, and Peacemaker will drop on the same streaming service in January 2022. Keep your eyes locked on CinemaBlend for more updates on Gunn professional endeavors.
Connoisseur of Marvel, DC, Star Wars, John Wick, MonsterVerse and Doctor Who lore. He's aware he looks like Harry Potter and Clark Kent.
Your Daily Blend of Entertainment News
Thank you for signing up to CinemaBlend. You will receive a verification email shortly.
There was a problem. Please refresh the page and try again.