Ryan Reynolds Reacts To The New Free Guy Release Date With Hilarious Video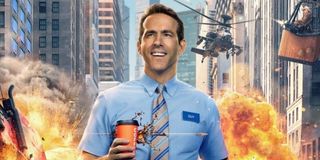 In this day and age, movie release dates are far from certain. Whether it's a major blockbuster or the latest MCU entry, almost every production over the past year has been delayed in some capacity. Ryan Reynolds' upcoming comedy Free Guy, is the latest flick to have its release date pushed back. Fittingly, the Deadpool star reacted to the announcement with a hilarious video.
Ryan Reynolds shared the video on Twitter, where he sarcastically celebrated the new release date for Free Guy. Check it out:
In the post, Ryan Reynolds assured viewers that this is the last time that Free Guy would be delayed. He went on to mention that he's never been as sure of anything in his entire life, followed by a poorly dubbed video of himself reading the new release date. That's just pure Reynolds. He wrapped the video telling fans that he feels "very good" about the new August 13, 2021 release date.
This latest delay marks the third time that Free Guy has had its release date pushed back. While it was initially scheduled to release on July 3, 2020, it was pushed to December 11, 2020 due to the COVID-19 pandemic. Ryan Reynolds and company shared a similarly funny video responding to the delay then as well.
Fast forward a few months to November, and then Disney decided to move the film to an "unset" release date, along with Death on the Nile. Shortly after the second delay, Free Guy was scheduled to release on May 21, 2021. Now we come to today, when Disney came out with another round of major delays, and Free Guy was once again moved, this time to August 13, 2021. That's four different release dates for those of you still counting.
It's nice to see that Reynolds is still finding a way to make the whole situation engaging for fans and sprinkle in a bit of his signature comedy. It can't be easy to have your movie delayed by more than a year, but that situation is becoming more common as the pandemic continues to ravage the theater industry.
Hopefully the August release date sticks, because I'm excited to see Free Guy, damn it! Based on the footage we've seen so far, it looks like a perfect playground for Reynolds to really let loose. Ryan Reynolds himself even said that Free Guy is his favorite movie that he's ever made, and he's freaking Deadpool!
Unfortunately, Free Guy wasn't the only flick delayed. In a massive announcement from Disney, the studio once again pushed back Death on the Nile, in addition to The King's Man, Black Widow, Shang-Chi and the Legend of the Ten Rings and Deep Water.
It looks like the studio is optimistic that folks will be able to safely return to theaters later in the year, but I wouldn't be surprised if things changed once again. If that happens, I can only imagine what Ryan Reynolds has up his sleeve.
Your Daily Blend of Entertainment News
Into tracksuits by Paulie Walnuts, the Criterion Channel and Robert Eggers.