Ahead Of Free Guy's New Trailer, Ryan Reynolds And The Cast Have An A+ Response To Film's Delay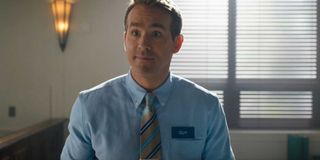 Once upon a time, movie release dates were pretty firm, and you could expect them to happen when announced. But in the era of COVID-19, things are far from being set in stone. So as their film prepares to get a new trailer, Ryan Reynolds and the cast of the upcoming comedy, Free Guy, seem to be trying to get one step ahead of the game with their pitch-perfect response to the movie's delay.
Ryan Reynolds, being the constant jokester that he is, has developed a keen skill in turning tragedy into comedy. Considering he's a producer on Free Guy, I can't help but wonder if he had a hand in developing this latest video announcing the new trailer for the movie. All in all, it's the perfect response to the situation. Check it out:
Not only does all the mayhem in Free Guy look vaguely familiar, but it's that last line about arriving in theaters December 11 that hits the hardest. All too often, movie trailers have been using vague language to announce their release dates because they likely expect those dates to change. So the Free Guy cast acknowledging that rather than ignoring it makes any further delay a bit easier to swallow.
Although theaters have reopened (with Tenet being the main draw for moviegoers), the lack of major films paired with a lower guest attendance rate is making it difficult for theater chains to thrive. Now, with Daniel Craig's No Time to Die and Gal Gadot's Wonder Woman 1984 being delayed to 2021, one company is actually planning to close locations until the new year.
While it's yet to be determined what destiny awaits Free Guy, it sounds like it has a special place in Ryan Reynolds' heart. He said late last year that Free Guy is his favorite movie he's ever made, placing it even above Deadpool, one of his most well-known and beloved films to date. With sentiments like that, you'd have to believe he'd fight to have it released in theaters.
Making Free Guy also sounds like it had a big impact on both director Shawn Levy and Ryan Reynolds' working relationship, as the two will be teaming up yet again for a Netflix project. But rather than putting Ryan Reynolds in a video game, they'll be making a time-travel movie based on a script called Our Name Is Adam.
Like Grand Theft Auto meets Wreck-It Ralph, Free Guy is about a non-player character (NPC) in a video game named Guy (Ryan Reynolds), who's unaware of the fact that he's in a video game, until he puts on a special pair of glasses. This average joe eventually seeks to become a hero in his own right, with comedic results, and aims to save his game before developers can shut it down.
Free Guy is expected to release on December 11, 2020 but, as the cast jokes, be on the lookout for changes. At the very least, you can expect a trailer for the movie tomorrow. For more movie news, stay tuned to CinemaBlend.
Your Daily Blend of Entertainment News
Your Daily Blend of Entertainment News
Thank you for signing up to CinemaBlend. You will receive a verification email shortly.
There was a problem. Please refresh the page and try again.