Sorry Deadpool, Ryan Reynolds Says Free Guy Is 'Favorite Movie' He's Ever Made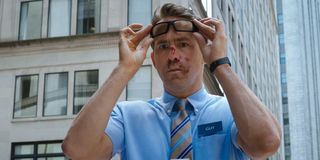 Nobody loves Deadpool like Ryan Reynolds loves Deadpool. But if his most recent comments are anything to go by, he's ready to branch out from the uber-successful franchise. And it seems his new film Free Guy may have already claimed a spot above Deadpool as his favorite project ever.
Ryan Reynolds was at CCXP this weekend to introduce the trailer for Free Guy. And he made a bold claim about the new film -- especially how he views it in relation to Deadpool:
Wow. Okay. There's a lot to unpack in his quote to fans (via IGN). Ryan Reynolds has famously been a pivotal figure in making the Deadpool franchise what it is today. Free Guy is an action comedy that follows bank teller Guy as he comes to grips with the reality that he's an NPC in an open world video game, Free City (think Fortnite meets Grand Theft Auto). Once he decides to take charge of his life, he finds himself immersed in the violent world -- and takes heroic actions to stop the game's developers from pulling the plug.
If the blend of chaos and comedy in the trailer is anything to go on, we're all in for a wild ride. The premise sounds exactly like the type of movie Ryan Reynolds would go for. He told the CCXP crowd what they can expect when they see Free Guy:
And Ryan Reynolds also explained that he drew inspiration from both Will Ferrell's iconic Buddy the Elf and Peter Sellers' legendary performance in Being There as he was filming the movie. In other words, he put a lot of thought into this one. It seems as though Ryan Reynolds has a good reason to be so excited about his new project. In addition to starring in Free Guy, he's also credited as a producer -- a role he seems to be taking on with increasing frequency.
Despite Free Guy taking over as his most-loved project, he hasn't abandoned Deadpool. Despite a few delays in production, Deadpool writer Rhett Reese has hinted that while they don't have a firm timeline yet, they're confident Deadpool 3 will get made. And earlier this year, Ryan Reynolds confirmed that he's hard at work at getting the franchise's next chapter off the ground.
Free Guy was directed by Shawn Levy, of Night at the Museum and Stranger Things fame, and co-stars that series' Joe Keery, Lil Rey Howard, Jodie Comer, and Ryan Reynold's Green Lantern costar Taika Waititi. It hits theaters on July 3, 2020.
Your Daily Blend of Entertainment News