Talladega Nights Child Actor Houston Tumlin Is Dead At 28 After Apparent Suicide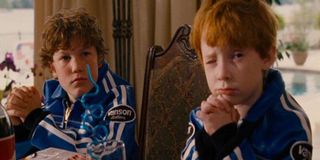 Talladega Nights: The Ballad of Ricky Bobby is arguably one of the most quotable movies released in the last two decades, with many coming from Ricky Bobby's children, Walker and Texas Ranger. The foul-mouthed-turned-lovable sons were a staple of the 2006 film. Today, it was announced that Houston Tumlin, who played Walker in the Will Ferrell led comedy, has passed away after an apparent suicide.
Initially reported by TMZ, Tumlin passed yesterday while his girlfriend was home. He was just 28 years old and Talladega Nights remains his only acting credit.
Since starring alongside Grayson Russell, who played Walker's brother Texas Ranger Bobby, Tumin spent time serving with the military followed by other jobs, including repairing telephone lines. The pair are known for their iconic dinner scene in which the ornery brothers publicly lambast their grandfather, all while jacked up on Mountain Dew.
Despite their hilarious bad behavior and quotable lines, the duo eventually transformed into well-behaved young men. Their new attitude was due in large part to the efforts of Ricky Bobby's mother Lucy, played by Jane Lynch. Talladega Nights featured an incredibly stacked cast, including Oscar nominee Sacha Baron Cohen, who played Ricky Bobby's rival, Jean Girard. The ensemble cast also included Vice's Amy Adams and John C. Reilly, to name a few of the bigger stars.
It's hard to express how big of a cultural impact Talladega Nights has had since releasing in 2006. The NASCAR comedy has become a staple in the racing industry, with the pros even getting in on the jokes. You know that they did something right when the actual drivers are quoting the movie mid-race. I know from personal experience that "I'm all jacked up on Mountain Dew!" and "Chip, I'm gonna come at you like a spider monkey!" were both said on a regular basis by many teenage boys from 2006 - 2010.
Talladega Nights ended up being a box office success, taking home $163.4 million on a $72.5 million budget. Despite more than doubling the budget, a sequel never panned out, even with interest from director Adam McKay. I can't be the only one who would have enjoyed Ricky Bobby's European escapades. That's alright though, because Talladega Nights helped kick off a string of comedies from star Will Ferrell.
Following Talladega Nights Will Ferrell starred in a number of popular comedies including Blades of Glory, Semi-Pro, Step Brothers and The Other Guys. Not a bad run, especially for the comedy circuit. Although Houston Tumlin and Will Ferrell's comedy collaborations ended with Talladega Nights, the child actor's contributions (and quotes) remain a cornerstone of the film. I think I'm due for a rewatch now.
Into tracksuits by Paulie Walnuts, the Criterion Channel and Robert Eggers.