The 6 Best Will Ferrell Movies, And The 3 Worst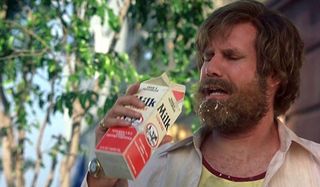 Will Ferrell emerged as the real superstar of Saturday Night Live in the late '90s. His legendary skits featuring the cheerleaders and "More Cowbell" established him as one of the best comedians in show business. His ability to become a character, not simply play a character, gives his characters incredible and hilarious depth.
After leaving SNL in 2002, Will Ferrell wasted no time getting into movies and he reeled off a string of hilarious hits, often with collaborator Adam McKay, like Elf, Old School, and Anchorman: The Legend of Ron Burgundy. It's an impressive run to say the least. They are the kind of comedies that are infinitely quotable and endlessly re-watchable.
But not everything he has made is comedic (or box office) gold. Like most actors and comedians, he has also had some big misses. Sure, the hits outweigh the misses, but they can't be ignored. Here's a handy list of six of his best and three of his… not so best... movies over the last 20 years.
Will Ferrell's Best Movies
Old School (2003)
Old School was released not long after Will Ferrell left SNL and it immediately established Ferrell as a movie star. The hilariously stupid idea of three men, played by Luke Wilson, Vince Vaughn and Ferrell, hitting a mid-life malaise in their thirties and deciding to spice up their lives by forming a fraternity is silly and hysterical.
Will Ferrell's performance is so laugh-out-loud funny it can be embarrassing to watch with other people. Ferrell stripping naked in front of Snoop Dogg, then streaking down the street and climbing backwards into the back of his wife's car is simply one of the funniest moments in early 21st century cinema. So If you make a mess of yourself laughing, don't worry, the pledges will clean it up.
Elf (2003)
The moment Elf was released in 2003 it became an instant Christmas classic. Will Ferrell's portrayal of Buddy, an orphan who sneaks onto Santa's sleigh as a baby and is raised at The North Pole as an elf, is perfect. The movie, directed by Jon Favreau, grossed well over $200 million dollars at the box office on a relatively tiny $33 million budget; it's safe to say this is an all-timer in every way.
Elf is a movie you look forward to every holiday season, like A Christmas Story and Die Hard. Like all of Will Ferrell's movies, it's eminently quotable, just remember to stick to the four main groups as you watch, candy, candy canes, candy corns, and syrup.
Anchorman: The Legend Of Ron Burgundy (2004)
You'd be hard-pressed to find an argument against Anchorman being one of if not the very best of Will Ferrell's career, certainly in the top two or three. His ridiculously over-the-top portrayal of a fading local news anchor struggling with in the modern world – or, the 1970s – is incredibly funny. It's a character no fan ever gets sick of.
Anchorman is one of those movies that fans use often, finding ways to sneak lines into everyday conversations. Lines like "I'm kind of a big deal," and "I'm in a glass case of emotion!"
Along the way, Will Ferrell is helped out by some serious comedy heavyweights in this all-star cast that includes Christina Applegate, Steve Carell, David Koechner, Fred Willard, and Paul Rudd – and that doesn't even include some of the cameos, like Vince Vaughn and Ben Stiller. Don't act like you're not impressed.
Talladega Nights: The Ballad Of Ricky Bobby (2006)
Talladega Nights: The Ballad Of Ricky Bobby came at time in Will Ferrell's career when he had been in a few duds and really needed a hit. Talladega Nights was exactly that. A return to form both comically and financially at the box office.
Talladega Nights was also the first movie that paired Will Ferrell with John C. Reilly. The pair would prove to be magic on the screen together and go on to team up for two more movies (plus a cameo for Reilly in Anchorman 2), to varying success. There is nothing varying about Talladega Nights: The Ballad Of Ricky Bobby though. It's a winner through and through. And remember: If you're not first, you're last.
Step Brothers (2008)
Step Brothers continues the winning combo of Will Ferrell and John C. Reilly. It is also a ridiculous movie. The plot isn't really a plot, although Adam Scott does play an excellent villain with the character Derek Huff.
It doesn't really need to make any sense, the comedic timing between Will Ferrell and John C. Reilly is all you need in this one. They are hilarious together. Just don't give them access to a boat or take them to a Catalina wine mixer.
Zoolander (2001)
Will Ferrell doesn't have the starring role in this classic, but he does have a scene-stealing performance as Jacobim Mugatu, the ridiculous villain with the awesomely stupid haircut and the little dog.
Zoolander was an instant classic with Ben Stiller playing the dumb-as-rocks male model Derek Zoolander, but it was the ensemble cast, like its sequel, that made the move truly special and Will Ferrell was a huge piece of that. Hansel too. Hansel's so hot right now.
The Worst Will Ferrell Movies
Holmes & Watson
Okay, sometimes great chemistry doesn't always work out. Take Holmes & Watson, the most recent collaboration between Will Ferrell and John C. Reilly. It's really bad. It's unfortunately bad not only because of the past on-screen brilliance between the two, but because it could have been good in the right hands and with the right focus.
The critics hated it and so did audiences (some of whom walked out) and that's a first for this duo. We can only hope that it doesn't mean they might be reluctant to work together in the future, because they are so great, usually.
A Night At The Roxbury (1998)
A Night at the Roxbury was Will Ferrell's first big starring role in a film. It co-stars fellow SNL alum Chris Kittan as they play "The Roxbury Guys" they made famous on Saturday Night Live. The movie was panned by critics and bombed at the box office. It's a shame, as there were a ton of talented people involved. Not all SNL skits make great skits, much less great movies. It was probably a mistake by the producers to ever think this silly skit could sustain 90 minutes worth of screen time.
Bewitched (2005)
Like A Night At The Roxbury, Bewitched is another one that doesn't come close to rising to the level of the talent involved. From director Nora Ephron to Will Ferrell, to his co-star Nicole Kindman and a fantastic array of talented actors and actresses in the cast, this movie feels like no one was really taking the gig seriously. And not in a good way. It all feels phoned in.
Take a beloved TV show, through a great director and some great actors at it and hope that enough people see it without reading a review. That's what this one feels like. It's disappointing, to say the least.
There are a some other movies that could go on both sides of this list, movies like Jay & Silent Bob Strike Back, where Will Ferrell plays an absurd wild life ranger to great effect. Or a movie like Kicking & Screaming, which never really gave a place for Ferrell to really show off his comedic chops.
Will Ferrell has had a lot of really high highs, but at times, some disappointing lows. When he's on his game, there is no one funnier in the game. He's kind of a big deal.
Your Daily Blend of Entertainment News