Hereditary Actress Isn't A Fan Of How She Looked In The Movie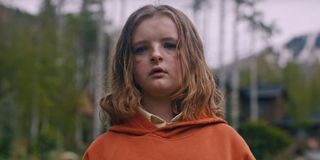 Just because a character looks a certain way on the big screen doesn't mean that the actor behind that character looks or even acts the same on a daily basis. On any given production, there's a ton of make-up, lighting and intense preparation that makes movie stars look like, well, movie stars. Hereditary star Milly Shapiro recently shared a post commenting on her character's appearance in Ari Aster's breakout horror hit. It turns out that she isn't a fan of how she looked in the movie.
The actress posted her thoughts on TikTok, where she drew attention to the aftermath of being portrayed at her worst, all while being seen by millions of people. Here's her post:
Milly Shapiro's TikTok was also captioned with a note mentioning some of the rude comments posted on the trailer. However, she seemed to be in decent spirits about the situation, telling fans to "live laugh love." It can't be easy being portrayed in such a negative light, especially in a film as popular as Hereditary. Her character, Charlie, is the black sheep of the family and a central figure in one of the film's biggest twists.
Throughout Hereditary, Charlie behaves in a pretty creepy manner, to say the least. She performs taxidermy on a dead bird, sleeps in a spooky tree house and audibly shares her signature "click." Her character was featured prominently in promotional material leading up to the film, which some consider one of the best horror films of the last decade.
Honestly, I can totally see where she's coming from. She pointed out that while filming Hereditary she was purposely made to look her worst. Now, some people may assume that's how she walks around on a daily basis, which isn't the case. Just like makeup, lighting and CGI are all used to make people look their best, the opposite is true as well. Just look at Henry Cavill's CGI mustache removal in Justice League. Wait, was that supposed to look good?
Since starring in Ari Aster's debut Milly Shapiro has worked on a couple of television projects, including The Boulet Brothers' Dragula, where she appeared as a host, and Cartoon Networks' JJ Villard's Fairy Tales. She's also gained a pretty impressive following on TikTok, where she has more than 276 thousand followers.
Ari Aster has gone on to become a rising star in the horror genre, following up Hereditary with his folk-horror hit Midsommar, which starred Florence Pugh. His brutally long and anxiety riddled style has caught the attention of major players in the entertainment industry. He's already lined up his next project with Oscar-winner Joaquin Phoenix attached to star.
Hopefully Milly Shapiro's future projects will see less backlash to her appearance and more acclaim for her performances. Seriously, if you've seen Hereditary you already know that she can act. If you haven't, stop what you are doing and head to Showtime, where it's streaming right now, and buckle up for one of the scariest movies of the last twenty years.
Into tracksuits by Paulie Walnuts, the Criterion Channel and Robert Eggers.
Your Daily Blend of Entertainment News
Thank you for signing up to CinemaBlend. You will receive a verification email shortly.
There was a problem. Please refresh the page and try again.